Change in Regional Executive for Memphis Branch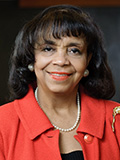 Martha Perine-Beard, vice president and regional executive of the Memphis Branch of the St. Louis Fed, has retired after 43 years of service. After receiving her master's degree in economics from Washington University, Perine-Beard began her career at the Bank as a management trainee, was named an officer in 1978 and served as the head of the Memphis Branch since 1997. In addition to her responsibilities at the Bank, Perine-Beard plays an integral part in the Memphis community by serving on several boards, most notably the United Way of the Mid-South, the Memphis Regional Chamber, Memphis Tomorrow, Baptist Health Care Corporation, Mid-South Minority Business Council and St. Jude Children's Research Hospital. She has been honored for her community work by Leadership Memphis, the United Way of the Mid-South, the Memphis Office of the Federal Bureau of Investigation, Memphis Woman magazine, the Memphis Business Journal, Grace magazine and Girls Incorporated.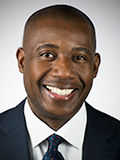 Succeeding Perine-Beard is Douglas Scarboro, whose experience includes serving as chief learning officer for the city of Memphis and executive director of the Office of Talent and Human Capital, where he was responsible for the education and development of all city employees. He also worked as the director of community engagement at The Leadership Academy, now the New Memphis Institute. Scarboro holds a bachelor's degree in political science from Morehouse College, a master's in business administration from Campbell University, and a doctorate in higher and adult education from the University of Memphis. He recently completed the Senior Executives in State and Local Government program at Harvard University's John F. Kennedy School of Government. Scarboro serves on the board of several local education and entrepreneurial organizations, including EmergeMemphis, Start Co., Memphis College of Art, New Leaders Memphis and Teach For America Memphis.
Federal Reserve Board Announces Community Advisory Council
The Federal Reserve Board recently created a new advisory council—the Community Advisory Council (CAC). The Board is accepting Statements of Interest through June 12, 2015 from individuals who wish to serve on the CAC. The Board plans to fill the 15 seats on the CAC with a diverse group of experts and representatives of consumer and community development organizations and interests, including such fields as affordable housing, community and economic development, small business, and asset and wealth building. The Board expects to announce the appointment of CAC members in the fall of 2015.
CFPB Pilot Program Examines Consumer Saving
The Consumer Financial Protection Bureau (CFPB) has announced a new research pilot program analyzing the effectiveness of practices designed to encourage positive saving habits. The research will focus on saving behavior among low- and moderate-income prepaid card users who often do not have access to traditional bank accounts and who may face unique challenges building regular saving habits. More information is available at www.iaced.org/2014/12/cfpb-announces-new-research-program-examining-consumer-saving/.
Immigrant Entrepreneurs Are Reinventing Main Street
According to a new study based on an analysis of U.S. census data from 2000 to 2013 and reported jointly by the nonpartisan Fiscal Policy Institute and the Americas Society/Council of the Americas (AS/COA), immigrant entrepreneurs accounted for virtually all the growth in "Main Street businesses" during those years. In 2013, immigrants made up 13 percent of the U.S. population and 16 percent of its labor force, while they made up 28 percent of the owners of these small independent businesses, which include retail, accommodation and food services, and neighborhood service businesses. David Kallick, author of the report, said, "These are businesses that don't often get a lot of attention from economic development officials, and don't have huge profits. But they play a big role in neighborhood revitalization, and they can be an important economic step up for the entrepreneurs." Immigrant-owned businesses earn $13 billion annually, provide a critical source of first jobs for many in the American workforce, and "play an important role in generating neighborhood-level economic growth by making these areas attractive places to live and work," according to the report. View the report at http://www.as-coa.org/sites/default/files/ImmigrantBusinessReport.pdf.