Innovate Mississippi is a nonprofit organization that drives innovation and technology-based economic development for the state of Mississippi. Over the last 10 years, the organization has helped many companies translate their dreams or innovation into real business, creating more than 6,000 jobs in the state. The team focuses on assisting innovation-based startup companies, inventors and entrepreneurs, and strengthening Mississippi's manufacturing and renewable energy innovation economies.
The mission of Innovate Mississippi is to champion innovation and technology-based economic development for the state. One of the ways they advance that mission is by delivering support and services to promote investment and business development for innovative, technology-focused companies and organizations. For example, they operate the Mississippi Angel Network (the Network), one of the services provided to contribute to the business and investment climate of the state. The Network allows investors to make their decisions on an individual basis with their own capital. Companies seeking funding through the Network must be headquartered in Mississippi or have a substantial operation within the state, although they do have investors from out of state who are interested in reviewing opportunities within Mississippi.
Innovate Mississippi also assists entrepreneurs/innovators with services such as finding the resources they need to grow their enterprise and create jobs. They provide opportunities for entrepreneurs to collaborate, network and compete through high-powered, high-energy events like Startup Weekend and New Venture Challenge.
Startup Weekend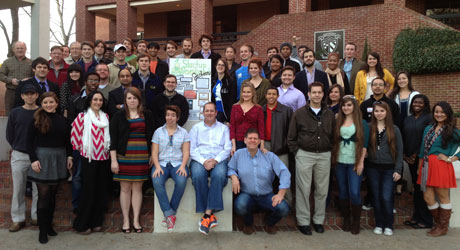 Innovate Mississippi organizes events for the state's Startup Weekend, an intense 54-hour experience powered by the Kauffman Foundation that operates worldwide and brings together like-minded entrepreneurs for a weekend of company creation. Startup Weekend's mission is to provide a dynamic, collaborative environment that facilitates experiential education and meaningful connections. Participants also build long-lasting relationships and may even walk away with a job or an investment.
During Startup Weekend, entrepreneurs pitch software as well as Internet-based or other rapidly launched business concepts. Serial entrepreneurs, programmers, developers, graphic artists and business-minded people are able to build and develop ideas. Companies that are not based on software or Internet-related products are also encouraged to participate, as the weekend is an incredible opportunity to collaborate on a marketing plan or general business development.
"This event draws together the statewide innovation community to one location and ensures that teams can create the critical mass they need to succeed," said Tony Jeff, president and CEO of Innovate Mississippi. "It also brings together great ideas with the people needed to make them happen. This means that the teams formed for the weekend may become the core of a real company moving forward once the event is over."
The aspiring entrepreneurs pitch their proposals to the entire group, who then break into small teams to develop 10 to 15 of the most promising ideas. The teams' focus for the rest of the weekend is on developing their business idea and a proof of concept, demo or finished product. Mentors remain on hand to help fine-tune the idea into a "working company" with potential profits. A panel of seasoned professionals evaluates each team's prototype company and their chances of real-world success. The weekend concludes with an awards ceremony where the top three teams receive in-kind prizes from local service providers.
"More than 36 percent of weekend startups are still up and running after three months," added Tasha Bibb, entrepreneurial development manager for Innovate Mississippi. "Whether you'd like to contribute your knowledge and expertise to helping build a startup or get help building your own, there's room for everyone!"
At the inaugural weekend in Jackson, Miss., in February 2013, 73 participants pitched 37 ideas. From those, 12 ideas were chosen as potential businesses, teams were formed and prototype companies were created. Two of the winning teams were Gotcha Universe, an automated web and text messaging-based game that assists campus-based organizations with fundraising, and AutVantage, an IT staffing agency focused on employment opportunities for individuals with autism.
Sixth Annual New Venture Challenge
In spring 2013, the New Venture Challenge was held in Jackson at the Jackson Convention Complex. Mississippi innovators and technology entrepreneurs compete in a rapid-fire contest to promote their pioneering business plans. The competition features presenting companies in three categories: student, pre-revenue and commercial. Companies represent startups or existing companies with innovation-based new venture opportunities. First-, second- and third-place winners are recognized within each category, and each winning company receives cash and in-kind prizes. Many of the competitors are actual companies in the process of pitching to angel investors, providing a glimpse into the process of entrepreneurial development.
The competitors are screened prior to the event and, once chosen, each team is placed with a mentor who assists in preparation for the competition. Mentors are matched with companies based on their areas of expertise and experience and include angel investors, Venture Coaching Academy fellows and industry experts.
Winners of the Fifth Annual New Venture Challenge included Texting Leader LLC, a technology company based in Ridgeland, Miss., that focuses on mobile marketing and app development for companies worldwide; Pearl River Glass Studio in Jackson, which aims to leverage the experience of their current glass artists and expand their existing company by integrating innovative technology to create kiln-formed architectural glass art; and Techsterminators, an online consumer electronics repair platform affiliated with Mississippi State University.
For additional information about Startup Weekend or the New Venture Challenge, contact Tasha Bibb at tbibb@innovate.ms or by calling 601-960-3610. You may also learn more about Innovate Mississippi at http://www.innovate.ms.
Bridges is a regular review of regional community and economic development issues. Views expressed are not necessarily those of the St. Louis Fed or Federal Reserve System.
---
Email Us
All other community development questions