Campus Microfinance Funds: A Closer Look
Just imagine a U.S. microfinance network where college students across the country are providing financial literacy workshops, teaching basic accounting and finance to their neighborhood businesses and/or providing a microloan to an entrepreneur too under-resourced to break out of poverty. No doubt inspired by some of the world's larger microfinance organizations, many college campuses are planting the seeds for their own charitable enterprises. Here, we take a brief look at three campus microfinance funds as well as an entrepreneur who has benefited from her experience with Rutgers University's Intersect Fund.
Elmseed Enterprise Fund
The Elmseed Enterprise Fund was launched by four Yale undergraduates in 2001 with $20,000 from the Yale Entrepreneurial Society. Elmseed has also received funding from federal grants, Citizen's Bank, the National Philanthropic Trust, several small foundations and individual donations. The 501(c)(3) microcredit nonprofit organization is staffed by undergraduate students and has a board of directors comprised of local representatives of financial institutions, the university and private firms. The fund offers entrepreneurship development courses, small loans and consulting services to entrepreneurs in New Haven, Conn., who wish to start or expand small businesses.
Participants in the Elmseed program have the opportunity to complete a two-step process to prepare them for success. The first step is the four-week Entrepreneurship Development Course (EDC), in which participants work to refine their business idea and develop a strong plan of action through structured curriculum and peer support. Topics include business feasibility and viability, market research and marketing, pricing, cash flow and financials, and a capstone showcase of executive summaries.
Entrepreneurs who complete the EDC have the opportunity to move on to step two, Business Plan Consulting, in which entrepreneurs work closely with two Elmseed consultants to complete their business plan and prepare to open their business.
The Elmseed Fund also recognizes the needs of existing small business owners and offers these clients advanced consulting designed to help them solve a specific problem or assist them in reaching a particular goal. These can include creating a marketing strategy, assessing the impact on costs and revenues of pursuing the goal, and strategizing how to reach different demographic groups. During this process, business owners meet one-on-one with their Elmseed consultants at least once a month.
Elmseed offers consulting in both Spanish and English. At the end of the fund's process, clients come away with an executive summary for their business plan and the tools necessary to begin the process of opening their own business.
Elmseed offers two consecutive one-year loans, the first for up to $2,000 and the second for up to $4,500. Not all Elmseed members need or choose to take out loans. Some just need access to the fund's business consulting and training services. The requirements for accessing business loans include:
a copy of the applicant's full business plan,
references and
a signed copy of the applicant's most recent tax return (other financial documents may be substituted upon request).
Loan applications are evaluated on the basis of feasibility and overall quality of a client's business plan. For the second yearlong loan, the client's repayment history for the first loan is also considered. Elmseed charges 10 percent interest on the first loan; the interest rate for the second loan varies, depending on repayment of the first.
Current and past Elmseed businesses include daycare services, gift-basket makers, fashion designers, construction and contracting services, clowning enterprises, food cart services, and event planners.
Capital Good Fund
The Capital Good Fund (CGF) grew out of an idea hatched in entrepreneurship class at Brown University in 2008, starting as a student-led initiative designed to combat environmental devastation and create economic opportunity for low-income Americans. It has grown into a 501(c)(3) nonprofit that takes a comprehensive approach to fighting poverty, targeting its root causes through microloans and educational workshops. CGF has also focused on environmental issues and encourages borrowers to "green" their business, invest in energy-saving technologies and engage their communities on environmental issues.
CGF staff work closely with all clients to guarantee that they receive the support they need to succeed. A flexible loan repayment process was specially designed to meet the specific needs of low-income communities. The fund provides a business literacy workshop to equip entrepreneurs with the tools necessary to maximize the benefits of their loans, and it offers low-cost marketing services. Former President Bill Clinton has recognized the work of CGF for its innovative efforts to fight poverty. The fund serves the Providence, R.I., area.
Four categories of loans are offered by CGF. The "Small Business Loan" ranges from $500 to $2,000 and targets low- and moderate-income residents who want to start or expand small businesses. All loan requests are considered; however, entrepreneurs who are willing to include environmentally sustainable practices (recycling, etc.) into their business model are preferred. No collateral is required, and there is no minimum credit score for borrowers. Lending decisions are based on character and repayment ability. Applicants seeking a loan from CGF must first sign up for the fund's 12.5-hour workshop, "Exploring Business Basics." At the end of the course, entrepreneurs will have a comprehensive business plan and be eligible to apply to join CGF's group lending program, which provides the opportunity to receive up to $2,000 to start or expand businesses. Small business loans have a term of one year and a fixed interest rate of 15 percent.
CGF's "DoubleGreen Loans" are designed to lower borrowers' energy bills by financing the costs of various energy-saving and environmentally beneficial investments. The "DoubleGreen Credit Builder Loan™" covers the cost of installing a programmable thermostat in a client's home or business. The loan has a fixed interest rate of 15 percent and is repaid in 12 monthly installments over the course of one year. The "DoubleGreen Home Loan" covers the cost of fully weatherizing a client's home by ensuring that all heating and cooling systems are as energy-efficient as possible. The loan is available in amounts from $1,000 to $5,000, has a fixed interest rate of 5 percent, and is repaid in 36 monthly installments. Both loans are designed to build client credit scores through positive repayment history.
CGF's "Digital Equity Loan" can be used to finance the cost of a laptop computer. The fund offers three different high-quality models for clients to choose from. These loans are available in amounts from $500 to $1,000, have a fixed interest rate of 15 percent, and are repaid in 12 installments.
And "Our Citizenship Loans" cover the cost of becoming a U.S. citizen for legal residents of the state. It is the belief of CGF that, as citizens, borrowers can participate in the democratic process and push for change at the ballot box. Clients borrow $875 at a fixed interest rate of 15 percent and repay the loan in 12 monthly installments.
CGF's model says it all: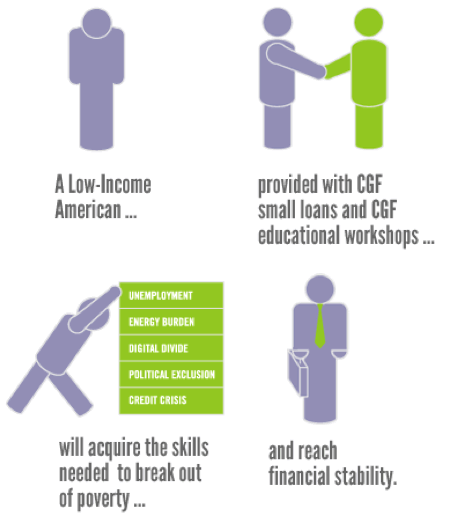 Community Empowerment Fund
The Community Empowerment Fund (CEF) is a student-run nonprofit organization based at the University of North Carolina at Chapel Hill. CEF focuses on strategies supporting the alleviation of homelessness and poverty. It is staffed by volunteers comprised of university students and members of the community. The fund has savings, business and loan officers, and other team members trained in basic accounting, social work, case management, local resources and microfinance. CEF launched in 2009 with two pilot groups of borrowers and funding from the Office of Undergraduate Research, Carolina Center for Public Service and APPLES. The results of this pilot are available at www.law.unc.edu/documents/poverty/legacy_assets/publications/cefpilotreport2010.pdf.
CEF offers three primary programs. "Safe Savings" centers around "opportunity circles," a 10-week curriculum covering personal finance, job readiness and health. Participants can open Safe Savings Accounts that provide a system of financial accountability. The program includes intensive budgeting and intentional savings. Those who complete the curriculum and show consistent progress toward their savings goal become eligible for a CEF Micro-Loan.
"Business Training" is a 6-week course that meets once a week. Sessions focus on developing the client's business idea, defining the market and competition, small business accounting, pricing, marketing, and legal.
CEF's "Micro-Loans" are for investments in small business, employment or housing transitions. Loans are interest-free and individually negotiated. Payments are small and made weekly or biweekly. To qualify for a Micro-Loan, clients must participate in either the "Safe Savings" or "Business Training" programs.
Gretchen Christian, the Intersect Fund, and De RiChéek
Gretchen Christian was a seamstress working out of her home in New Jersey. Combining her passions for her children, their education and sewing, she made message pillows and backpacks to help raise funds for the graduating class at New Brunswick Health Sciences Technology School and later to help other schools and nonprofits generate funds. When a friend asked Christian to attend a black history event she was hosting, Christian's life changed; she won a seat at the Intersect Fund, a nonprofit organization that offers services to low-income entrepreneurs in the New Brunswick, N.J., area.
Christian graduated from Intersect's three-month program, which teaches business planning, marketing, finance and operations. She then registered her business with the state as De RiChéek (a combination of two of her children's first names and the nickname of her third child) and began to take her business to a whole new level.
Through the Intersect Fund, Christian acquired collegiate licensing rights at Rutgers University. She makes "Congratulations Class of…" pillows, other message pillows, towels and anything else that students want or need. Christian said, "I get an idea and I just go with it." Rutgers is where the Intersect Fund originated; however, Christian hopes to expand both her reach (to other college campuses) and her product line (to include items such as hats and scarves with collegiate logos). Expanding her online presence is also on Christian's agenda as well as getting into some non-collegiate venues. To realize these goals, De RiChéek will need to hire employees.
In this age of socially responsible business, Christian proves that businesses of all sizes can be socially responsible. A percentage of the profits from sales of De RiChéek products goes back to the ordering organization. Twenty percent of the proceeds from Rutgers goes to the Central New Jersey American Cancer Society in North Brunswick. Staying true to where it all began, $1 from each sale goes to the New Brunswick Health Sciences Technology High School Graduating Scholarship Fund on behalf of Dexter Campbell, postgraduate 2010. Christian would like to hire seniors, veterans and students, and she hopes to establish an apprenticeship program to teach others her craft. Asked what she thinks of the Intersect Fund, Christian said, "Words are not enough. They are heaven-sent."
If you are interested in learning more about De RiChéek or how your organization can work with Christian, e-mail her at dericheek321@gmail.com or call 732-253-9028.
Bridges is a regular review of regional community and economic development issues. Views expressed are not necessarily those of the St. Louis Fed or Federal Reserve System.
---
Email Us
All other community development questions