Tennesseans Take Steps from Welfare to New Careers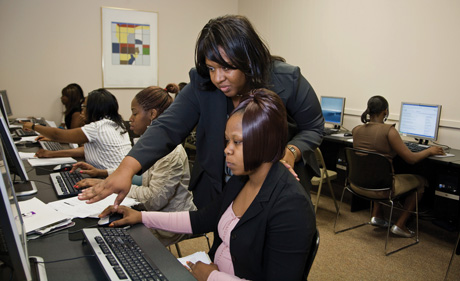 Career Steps, a job training program, offers Tennessee residents computer training and help with developing a resume.
In 2007, Tennessee welfare recipients became subject to strict federal guidelines that limited their welfare eligibility and required them to work or take part in activities that would lead to full-time employment. A new mandate set a lifetime maximum of 60 months of public assistance. To help unemployed welfare recipients make the transition back to work, the state's Department of Human Services turned to SEEDCO, a national nonprofit with extensive experience in developing and overseeing welfare-to-work programs.
One of the program's SEEDCO administers is Career Steps, a performance-based workforce development program that provides job training, placement services and ongoing support for Shelby County residents transitioning from public assistance to economic self-sufficiency.
Career Steps is a joint venture between SEEDCO, the Tennessee Department of Human Services, United Way of the Mid-South and local nonprofit agencies. "We use practical, effective strategies to address the challenges confronting individuals who are struggling to leave poverty and achieve economic progress," said Sondra Howell, career development manager of SEEDCO.
The program's primary objectives are to help unemployed or underemployed public assistance recipients become economically self-sufficient and to work with Memphis regional employers to meet their employment needs and strengthen the local economy. The Career Steps program assists thousands of Shelby County residents in gaining the necessary skills needed to be successful in the workplace.
Services offered are:
Job readiness and referrals: Trained employment counselors work with participants to assess job readiness and help them determine career pathways. Counselors identify and address possible barriers to employment, such as lack of transportation, the need for appropriate work clothing and mental health or substance abuse issues.
Training and professional development: Participants with limited or no workplace experience receive a wide range of training and skills-development opportunities. The Career Steps program places entry-level workers in temporary, unpaid job assignments (internships) averaging 20 to 30 hours per week and allowing them to improve their employment prospects. At any given time, there are approximately 1,500 participants in the Career Steps program.
Job development and placement: Job opportunities are identified and workers are placed in positions that use their skills and background. In 2009, more than 300 participants transitioned directly into employment from the Career Steps program.
Transitioning from welfare: SEEDCO continues to work with participants after they are employed by providing support in connecting them to transitional benefits such as health care, food stamps and child care assistance.
SEEDCO works in partnership with the Regional Memphis Chamber of Commerce to address the training and hiring needs of the high-growth logistics, health care and retail/hospitality sectors of the community.
Services provided to employers include:
Staffing and retention at no cost to the employer: Entry-level workers are placed in temporary, unpaid job assignments to help employers fill open positions and connect them to skilled job seekers. Once an individual is hired, SEEDCO continues to work with that individual for nine months, ensuring they have support services and training needed to successfully meet the demands of the job.
Customized training: Working hand-in-hand with industry employers, SEEDCO develops customized training that prepares the workforce for specific positions within a sector.
Connection to business incentives: SEEDCO helps employers take advantage of federal tax credits and state initiatives that provide bonus payments to companies that hire, train and retain those leaving public assistance.
Bridges is a regular review of regional community and economic development issues. Views expressed are not necessarily those of the St. Louis Fed or Federal Reserve System.
---
Email Us
All other community development questions