Partnership Creates Pipeline to Jobs for Louisville Residents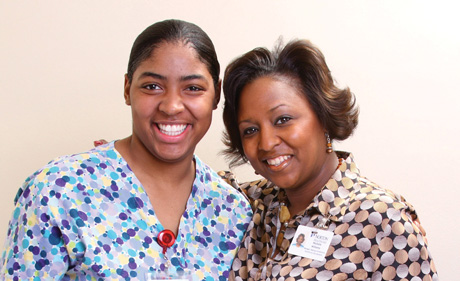 After completing the Making Connections Louisville program, Shavelle Gordon (left) found a job in housekeeping at Norton Healthcare and support from Norton manager Michelle Williams (right). Gordon has since become a nursing assistant and is studying to be a nurse.
An innovative partnership between Norton Healthcare and Making Connections Louisville provides residents of the city's most underserved neighborhoods with entry-level positions and the opportunity to advance in one of the most in-demand fields today.
Making Connections is a 10-city national initiative supported by the Annie E. Casey Foundation and other local funders. The goal of Making Connections Louisville is to close the gaps in housing, education and jobs and to improve the quality of life for families residing in four inner-city neighborhoods: Smoketown, Shelby Park, California and Phoenix Hill.
About six years ago, Making Connections Louisville brought together different stakeholders to discuss how to close those gaps in housing, education and jobs. From that process, a focus on sector-based employment emerged. Health care (specifically, Norton Healthcare) and logistics (specifically, UPS) were identified as sectors that offered opportunities for entry-level positions with potential for advancement and strong benefits packages.
In 2005, Making Connections Louisville launched a four-month pilot program. Only seven employees were initially employed in the Making Connections Louisville neighborhoods with those companies. Subsequently, a goal of employing 40 residents was set. Although residents were finding jobs, many did not retain them because they lacked an understanding of how a huge operation, such as a hospital, actually works. What the coordinators discovered was that participants were losing jobs for reasons that could have been addressed in pre-employment and post-employment coaching. Today, even before applying for a position at Norton Healthcare, participants receive pre-employment coaching.
Norton Healthcare was already in the community and needed a skilled workforce for entry-level positions. For the past four years, Norton Healthcare employee Michelle Williams has worked in its Office of Workforce Development as manager of the Making Connections Louisville program. Her role as career coach means that she helps Making Connections Louisville employees find child care, establish career goals and navigate educational opportunities within Norton Healthcare to prepare for continuing education and health-related career opportunities. She also is responsible for introducing them to all of the benefits that Norton Healthcare offers its employees, including financial assistance toward homeownership and computer purchases.
During the first 30 days of employment, Williams checks in weekly with the new hires. During the second 60 days of employment, she checks in every two weeks and monthly with the manager.
"Michelle's job is so important because she is playing many different roles: Norton navigator, workforce coach, benefits specialist. She is steeped in Norton culture as well as network culture and can really pinpoint what is needed," said Dana Jackson, Making Connections Louisville site coordinator.
Jackson emphasized that the program is based on a legitimate business need for workers to fill entry-level positions in the dietary and housekeeping departments and as patient care associates. Through the program, 57 people are now employed. The challenges are to keep participants engaged in other areas of the Making Connections network and to make sure they are taking advantage of company benefits, she said.
"So success is not measured by simply 'I have a job,'" Jackson said. "Norton is an outstanding partner. What I like about Norton is that at various levels within a large organization, people are thinking about how they can implement the Making Connections initiative. They have taken it (Making Connections), they've embraced it and embedded it in their organization. In a lot of ways, it is in their DNA," Jackson said.
Last summer, Norton expanded the program into additional underserved neighborhoods.
Bridges is a regular review of regional community and economic development issues. Views expressed are not necessarily those of the St. Louis Fed or Federal Reserve System.
---
Email Us
All other community development questions