Incubators Nurture High-Tech Companies
In a city that hasn't expanded its boundaries since 1876 and where little room exists for new industrial parks, two specialized incubators and the small businesses they house have captured the attention of community leaders.
The Technology Entrepreneur Center (TEC) and the Center for Emerging Technologies (CET) in St. Louis help high-tech information firms and biomedical research companies take root. Mentors, reasonable rents and networking opportunities draw entrepreneurs to the facilities. In addition, the incubators offer specialized services and opportunities that high-tech companies need.
City officials are counting on these incubators to play a role in reinvigorating commerce in St. Louis. The hope is that once the businesses grow and "graduate" from the incubators, they will stay in the city, creating jobs and expanding the tax base.
"So many of the traditional approaches to economic development have limited potential for us," said Pat Bannister of the St. Louis Development Corp., the city's economic development agency. "There's not a 10-acre site available in the city. We're not going to go chasing smokestacks," he said, referring to large factories.
Instead, it is important for the city to invest its economic development capital in creating small businesses—and that translates into incubators, Bannister said. The city has made strategic investments in TEC and CET. "We view this support for incubators … that nurture and grow budding technology businesses as critical to the economic success of the city of St. Louis," he said.
His statements are supported by a recent report from the U.S. Small Business Administration that found small, highly innovative firms have a big impact on high-tech industries. For instance, large firms in the fields of biotechnology, medical electronics, semiconductors and telecommunications have observed that small firms are receiving patents in higher-than-expected numbers, the report said.
Bannister pointed out St. Louis has an abundance of mature, technology-based companies, universities, medical centers and other life science research facilities to support the development of related small businesses. The incubators provide their clients with links to these resources.
"Incubators can be successful only if they offer the value-added," Bannister said. "If an incubator is nothing more than a realestate venture, without providing the value-added counseling and services, the incubator will not work."
Both TEC and CET offer value-added services: TEC in the form of physical infrastructure, and CET in its connections with universities and medical centers.
| | |
| --- | --- |
| | |
| Matthew Kulig, left, and Jim Brasunas look over blueprints for the Technology Entrepreneur Center in downtown St. Louis. Brasunas is president of the business incubator and Kulig's firm, Global Velocity, is a tenant. (Photo by Dennis Caldwell) | |
Sharing Connections
TEC is a new incubator in downtown St. Louis that will open this spring on a floor of the Bandwidth Exchange Building. Designed for information technology firms, the incubator has room for 10 to 15 businesses. As it finishes construction on offices, it is seeking tenants and investors.
Although TEC is just getting off the ground, its president is already looking to the future.
"I would love to see several floors of startup companies" in the building, said Jim Brasunas. "When you have companies like that in proximity to one another, there is a synergy, and ideas start bouncing around from one to the other. I want this to be the place people work. It can really create some vibrancy downtown."
Global Velocity, one of the firms that has committed to the incubator, is working in partnership with Washington University in St. Louis to develop and commercialize an Internet security product.
"We were looking for space downtown. What they (TEC) were planning fit exactly with what we were doing," said Matthew Kulig, president and CEO.
Planning services, administrative support, room to expand and fund-raising capabilities are important attributes of the incubator, he said. It allows him to showcase Global Velocity to potential investors—universities and influential people in the business community—he otherwise might not have met.
The value-added service that TEC boasts is "unparalleled access" to bandwidth and data resources and the carriers that provide them, Brasunas said.
The incubator is located in one of two sister buildings that are home to 10 high-tech companies, including Internet service providers, large web-hosting companies, data center providers and corporate information technology outsourcing specialists. Several of the companies are sponsors of the incubator.
"The availability of multiple providers and built-in redundancy allows the Bandwidth Exchange Building to offer its tenants incredible cost savings in terms of local loop and other connectivity," according to information from TEC.
Small firms can access small amounts of bandwidth. As they grow, "incredible" amounts of bandwidth can be made available at a moment's notice, the information states.
Bannister agreed the building is a critical part of the incubator's plans. The access to connectivity will help ensure its success.
"It's efforts like these that are going to grow the next generation of businesses that will be major employers in the city of St. Louis," he said.
For more information on TEC, visit www.tec-stl.org.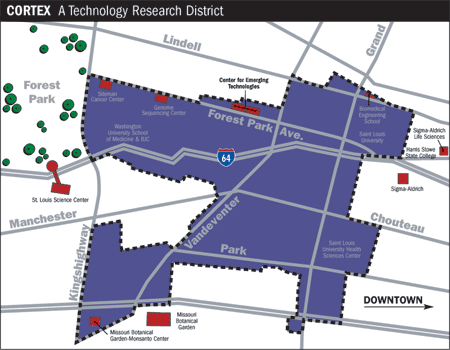 Location, Location, Location
Over in midtown, CET has been working since 1996 to help the city realize its potential as a leader in life science research and commercialization.
As St. Louis competes with other cities to become a hub of the industry, CET offers one asset that is invaluable: location. The center is located in an evolving biomedical research and development district called CORTEX (Center of Research, Technology and Entrepreneurial eXpertise). The district includes the Washington University School of Medicine and its teaching hospitals, Barnes-Jewish and St. Louis Children's; Saint Louis University's Frost and Health Sciences campuses; and the Missouri Botanical Garden's herbarium, all renowned centers of research.
The proximity of these facilities to the incubator/accelerator, which houses startup and expanding small businesses, stimulates the development of the new firms. Most are working on projects in affiliation with Washington University; some are working with Saint Louis University. The center also is connected with the University of Missouri-St. Louis, which, along with the Missouri Department of Economic Development, sponsors it.
The flow of information between the universities and the businesses in CET makes the center viable, said Marcia Mellitz, president.
"The reality is, you need a major research university to do any kind of a research park or technology-based incubator," she said. "If you're doing it in life sciences, it must be a major research medical school. … It needs to really be on the doorstep of a medical school.
"We are clearly here (in the district) for a reason, and we wouldn't have the kinds of companies we have if it weren't for the proximity to the medical schools."
The center is home to 13 companies, 10 of which are engaged in the development of biomedical technologies. The other three companies are engineering-based, doing research in advanced technology. Together, they employ more than 150 people. The businesses share 92,000 square feet of space, spread out over two adjoining buildings.
Tenants also benefit from business guidance and shared equipment and meeting rooms. CET offers specialized research and development spaces, including dry and wet labs, at a reasonable cost.
In 2003, CET was recognized by the U.S. Department of Commerce with its Award for Excellence in Technology-led Economic Development and by the National Business Incubation Association as one of the top 10 incubators in the country.
Within two years, Mellitz and others involved in developing CORTEX hope to have a multi-tenant building available for companies that are ready to move out of CET. Mellitz's vision is that as CET's former tenants prosper in the district, they will draw other private-sector life science businesses to the area.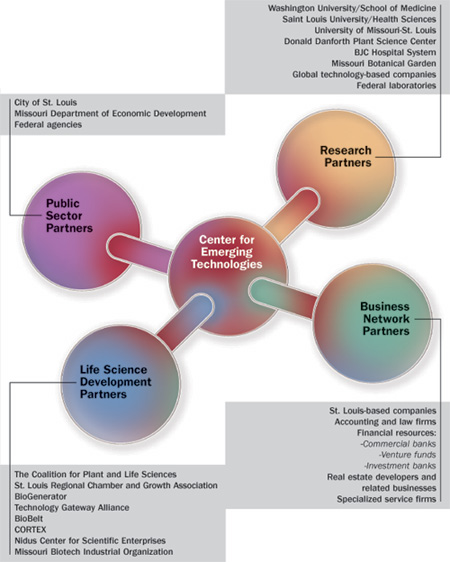 Bridges is a regular review of regional community and economic development issues. Views expressed are not necessarily those of the St. Louis Fed or Federal Reserve System.
---
Email Us
All other community development questions