Lofts Seed Downtown Redevelopment
Where can you go to "forget all your troubles, forget all your cares"? Where all the lights are bright, of course. Downtown.
At least that's what the song says. The reality may be different. Ask mayors of many U.S. cities and see if they agree with Petula Clark's assessment.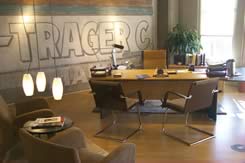 Revitalizing deteriorating downtowns has been a problem faced by mayors for decades. How to convince existing businesses to stay, how to attract new businesses, what to do with vacant buildings and—maybe more importantly—how to get housing and attract residents to the core of cities are all enormous challenges for city governments.
Ironically, as the migration of residents from cities to suburbs fans out ever farther into outlying areas, city officials are realizing that persuading people to live in downtown areas may be the key to revitalizing them.
Among the many cities trying to breathe new life into their downtowns, three that have seen varying degrees of success are St. Louis, Little Rock and Louisville.
Developers there are resolving two issues—what to do with vacant, deteriorating buildings and how to entice residents to move downtown—by rehabbing historic buildings as loft apartments. While much still needs to be done, these projects are a start.
We talked to those involved in ambitious loft projects in each of these cities about how and why their developments came about.
What incentives are there for a developer to take on a project in a desolate area that has been abandoned by others?
One of the major motivations for renovating old buildings is the availability of federal and state historic preservation tax credits, developers say.
In 1997, a Missouri coalition of urban and rural interests worked to get legislation passed that provides a 25 percent tax credit for the total cost of rehabbing a historic property. The tax credit, which is transferable and has no cap, has been instrumental in spurring development in large cities and small towns.
"Missouri's historic preservation tax credit is so flexible, other states have modeled theirs on it," said Vihar Sheth of the Downtown St. Louis Partnership.
Bridges is a regular review of regional community and economic development issues. Views expressed are not necessarily those of the St. Louis Fed or Federal Reserve System.
---
Email Us
All other community development questions