Sparks Announces Retirement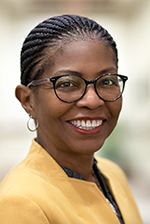 After an 11-year tenure, Yvonne Sparks announced that she is retiring from the Federal Reserve Bank of St. Louis, effective Dec. 31, 2019.
Sparks (former executive editor of Bridges) joined the Bank in 2008 as the manager of the Community Development (CD) function and was promoted to community affairs officer for the Eighth District in 2013. She came to the bank with a deep understanding of the community development field and the challenges facing the St. Louis market, in particular. She also long believed that rural development had largely been a neglected area in the CD field and strategically directed Bank resources to this area, with an emphasis on the Delta region. In 2017, she accepted the challenge to stand up the Investment Connection program for the Eighth District, connecting potential funders with entities seeking funding for Community Reinvestment Act (CRA)-eligible services, loans and investments. In past two years, the program has enabled the Bank to foster constructive relationships among many bankers and community groups, and resulted in over $2.5 million in new CD funding throughout the district.
Sparks' expertise and her passion for community development work will be greatly missed.
Bridges is a regular review of regional community and economic development issues. Views expressed are not necessarily those of the St. Louis Fed or Federal Reserve System.
---
Email Us
All other community development questions