St. Louis Fed's Inside the Economy™ Museum Is Open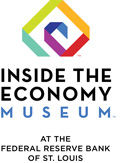 The St. Louis Fed celebrated a historic milestone as the new Inside the Economy™ Museum opened its doors to the public in September. The museum is designed to be a one-of-a-kind, immersive experience that explains the economy—and everyone's role in it—in a fun and interactive way. Visitors will engage in a hands-on journey through nearly 100 exhibits that are brought to life through displays, games, sculptures and videos. The museum also includes a multipurpose classroom for educational groups.
Walk-in visitors as well as groups are welcome. Hours are from 10 a.m. to 3 p.m., Monday through Friday, excluding Bank holidays. The museum is free of charge to all visitors. For more information, visit the museum's new website, www.stlouisfed.org/economymuseum.
Louisville CIZ Receives National Arts Grant
IDEAS 40203 and YouthBuild Louisville have received a $250,000 national arts grant to develop a unique Creative Innovation Zone (CIZ) in the Smoketown neighborhood. The grant will help fund economic, educational and environmental infrastructure development in Smoketown led by artists and entrepreneurs. Smoketown was Louisville's first established African-American neighborhood.
The Louisville CIZ was one of 55 grants selected by ArtPlace America out of 1,300 applications. It will focus on education—especially in digital literacy and green-space development—with an emphasis on public art, and business development, pioneering new ways for artist/innovators and community to work together to create new opportunities in education, environmental design and entrepreneural activity leading to jobs.