Accelerating the Growth of Small African-American-Owned Businesses
In January 2006 the St. Louis Black Leadership Roundtable (BLR) launched the Center for the Acceleration of African-American Business (CAAAB) as a major initiative under its Economic Development Committee. CAAAB was established to support the growth and development of African-American-owned businesses in the metro St. Louis region. In May 2010, CAAAB branched out as an independent nonprofit. However, BLR and CAAAB continue to maintain their strategic partnership.
Mission and Operational Philosophy
CAAAB's primary mission is to elevate the status of resource-strapped African-American-owned businesses and level the playing field for them to compete in the local, national and global marketplace. It operates using a membership and community business development model. CAAAB also strives to foster economic independence among the "unemployable" population.
CAAAB is the only capacity-building and community business support organization in the St. Louis region specifically targeting small and disadvantaged African-American entrepreneurs. Its programs and services integrate best practices, cultural competency and participatory methods. In order to facilitate leadership development, as well as successful business startup, growth and sustainability, CAAAB seeks out and collaborates with other social, financial and educational institutions. The System Dynamics model shown in Figure 1 provides a visual map of CAAAB's mission/vision, service delivery method and potential impacts.
FIGURE 1
CAAAB System Dynamics Model
---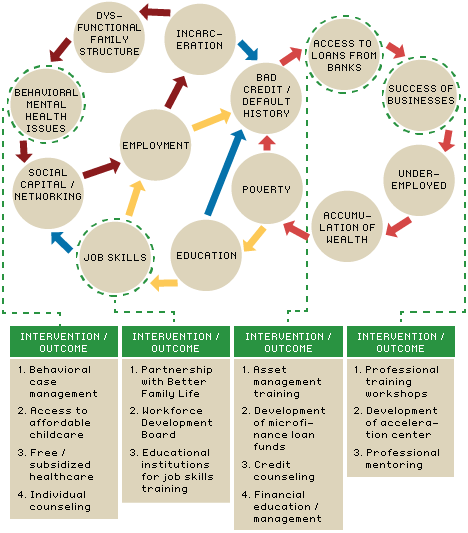 Services
At present, CAAAB has 22 business members from the service, retail, information technology (IT) and green energy/sustainability sectors. The key services provided to CAAAB members include:
One-on-one technical assistance based on the business' leadership and organizational life cycle and the associated needs and gaps that, if not addressed, could deter growth
Identification of and linking to sources of capital and other support services that are critical for growth and sustainability
Partnering with local corporations, faith-based organizations and financial institutions to develop mentoring programs that will enhance the professional, organizational and financial skills of minority business owners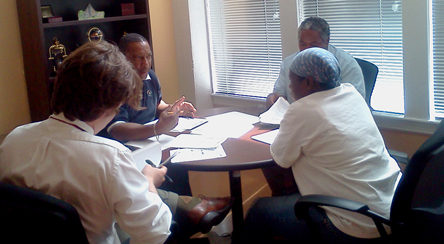 Additionally, CAAAB develops and implements entrepreneurship programs in partnership with schools and grass-roots organizations to foster social and economic development of disenfranchised communities and their residents.
Results
CAAAB's services have yielded successful business growth, leadership recognition and access to capital for its members, as exemplified by the following achievements:
An information technology company was named the Minority Business of the Year by the city of St. Louis.
A project management firm specializing in enterprise resource planning was awarded a contract to manage a $6 million construction project. Besides increasing the company's annual revenue, it also resulted in the creation of eight new jobs. The company was named Minority Business of the Year by the state of Missouri.
A construction management firm was awarded a $12 million open contract with the U.S. Army Corp of Engineers. In addition to adding to the company's annual revenue, the contract directly resulted in the creation of 12 new jobs.
Although it does not have in-house lending capacity, CAAAB helps its members secure capital through financial partners. While banks have expressed support for CAAAB's work, the organization's major lending partner is Justine PETERSEN, the country's third-largest microfinance institution. In the last three years, CAAAB's efforts have resulted in $348,000 in microloans for its clients through Justine PETERSEN.
CAAAB recently became a trustee organization for Kiva Zip, a program launched by Kiva—a multinational online microlending platform—to provide interest-free loans to microbusinesses in the United States. So far, three CAAAB clients have received Kiva loans of up to $5,000 each, which helped these businesses meet immediate capital needs. The loan ceiling is scheduled to rise with CAAAB's continued good standing with Kiva, which is measured in terms of the borrowers' repayment history.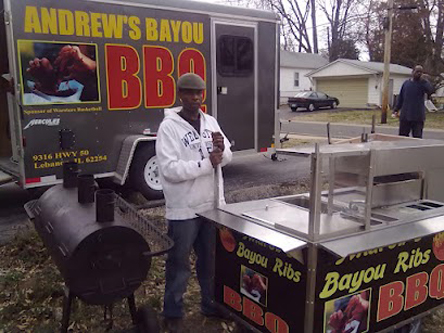 Catch the CAAAB
In 2012, CAAAB launched "Catch the CAAAB to Accelerate Your Business' Success" (Catch the CAAAB), a small-business capacity-building program that provides targeted consulting services to its member businesses. The goal of this program is to assess and strengthen critical business functions of new and developing small businesses ($100,000 or less in annual revenue) using transfer-of-knowledge methodology. CAAAB and its consultants will provide businesses with the knowledge and tools necessary to build a strong foundation for viability and sustainability.
CAAAB's assessment of its member businesses through focus groups, surveys, one-on-one interviews and regular interactions clearly identified gaps in business planning, informed decision-making and accessing professional help. These are all indicators that researchers have used in measuring success rates in small businesses. Oftentimes, during crises, these gaps led member businesses to seek CAAAB's help at the last minute, when it was too late for any intervention. With appropriate experience and resources, most of these last-minute intervention requests could have been avoided, allowing businesses to focus on growth and sustainability.
Catch the CAAAB is a one-year program comprised of a seven-step process that includes:
client recruitment and orientation;
one-on-one diagnostic assessment;
data reporting/feedback;
individualized goal setting and planning;
implementing plan/changes;
attending group trainings and networking events; and
reassessment and evaluation.
Commitment from both consultants and participants is critical for the success of Catch the CAAAB. Outcome research for these volunteer-based programs has been limited due to inconsistency in service delivery. Catch the CAAAB is unique because it is incentive-based. The consultants or coaches/mentors are compensated for their time and service and are therefore required to perform in a timely and professional manner. The participating businesses are also required to sign a commitment contract and pay a small commitment fee to ensure their active participation in the program.
Additionally, Catch the CAAAB is accommodating of its clients' schedules. The time commitment of the consultants is flexible because they realize that the clients' skills, resources and experience greatly influence their ability to fulfill their tasks and goals.
Because of limited funding, implementing Catch the CAAAB has been very challenging. CAAAB's immediate focus is on securing funds for the program by forming strategic partnerships with social service organizations. In spite of scarce funding, CAAAB is committed to uplifting small, disadvantaged African-American-owned businesses, and helping them fulfill their entrepreneurial dreams.
For more information on CAAAB and Catch the CAAAB, visit www.caaab.org, or contact Neelu Panth or Eddie Davis at info@caaab.org or 314-533-2411, ext. 109.
Bridges is a regular review of regional community and economic development issues. Views expressed are not necessarily those of the St. Louis Fed or Federal Reserve System.
---
Email Us
All other community development questions