Fall Results of Community Outlook Survey Coming Soon
The fall 2012 edition of the semiannual Community Outlook Survey of low- and moderate-income (LMI) communities across the states that comprise the Eighth Federal Reserve District will soon be released on the St. Louis Fed's web site: www.stlouisfed.org/community_development/community-outlook-survey/. The survey informs the St. Louis Fed and its branches in Little Rock, Louisville and Memphis about the current conditions of the District's LMI communities and is shared with policymakers at the Federal Reserve Board of Governors in Washington, D.C. If you don't already participate in the survey but would like your voice to be heard in future rounds, send us an e-mail at communitydevelopment@stls.frb.org.
New 1:1 Fund Will Boost College Savings for Low-Income Mississippi Kids
The 1:1 Fund, launched in November, is an innovative new program that matches low-income students in Mississippi with donors who help them maintain and build college savings accounts. In its first year, 1:1 aims to provide matching funds for nearly 9,000 children in two test markets—Mississippi and San Francisco—with plans to expand nationally and reach as many as 100,000 children by 2015.
Mississippi ranks second to last in the percentage of residents with a four-year college degree (19.5 percent) and 47th in those with two-year degrees (27.9 percent), according to CFED's 2012 Assets & Opportunity Scorecard. The 1:1 Fund will match donors with nearly 700 children already saving for college through the Mississippi College Savings Account Program. For more information, visit www.1to1fund.org.
New St. Louis Fund Pairs Community Investment with Engagement
A new grassroots charitable fund dedicated to community development in the St. Louis region gives individual donors a say in which organizations to support. The fund—inveSTL—raises money through donations and event proceeds to build a foundation focused on neighborhood development. When the fund reaches specific fundraising goals, it will grant 25 percent to an organization and retain 75 percent to build up the endowment. Donations are accepted in all amounts, and donors who contribute $100 or more in a given funding cycle are able to vote on the organizations that receive funding. To learn more, contact Karl Guenther at guentherk@umsl.edu or www.inveSTL.org.
Save the Date! Resilience and Rebuilding for Low-Income Communities Conference
The Federal Reserve System will host its eighth biennial community development conference on April 11–12, 2013, in Washington, D.C. This event will feature multidisciplinary, action-oriented research to inform strategies and policies that forge vibrant and resilient communities. To learn more, visit www.frbatlanta.org/news/conferences/13resilience_rebuilding.cfm.
Glenda Wilson Retires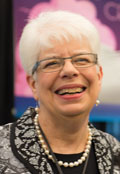 After 36 years at the Federal Reserve Bank of St. Louis, Glenda Wilson retired on Nov. 30. Wilson, the Bank's assistant vice president of Community Development, was hired at the St. Louis Fed in 1976 as an assistant bank examiner. She worked in various departments throughout the Bank before landing in Community Development in 1990, when the department's focus was on assisting communities with issues related to the Community Reinvestment Act (CRA). Although today's Community Development department still provides CRA information as part of its mission, that mission has expanded to also focus on areas such as community and economic development as well as access to credit—with a goal of helping to improve communities and the lives of their residents.
"Over time, we have evolved into looking more closely at community issues such as affordable housing, and taking more of a holistic approach to community and economic development," Wilson says. Such an approach, which often involves working directly with community organizations and neighborhoods, has made Wilson's winding career path especially rewarding, she says. "We get to work with all of these people and organizations who do such good work and who are trying so hard to make life better for their communities," she says. "It's been really rewarding to play a part in helping to make those efforts successful."