In a 2007 Bridges article, we examined two neighborhoods in the St. Louis Fed's District: Cooper-Young in Memphis, Tenn., and the downtown district in New Albany, Ind. Four years later, we revisit Midtown (formerly S. Ellen Jones) in New Albany. This community's comprehensive and inclusive approach to neighborhood redevelopment helped to secure a Neighborhood Stablization Program (NSP1) award of over $6 million and restored vitality and health to a neighborhood that was on a downward spiral.
While New Albany has been methodically investing in its urban neighborhoods for almost 20 years, the area has experienced a revitalization in the past three years sparked by Scribner Place, a multi-use development jointly built by the city and the YMCA. Other projects include a bistro, bakery, winery and pedestrian access to the Ohio River Greenway.
Carl Malysz, New Albany's director of community development, explained that the overall neighborhood plan included a strategy to invest in infrastructure, institutional replacement and housing. In the 1990s, the city purchased a number of dilapidated homes that were demolished to build a park adjacent to the local school, inspiring the school district to upgrade the aging school building. In 2002, the city sold an old hospital and nursing home to New Directions Housing Corporation, a NeighborWorks affiliate; the property was restored and rehabilitated and now offers 56 units of affordable rental housing.
Midtown includes 800 properties that showcase historic architecture and a wide range of home styles. The neighborhood boasts other assets, including walkability, proximity to downtown, and a neighborhood school and park. Also, it is only a 10-minute commute to Louisville—a big plus for homebuyers who work in the city.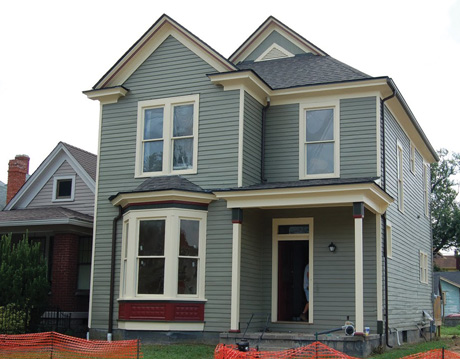 In Midtown, 31 homes are being rehabbed, significantly impacting surrounding areas.
Despite these assets, Midtown's significant challenges threatened to derail any progress made to redevelop the area into a neighborhood of choice. It had a large concentration of vacant properties. Malysz explained that foreclosures in the neighborhood were overwhelmingly investment properties. The owner-occupancy rate had dropped to 40 percent, and investors and homeowners were struggling with mortgage delinquencies. In early 2010, 37 of 800 properties were in foreclosure and 110 were vacant, according to Ted Fulmore, New Directions' community development coordinator and a Midtown resident.
These challenges, however, turned out to be a blessing and played a key role in helping the city secure $6.7 million under NSP through the Indiana Housing and Community Development Authority (IHCDA). Malysz described the award as a turning point. "If you're looking for one lynchpin, it was probably the NSP money. That allowed us to invest a substantial amount of money on a significant number of homes at one time, to the betterment of the entire neighborhood."
There was no time to celebrate—New Albany had less than half the usual time to commit the NSP funding, and regulations required a bidding process to choose a developer. By the time New Directions was awarded the contract, the NSP1 deadline was just six months away. Within that time frame, properties had to be identified and acquired, and a contract for completion of the required renovation had to be signed.
New Directions proved equal to the challenge, acquiring 31 single-family homes plus the Cardinal Ritter birthplace by the deadline. They acquired properties strategically, targeting homes that would have a significant impact on surrounding areas. As a Midtown resident, Fulmore had an advantage— he was familiar with the true eyesores. "Our strategy was to remove the worst of the worst. We went block to block targeting blighting influences and replacing those with high-quality work. It really is having a domino effect," he said.
It is exciting to see how this project has stimulated the local economy. Five contractors and many local subcontractors were hired to demolish and build 10 new homes. They'll also rehab 18 more, as well as the community center located in the Cardinal Ritter birthplace. The government NSP investment has stimulated private-sector investment. One of the construction contractors purchased an 1890s-era building that had been vacant for 20 years, with plans to convert it into four apartments and retail space.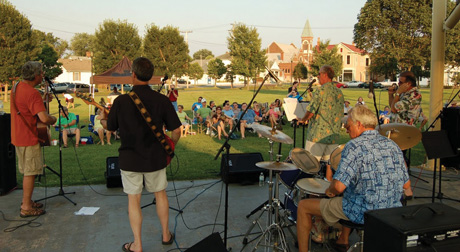 Ritter Park hosts one of many sponsored events designed to build a sense of community.
Proceeds from NSP properties will be reinvested in the neighborhood to acquire more vacant homes for restoration and sale. Only those who will be owner-occupants and earn no more than 120 percent of the area median income will be considered eligible purchasers. NSP imposes requirements designed to ensure the assisted properties remain affordable to income-eligible occupants for a certain period of time (the affordability period). For Midtown Renaissance homes, that term is typically 15 to 20 years.
Two homes have already sold near their asking prices, which has had a positive impact on moving the average sale price in an upward direction. "The visual impact alone is very striking. The feedback we get from people who visit is that they can tell the neighborhood is on the uptick. The new image is really improving the area," Fulmore said.
While the removal of abandoned and blighted properties in Midtown has jump-started a rebirth of the neighborhood, the city has secured a $500,000 grant from IHCDA to make loans for external home improvements to current homeowners who are eligible by income.
To build a stronger sense of community, the Midtown Neighborhood Association has sponsored music festivals and other events in the neighborhood park. "It is a comprehensive effort; we're not just trying to make homes pretty," Fulmore said. In addition, New Directions is working with three bank partners—PNC, Fifth Third and Main Source—to launch a financial empowerment series this fall to educate residents on entrepreneurial opportunities. Monthly information sessions on important financial topics will be offered at the new Cardinal Ritter community center.
Lisa Thompson, assistant director of New Directions, sums up the Midtown experience. "It's not perfect, but it is a work in progress with a lot of hands engaged," she said. "Different-size applications have different resources, which underscores the importance of being prepared and having a strategy in place. A sense of quality and creativity help local businesses to be successful. Everything is very bullish and infused with local flavor. The winery, located in a restored vintage building, sells Cardinal Ritter red wine. People really can choose to create a community."
To learn more about the Midtown Renaissance, visit www.midtown-na-in.org.
Bridges is a regular review of regional community and economic development issues. Views expressed are not necessarily those of the St. Louis Fed or Federal Reserve System.
---
Email Us
All other community development questions