Illinois Gives Grants to Close "Digital Divide"
Illinois has expanded its "Eliminate the Digital Divide" grant program to $30 million. The first 24 grants, totaling $1 million, have already been made. They will be used to help plan, establish, administer and expand Community Technology Centers to serve residents in many low-income communities. Recipients include the East St. Louis Action Research Project, the Greater East St. Louis Community Network Foundation and Southern Illinois University at Edwardsville.
The East St. Louis Action Research Project received $49,951 to provide Internet access to 12 technology centers in the East St. Louis area. The organization will first establish a broadband Internet point-of-presence at the East St. Louis Neighborhood Assistance Center through the Illinois Century Network. Broadband Internet access is expected to spur increased training courses offered through local technology centers.
The Greater East St. Louis Community Network Foundation received $36,800 to establish a technology center in Centreville. Among the services will be before- and after-school programs; basic computer skills training; Internet access; software installation and hardware setup; computer-assisted courses in business planning, reading and writing; and entrepreneurship training.
The university received $40,400 and will serve as fiscal agent for eight technology centers operating after-school programs in the East St. Louis School District. The grant money will be used for new computer equipment and installation, for upgrading existing equipment and for equipment maintenance training. Children will be trained in the use of the Internet and participate in an Internet-based mentoring program. A computer donation program will also be established to enable children to receive computers for home use.
For more information on the grant program, contact Jim O'Brien, Illinois Department of Commerce and Community Affairs, (217) 785-6146.
Local Money Sought to Offset Missouri Cutback
The Missouri Small Business Development Centers (SBDC) program is looking for assistance to make up for a cutback of about $500,000 in state matching funds.
The centers—nearly a dozen across the state—train about 7,000 small businesses each year in management, marketing and finance. The effort is a public/private partnership among the Small Business Administration, the University of Missouri System, a variety of local partners and 10 of the state's institutions of higher education.
"Clearly, a program that helps businesses create $99 million in increased sales and $12 million in increased profits, attract nearly $50 million in new financing and create more than 2,600 jobs is an excellent return on a half a million dollar investment," says Max Summers, Missouri SBDC state director.
The shortfall will have to come from a variety of sources, including local hosts, financial institutions, corporations, foundations and other local partners.
To invest in the centers, contact Alan Richter, regional director for the St. Louis Enterprise Center SBDC, at (314) 631-5374 or Summers at (573) 882-0344.
Habitat Comes Home to Louisville
The Habitat for Humanity MidAmerica Regional Support Center recently opened in Louisville. Community leaders, affiliate representatives, ministers and staff pounded nails into a giant playhouse symbolizing the houses that Habitat has and will build in Indiana, Kentucky, Ohio and Tennessee—the four states served by the new center.
The center provides assistance to 254 Habitat for Humanity affiliates, which are largely volunteer groups that build houses in their communities. The center's staff of 15 (four in Louisville and 11 in the field) provides training, expertise with fund raising, help in making connections with churches and donors, and assistance with administering loan and funding applications.
The regional office is located in the Spectrum Center, a former high school that was renovated and is now home to several non-profits. For more information, call the Habitat office at (502) 568-2656 or 1-877-885-5994.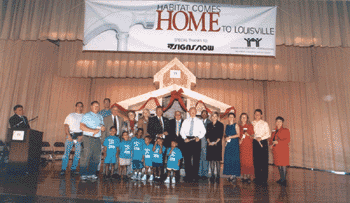 Among those on hand for the grand opening of the Habitat for Humanity office were Louisville Mayor David Armstrong (in middle, in long-sleeved white shirt) and Meredith Kostyk, Habitat's regional director (in brown dress, sixth adult from the left).