Community Development Group Transforms Arkansas Town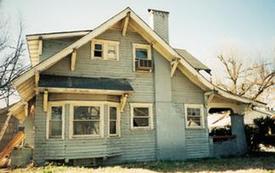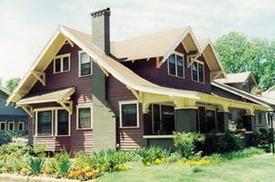 The historic Mosley House (circa 1917) in one example of the 74 downtown properties purchased for renovation by Argenta CDC.
The small neighborhood known as Argenta, in downtown North Little Rock, Ark., was once a thriving, vital community, fueled by good, stable jobs through the nearby railroad. Residents enjoyed a bustling Main Street commercial district only a few blocks away. Unfortunately, the environment of safety and stability changed in the 1980s as long-time residents began to pass away or move from the neighborhood, leaving their properties vacant. Many of these properties were acquired by absentee landlords, and the area began a rapid downward spiral.
The decline in home-owning residents led to a dramatic increase in crime. Argenta became one of the most dangerous areas of the city.
In the early 1990s, after two murders occurred in the neighborhood, residents declared they had had enough. Property owners and stakeholders joined together and demanded change. With hard work, determination and the support of public- and private-sector partners, Argenta Community Development Corporation (CDC) was formed for the purpose of reclaiming the ravaged neighborhood. As a result, miraculous changes have taken place in just 10 years.
The focus of the Argenta CDC has been to purchase and rehabilitate substandard properties. More than 70 buildings have been purchased to date. Half of these are single-family homes, renovated and sold to first-time buyers.
Other properties have been renovated for residential and commercial rental. By providing supportive home-buyer services such as pre-purchase counseling, mortgage loan pre-qualification, down-payment grants and access to low-interest mortgage financing, Argenta CDC has made homeownership a reality for more than 100 families in Central Arkansas. The CDC was instrumental in getting its neighborhood placed on the National Register of Historic Places in 1993.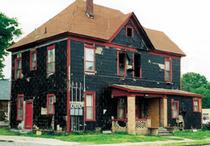 This boarding house was built in the 1920's for transient railroad workers. After renovation by Argenta CDC, it will be offered for lease as a mixed-use building (living quarters upstairs, quiet business downstairs).
Today, the Argenta community has shed its dark past. Gangs and drug dealers have been replaced with young families and children playing safely in their yards. Previously condemned buildings are now tidy, attractive homes. Crime rates in the area are now among the lowest citywide, and property values have skyrocketed as a result of the CDC. Argenta is truly a community again.
The Argenta CDC is quick to point out that this dramatic turnaround would not have occurred without the support of the community at large. CDC leaders recognized early that they would need help to achieve the results they envisioned, so they actively identified key stakeholders in the area. As a result, the CDC was able to form mutually beneficial partnerships with both public and private entities, including several area financial institutions. Regions Bank, Superior Bank, Metropolitan Bank, Pulaski Bank, Bank of the Ozarks, Firstar Bank and Firstar CDC have all provided support to the CDC. Additionally, the city of North Little Rock, Union Pacific Railroad, State Farm Insurance, the Arkansas Real Estate Foundation, Local Initiatives Support Corporation and Neighborhood Reinvestment Corporation (NRC) have been vital supporters along the way.
With so much success under its belt, you might expect Argenta CDC to take a break, but that is not the case. The CDC recently purchased 31 scattered-site rental units in dire need of rehabilitation. These properties, most of which are more than 70 years old, represented the area's greatest remaining source of criminal activity and blight. The nearly $3 million project is the single largest restoration initiative ever assembled in the downtown historic district.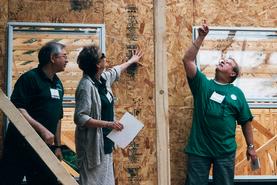 Neighborhood residents, who serve on the CDC Board of Directors, take a hands-on approach to housing development
For a project of this magnitude, Argenta CDC turned again to its partners for support. NRC has provided development grants. The city of North Little Rock has pledged support from its CDBG allocation. Firstar Bank has provided first mortgage and construction financing, and Firstar CDC bought into the project as a tax-equity partner. (See chart for project financing breakdown.)
The CDC and its partners kicked off this massive project in May. Affordable rental units will be available for occupancy by the end of this year.
The cooperation between Argenta CDC, area financial institutions, local governments and others is a powerful example of what can be accomplished when resources are pooled for the betterment of a community. If you would like more information on Argenta CDC, call (501) 374-0622. E-mail can be sent to argentacdc@aol.com.
Bridges is a regular review of regional community and economic development issues. Views expressed are not necessarily those of the St. Louis Fed or Federal Reserve System.
---
Email Us
All other community development questions