Dress for Success—Helping Low- to Moderate-Income Women Find Jobs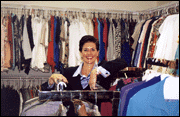 Kathy Lambert didn't know when she read a magazine article in September 1997 that she was about to make a dramatic change in her life. Lambert and her partner, Kathryn Pfeiffer, owned a successful corporate training/consulting business, and she wasn't looking for any additional projects; that is, until she read about an organization in New York called Dress for Success.
Founded in 1996 by Nancy Lublin, Dress for Success is a nonprofit organization that provides work-appropriate clothing for low- to moderate-income women who are looking for jobs but cannot afford the right wardrobe. Clients are referred by nonprofit member organizations, including domestic-violence shelters, incarcerated women's programs, literacy programs and job training programs. In addition to receiving one-on-one counseling, a client receives one suit for job interviews and another when she obtains employment.
Kathy Lambert started organizing Dress for Success Midwest after reading the article about the organization in SELF magazine. Christ Church in St. Peters, Mo., provided space for Dress for Success Midwest, and Inter-tel Technologies Inc. donated a telephone system. In addition to receiving corporate sponsorships from Capezio, Avon and Hues Studio, the organization has benefitted from clothing drives held by several St. Louis corporations including GTE, Spectrum Healthcare Services, Monsanto and Boeing. The Face and Body Day Spa is an ongoing drop-off site for clothing, and Mary Kay cosmetic consultants have conducted makeup workshops for clients.
In January 1998, the New York organization held a "Clean Out Your Closet" week that received national attention. Locally, Dress for Success Midwest was featured on the St. Louis CBS affiliate as news anchors "cleaned out their closets" during various news segments that week. Recently, the organization was featured on the St. Louis NBC affiliate and will be highlighted on ABC's Primetime Live as part of a feature on the New York organization.
Since April, Dress for Success Midwest has suited more than 200 women and, according to Lambert, "approximately 60 percent of them returned for a second suit, meaning that they had gotten a job." In addition to providing clothing, the organization, and Lambert in particular, works with the women to help them develop business etiquette skills and build the confidence needed to obtain a job. Lambert indicated that "one of the most rewarding aspects of being a part of this organization is to see the dramatic difference in how the women present and carry themselves when they walk in the door and when they leave."
The next step in the process is developing a support network for the clients of Dress for Success Midwest. Lambert envisions monthly luncheon meetings highlighting the clients' successes and dealing with issues that arise in regard to working and retaining jobs.
Dress for Success Midwest is a volunteer effort and is seeking additional financial help. Currently, 35 agencies and nonprofit organizations refer clients to Dress for Success Midwest; and, as part of the referral agreement, the organizations are responsible for staffing a four-hour block of time each month.
An Advisory Board was organized recently to help tackle issues like funding, finding adequate warehousing space and expansion. The group is seeking financial help or seed money to be used for developing brochures and printed materials, hiring a full-time staff person and buying a van for picking up donations and providing transportation for clients who experience difficulties getting to the boutique.
If you would like more information on how you or your organization can participate with Dress for Success Midwest or donate work-appropriate clothing, please contact Kathy Lambert at (314) 397-0962, or write to her at Dress for Success, 6930 Mexico Road, St. Peters, MO 63376.
Bridges is a regular review of regional community and economic development issues. Views expressed are not necessarily those of the St. Louis Fed or Federal Reserve System.
---
Email Us
All other community development questions