Cass Bank's Successful Approach to Minority Small Business Lending
For Cass Bank, small business lending is our niche, our primary business. When you ask me to describe our program for lending to minority-owned small businesses, it's easy because we have developed a comprehensive, relationship-building approach to all small business lending.
There are several components to our program, some of which we believe are unique to Cass Bank. Our approach is "high touch and high tech," and we believe it is a successful combination for the bank and its customers.
First, Cass Bank has developed a proprietary database of small businesses (those with sales of up to $150 million annually) in the St. Louis area. This database is constantly being updated from any number of sources because we want to be able to identify and focus our activities on these small businesses and their owners. This is an important starting point for Cass Bank since our next step is our contact marketing program.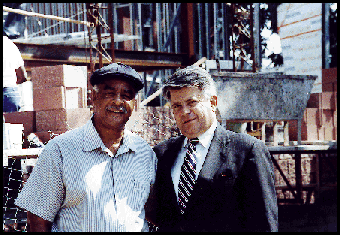 Cass Bank Senior Vice President Ted Winters (right) alongside one of his clients, Marvin Peebles, at a construction site in north St. Louis. Through a special program, Cass Bank provides loans and one-on-one business counsel to minority-owned small businesses like Marvin Peebles Masonry Inc.
Cass Bank has marketing calling officers who contact small business owners. These contacts may be initiated by information received from our database or from word-of-mouth referrals. What makes this so successful is the commitment from the very top of the organization. Our chairman and executive officers often participate in these calls because we want business owners to know that their business is important to us.
Walking the Talk
Following the initial contact, we begin a time-intensive commitment to the business owners that allows us to "walk with" them more closely. This consists of:
Getting to know the business owner, building a relationship and gaining credibility;
Assisting and providing financial counsel or technical assistance to help small businesses establish financial accounting systems, including cash disbursement and receipt journals;
Attempting to develop a way to structure a loan request considering factors such as cash flow and debt coverage;
Advising business owners on computer and software systems or referring them to the appropriate source;
Assisting the customer when meeting with the SBA to find out about SBA-guaranteed products or referring them to one of our lenders who are experts in SBA lending; and
Developing an inclusive proposal that covers not only lending requirements but also the deposit side as well. This helps them to better manage cash available to them.
It is not unusual for Cass to walk with business owners over a period of two or three years, helping them to develop a comprehensive game plan. We want to help them see where they should be in one, two or three years. We desire to structure a loan package that is best for their businesses.
We consider this one-on-one approach to be critical to the overall success of our lending program. We are visiting and working with the business owners at their locations rather than asking them to come to us. Although we have several locations in St. Louis city and county, the location of our facilities is less important for our bank than for others. We do most of our work in the clients' offices.
To those businesses that require such, we also offer consultation regarding electronic commerce services. Through an affiliated non-bank subsidiary, Cass Information Systems, we can provide our customers high tech solutions (to processing payables and receivables, for example), which may be needed to operate successfully in the future.
Church Lending
In addressing the more specific question of our lending program for minority-owned small businesses, Cass Bank has intensified its efforts to reach this market over the last five years. This increased effort led us to become more involved in church lending. Churches are crucial to revitalizing neighborhoods, and we want to assist them in meeting this objective. Historically, lending to churches has been considered more risky than other types of lending; however, we have determined that actual loss experience is minimal. For Cass, churches are sound investments, and we use the same nurturing approach as with other business customers.
Pastors are good liaisons between the bank and their communities. They know business owners and assist us in making initial contacts with them. Likewise, the bank is able to work with the churches to develop lending and deposit strategies that will allow them to be better stewards of their resources.
Cass Bank has gone one step further to help its minority small business clients and to increase the amount of lending in minority communities. We have worked with Gateway National Bank, the only minority-owned bank in St. Louis, which has benefitted both institutions. For example, Cass participates in loans that would otherwise exceed Gateway's legal lending limit and invites Gateway to work with churches and business owners who would prefer to deal with a minority lending institution. This relationship has helped both banks serve the community.
Overall, Cass Bank views all small businesses and churches as its primary market regardless of factors such as location, race, color or gender. There is not much difference in the needs of minority or other owned small businesses. We try to help the owners address key financial needs. We want them to be prepared for the future. Hopefully, they can become a customer of the bank; however, that is not the final measure of success.
By gaining and developing relationships, we can help even more small businesses and churches. That is why we invest so much time in our nurturing process.
Bridges is a regular review of regional community and economic development issues. Views expressed are not necessarily those of the St. Louis Fed or Federal Reserve System.
---
Email Us
All other community development questions