Eighth District Eviction Filings Climb toward Pre-Pandemic Levels
Eviction—the removal of residents from their rented homes—is a devastating form of financial distress. The pandemic ushered in a period of widespread disruption to the U.S. economy and cost many Americans significant income. As fears of an eviction crisis mounted, the federal government (and, in some cases, state and local governments) passed moratoriums to help stabilize the housing of millions of families.
In Memphis, Tenn., Louisville, Ky., and St. Louis, moratoriums appear to have cut eviction filings to half their pre-pandemic rate.Data were not available for the entire St. Louis and Memphis metro areas. The St. Louis estimates omit Illinois counties in the metro area, and the Memphis estimates include only the central counties of Crittenden (Ark.), DeSoto (Miss.) and Shelby (Tenn.). However, federal moratoriums expired in late August 2021, and signs seem to suggest that eviction filings are trending back toward pre-pandemic levels. This begs the question of what can be done to prevent financial hardship and evictions beyond the emergency actions taken during the pandemic.
Tracking Eviction Filings within the Eighth Federal Reserve District's Largest Metro Areas
To track eviction filings, we analyzed county-level monthly eviction filing data from Legal Services Corporation (LSC) relative to the total number of renter households in the county according to the Census Bureau's American Community Survey.
Looking back to 2016, we found that monthly filings occurred at a roughly steady rate in Little Rock, Ark., Memphis and St. Louis; however, as the following figure shows, there are notable differences across metropolitan areas. The average rate of eviction filings before the pandemic ranged from a low in Little Rock of around three eviction filings for every 100 renter households each year to a high in Memphis of around 17 eviction filings for every 100 renter households each year. This analysis does not capture informal evictions that occur outside the legal system, which might be a meaningful source of hardship in some areas more so than in others.
Eviction Filings Declined to Historic Lows Due to Moratoriums but Are Rebounding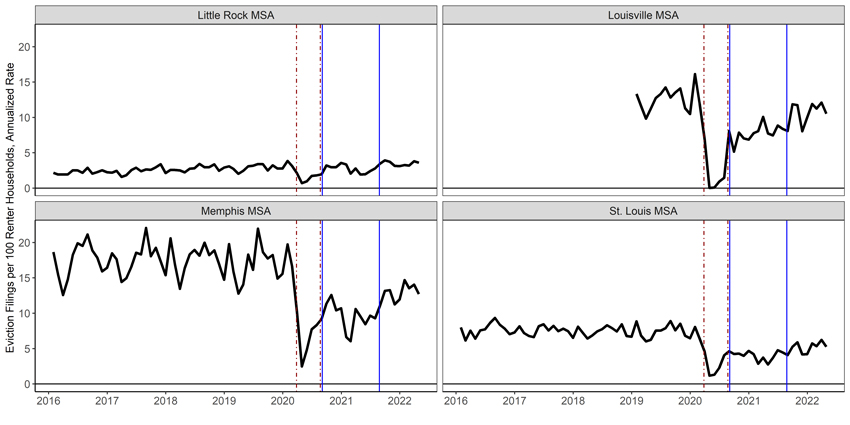 SOURCES: Daniel Bernstein, Madeline Youngren, Sarah Abdelhadi and Ranya Ahmed. Civil Court Data Initiative. Legal Services Corporation, 2021. Census Bureau.
NOTES: Metropolitan Statistical Areas (MSAs) consist of a core area containing a substantial population nucleus, together with adjacent communities having a high degree of economic and social integration with that core. The figure shows the annualized rate of eviction filings as a share of metro-area renter households at a monthly frequency. The pair of red, dashed lines mark the federal CARES Act eviction moratorium, which began on March 27, 2020, and expired on July 24, 2020. The CARES Act protections were extended for 30 days after the moratorium expired and ended on Aug. 23, 2020. The pair of blue, solid lines mark the federal CDC eviction moratorium, which began on Sept. 4, 2020, and ended by Supreme Court ruling on Aug. 26, 2021.
Eviction Filings Are Rising following the Expiration of Moratoriums
Pandemic relief legislation passed in March 2020—the CARES Act—included a federal eviction moratorium that appears to have driven eviction filings to their lowest recorded levels. In Louisville, eviction filings dropped to near zero for two months. After the CARES Act moratorium expired, eviction filings increased until the Centers for Disease Control and Prevention (CDC) put in place a new moratorium. Afterward, evictions roughly leveled off, except for in Louisville, where they continued to rise. After a Supreme Court ruling ended the CDC moratorium in August 2021, evictions have trended upward in Memphis, St. Louis and Louisville.
As of April 2022, the last month in our sample, eviction filings were generally climbing toward pre-pandemic levels. They had already reached comparable levels in Little Rock. At the national level, households' cash balances rose during the pandemic, thanks in part to generous pandemic relief, especially for low-income individuals. As those cash balances continue to draw down in 2022, families may be at greater risk of falling behind on their rent and facing potential eviction.
Reducing Evictions beyond the Pandemic
The pandemic brought historic hardship, yet federal pandemic relief helped to stave off a scenario in which closing broad swaths of the economy led to a wave of evictions. In contrast, eviction filings reached the lowest level recorded in the available data during the early part of the pandemic, when disruptions were most severe. The contrast also highlights the steady rate of eviction filings when economic growth and the labor market were strong prior to the pandemic.
One silver lining of the pandemic is the heightened awareness at the state and local levels of the pivotal role that tenant protections play in preventing evictions for at-risk households. A National Low Income Housing Coalition study found that, in 2021, states and localities implemented more than 130 new laws and policies designed to protect tenants from eviction (PDF) so they could remain stably housed.
We are entering an important phase of the recovery during which short-term eviction mitigation strategies, such as moratoriums, have already expired and emergency rental assistance is running out. Near-term headwinds (e.g., inflation, disruptive COVID-19 variants) may warrant consideration of a new moratorium on evictions, perhaps one more targeted to those most vulnerable to housing instability. To address evictions in the long term, greater investments could be made in rent cost-burden interventions, such as expanding rental assistance and affordable housing policies like the Section 8 Housing Choice Voucher program. Additionally, communities might consider other preventative eviction policies and tenant protections, such as right-to-counsel programs, source-of-income discrimination laws and sealed eviction legislation. Collectively, these efforts might bolster the housing stability of asset-limited and income-constrained but employed households within the community, and thus make it more resilient and equitable.
Tenant Protections Can Make a Difference
Right to counsel: An important component of many eviction diversion programs is the right to counsel. Overwhelmingly, landlords tend to have legal representation while only a fraction of renters do. When afforded legal representation, tenants tend to be better prepared to navigate the complicated eviction process. With adequate legal support, tenants can develop a deeper knowledge of their rights and obtain greater access to resources that could assist them in reducing housing costs (e.g., fees, rent) and enable them to stay in their homes. Right-to-counsel programs often set eligibility criteria based on income for a tenant to qualify for legal representation. Typically, to be eligible, household income must be 80% or below the area median income. In some cases, additional qualifications are required.
Louisville, Ky., offers a success story: Collaboration across disparate actors during the pandemic led to the successful passage of a city ordinance that established a right-to-counsel program for families with at least one child.
Source-of-income discrimination laws: In some cases, individuals are denied rental housing if they have income from government assistance programs (e.g., Section 8). Source-of-income discrimination laws make it illegal for landlords, owners and real estate brokers to refuse to rent to current or prospective tenants based on the income sources they use to pay their rent. While these laws wouldn't necessarily prevent evictions per se, they would support access to rental housing for those already needing assistance.
Eviction sealing and expungement: When an eviction is filed for a tenant, regardless of the outcome, it remains in the rental history permanently and can become a major impediment to securing safe, stable housing. Landlords and property owners may deny prospective tenants access to housing when their screening uncovers an eviction filing.
Laws that seal and expunge eviction records can mitigate some harmful consequences of eviction and improve access to safe and stable housing in the future. Expungement, while not as common as sealing records, removes the filing from a court system's public view, masking the prospective tenant's rental history.
The pandemic has taught us the power (and limitations) of short-term interventions in housing markets to protect renters. As we move beyond the pandemic's emergency conditions, we turn to reimagining housing stability in the long term. Addressing these structural challenges will likely require innovative policies and a wide range of community stakeholders at the table.
The authors would like to thank Daniel Bernstein and Jacob Haas for their valuable subject matter expertise and comments.
Notes and References
Data were not available for the entire St. Louis and Memphis metro areas. The St. Louis estimates omit Illinois counties in the metro area, and the Memphis estimates include only the central counties of Crittenden (Ark.), DeSoto (Miss.) and Shelby (Tenn.).
Bridges is a regular review of regional community and economic development issues. Views expressed are not necessarily those of the St. Louis Fed or Federal Reserve System.
---
Email Us
All other community development questions