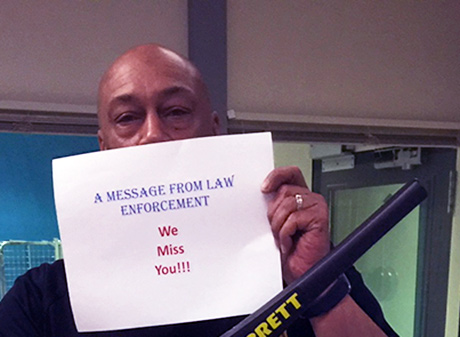 By Laura Hopper, Public Affairs Staff
Eating lunch at a table by yourself, with colleagues at separate tables. Measuring at least a 6-foot distance first when talking or collaborating with a co-worker. Holding meetings online, even when you're in the same building.
The new normal of COVID-19 is anything but normal for Americans, especially those whose jobs require them to report to a physical workplace. At the St. Louis Fed, this includes employees in Currency Operations and Law Enforcement, along with some working for Facilities and Information Technology.
They are holding down the fort in the Eighth District's physical offices, even as all of the Bank's employees continue to carry out the St. Louis Fed's public service mission.
"As you might imagine, things are quite different from what we normally experience," said a Law Enforcement manager. "Our staff are performing somewhat normal duties, practicing extreme social distancing, and placing an emphasis on measures to keep ourselves healthy. We certainly miss our co-workers and look forward to a return to normal."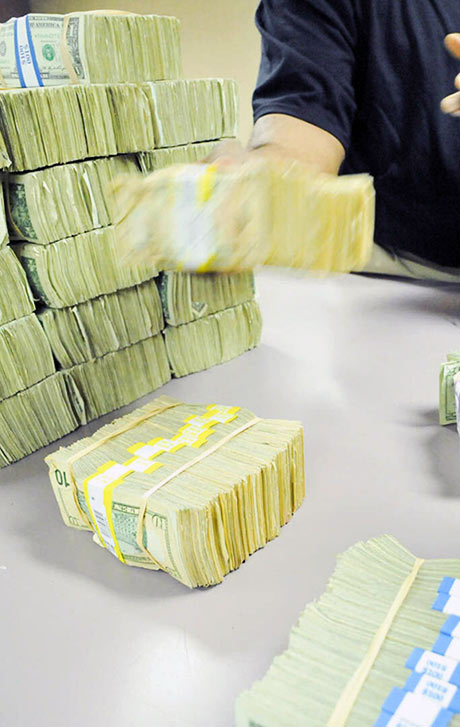 Keeping Vital Cash Processing Work Running
The Currency Operations team has the critical role of receiving deposits from financial institutions. They process currency using sorting machines and fill orders for institutions that need currency. This responsibility never stops, pandemic or not.
One employee who handles administrative tasks is working from home, but the remaining staff is on site. They are adjusting on a daily basis to new routines and ways of coping, said an assistant manager in Currency Operations.
"Everyone is coming in with good spirits and ready to work, both here in St. Louis and at our Memphis Branch office," she said. "Whatever we can do, we're doing it without any hesitation."
By its nature, currency processing tends to involve side-by-side work in a close environment. Employees who work together to handle cash are taking careful, protective precautions and creating safe, physical space between each other.
Adapting to New Ways of Working
Like other Americans whose jobs require an on-site presence, the employees in our offices are adapting to new ways of interacting that must, for now, replace the familiar practices of socializing and working together.
Currency Operations, for example, has a break room with three tables, each with four chairs. That break room is now limited to only three employees at a time.
Meetings are different now as well. Currency Operations no longer uses conference rooms for group discussions. Employees stay in their respective work areas and meet virtually, just like employees working from home, explained the assistant manager.
And all of this is happening at a time when, until recently, Currency Operations faced a surge in demand from financial institution customers—particularly in late March, as stay-at-home orders were initially put in place and banks weren't sure how much cash they might need to serve the public if anxiety changed routines and habits.
"We were experiencing very high demand during the end of March," the assistant manager said, "but we're getting back down to normalcy more recently. I think banks were just trying to make sure they had enough money for their customers."
Balancing Work and Life Stress
Higher demand in a suddenly unusual setting can create plenty of stress, the assistant manager acknowledged. She credited St. Louis Fed leadership for an emphasis on wellness and balance—including a new policy in which each employee in the Currency unit rotates in taking an extra full day off to "unplug."
The policy "speaks volumes of our organization," she said. "We all have personal lives outside of work that we're trying to manage right now, including families, children, things of that nature. Giving everyone a day just to unplug from this and settle in … that's helping to raise everybody's spirits."
For his part, a leader in Currency Operations said he "couldn't be more proud of how the team has responded" to the situation they are in and the needs that customers have. "Spirits are high, and I have the sense that everyone in the building has a keen awareness of the importance of the work we are doing here," he said.
"It is definitely an extraordinary time."
Additional Resources