Making Sense of the Federal Reserve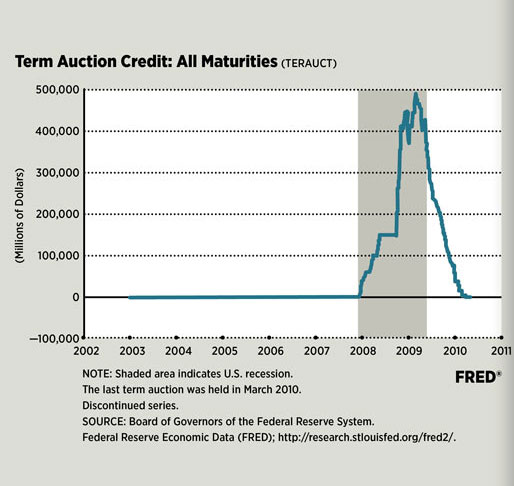 From December 2007 through March 2010, the Fed used the discount window in a new way to help sound banks obtain additional funds that they could then lend to businesses and consumers. One new method for lending money to banks through the discount window was the Term Auction Facility, the TAF for short.
The TAF worked like this:
Every two weeks, the Fed would determine the amount of money it wanted to lend on a particular day. It would set a minimum interest rate at which it was willing to lend the money.
The banks that wanted to borrow would bid on the amount of money they wanted to borrow and the interest rate they were willing to pay.
The Fed would sort the bids according to the interest rate offered.
Beginning with the highest interest rate and working its way down, the Fed would add the amounts of money requested until the amount requested equaled the amount the Fed wanted to lend. The interest rate charged would be equal to the lowest rate offered among the banks whose bids were accepted.
The Fed lends money to banks so that a shortage of funds at one institution does not disrupt the flow of money and credit in the entire banking system.
Essentially, Reserve Banks serve as bankers' banks, offering a variety of financial services. They distribute currency and coin, processes checks, and offer electronic forms of payment.