Making Sense of the Federal Reserve
Chair of the Federal Reserve Board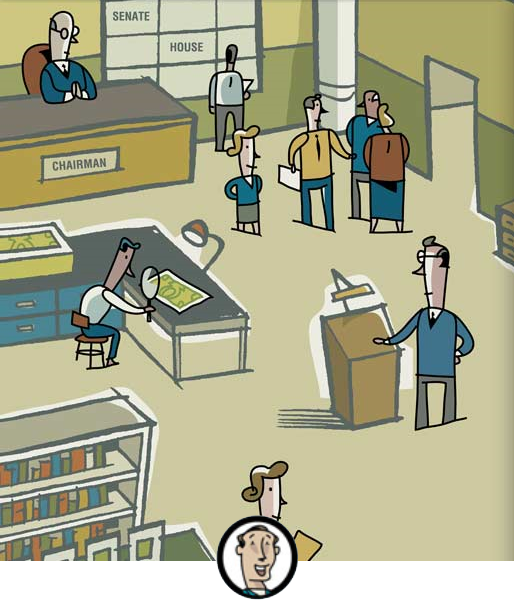 Governors actively lead committees that study prevailing economic issues—from affordable housing and consumer banking laws to interstate banking and electronic commerce. The Board of Governors also exercises broad supervisory control over certain state-chartered financial institutions, called member banks, as well as the companies that own banks (bank holding companies). This control ensures that commercial banks operate responsibly and comply with federal regulations and that the nation's payments system functions smoothly.
In addition, the Board of Governors oversees the activities of Reserve Banks, approving the appointments of each Reserve Bank's president and three members of its board of directors. The Governors' most important responsibility is participating on the FOMC, the committee that directs the nation's monetary policy.
Heading the Board of Governors are a Chair and two Vice Chairs. They are Governors whom the president of the United States appoints with the advice and consent of the Senate to serve four-year terms. One of these vice chairs serves in the absence of the Chair. The other is designated Vice Chair for Supervision and is responsible for developing policy recommendations for the Board regarding supervision and regulation of depository institutions, holding companies and other financial firms supervised by the Board of Governors.

The current Chair of the Board of Governors is Jerome H. Powell. His position is highly visible.
The Chair reports twice a year to Congress on the Fed's monetary policy objectives, testifies before Congress on numerous other issues, and meets periodically with the secretary of the Treasury. Other Board of Governors officials are also called to testify before Congress, and they maintain regular contact with other government organizations, as well.
As the Federal Reserve's centralized component, the seven members of the Board of Governors guide the Federal Reserve's policy actions, study trends in the economy, and help forecast the country's future economic direction. The Governors also participate in monetary policymaking on the FOMC. In addition, the Board of Governors is responsible for regulations to keep the banking system sound and for overseeing the operations of the 12 Reserve Banks. In a later section, you will learn how the Reserve Banks supervise their member banks to ensure they comply with these regulations.