12 Steps to Financial Success: Empowering At-Risk Adults
As director of financial empowerment for Old National Bank (ONB), I have had the privilege of witnessing firsthand how financial education can change lives. This is especially true of the education workshops I have conducted within the prison system. We aren't just bankers; we're educators. I feel it's part of our job to enlighten those we touch, especially those who have struggled in the past.
Working with incarcerated individuals and helping them break the cycle of financial dependence that contributed to their incarceration motivated me to help create the 12 Steps to Financial Success program in 2014, in partnership with the Henderson County Detention Center. This unique program was developed to address the singular circumstances and challenges of incarcerated nonviolent offenders who desperately need the tools, confidence and training to successfully re-enter society. The opportunity to partner with these at-risk individuals allows ONB to provide valuable financial education while reaching a demographic that is not normally an audience for our products and services.
This 12-week program includes one- to two-hour classes per week and encompasses a variety of important personal financial topics. Participants learn the 12 steps they can take to change their financial lives for the better. Topics covered include financial psychology, account management, budgeting, credit, identity theft, jobs and careers, entrepreneurship, taxes, investments, and retirement.
The partnership with the Henderson County Detention Center is the first of its kind for ONB. In the first two years of the program, we reached about 150 female inmates at the facility who were incarcerated for substance-abuse crimes. Building on the success of this alliance, ONB partnered with Volunteers of America Inc. (VOA) to provide financial education courses at HOPE Hall, a VOA-managed rehabilitation facility in Evansville, Ind. This partnership assists ex-offenders find a place to live once they complete financial education classes taught by ONB and supplemented by one-on-one counseling from HOPE staff. We have also been working with other bankers to reach more areas throughout our footprint—in Henderson, Evansville, Dubois County in southern Indiana and Indianapolis. Soon we'll be bringing it to Michigan. In Henderson alone, there are now more than 100 inmates participating in the program.
ONB recognizes how crucial financial education is, which is why we have made financial literacy a core organizational focus. We have seen the significant social and economic benefits from our involvement in the community. 12 Steps to Financial Success provides extensive financial education to those who are very unlikely to receive this guidance otherwise. Participants are presented with realistic scenarios pertaining to budgeting, cutting down on their expenses and other financial situations. They are able to set short- and long-term goals for themselves that can be reached during their time in the detention center and after they are released.
Those who complete this program are provided with the knowledge and resources necessary to re-enter society as more financially responsible citizens, with greater economic security and opportunity, which can lead to a better lifestyle for graduates and their families.
One of our graduates spent the better part of a decade behind bars for drug-related offenses. She says that the program completely altered her life's trajectory. Now clean and sober, she is the manager of a popular hair salon in her hometown. She opened a certificate of deposit and took out a loan at a local bank—two things she never imagined being able to do.
How Do We Measure Success?
Program graduates ultimately return to their communities with far greater self-esteem and financial confidence, making them more likely to open a bank account, save for college, create an emergency fund and purchase a home. The program is cost-effective and sustainable. This particular at-risk population is very underserved; the risk (and cost) of reincarceration can be substantially reduced through the tools and knowledge provided through the 12 Steps program. Considering that the average cost of reincarceration is approximately $25,000 annually per inmate, this program could provide significant savings for the state if it were implemented more broadly.
Additionally, helping these individuals grow and change—in some cases breaking a cycle of negative actions and consequences that has followed them throughout their lives—helps sustain and improve the communities where they work, live and support families.
Currently, we are administering pre- and post-testing to gauge the success and knowledge gained by participants. In our most recent classes, more than half of the graduates scored 80 percent or higher, and 20 percent of the women scored above 90 percent.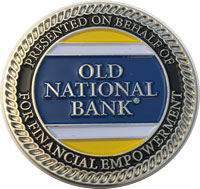 12 Steps allows the inmates to achieve something that they may have never achieved before—the completion of a program. At graduation, ONB awards completion coins to the students as a token of their accomplishments, along with a certificate. The coin serves as a reminder to the inmates of all they learned, symbolizing the partnership between the detention center and ONB. They are encouraged to keep this coin with them when they are out of jail. Anytime they encounter a tempting financial situation, the coin will serve as a tool for reflection on what they have learned and a reminder to make smart, sound financial decisions. One of our graduates told us that she showed the coin to a banker in her hometown and explained what it symbolized. This inspired the bank to take her on as a customer, despite her previous credit problems.
The graduation ceremony is always touching. A few inmates have let us know that this program was the first time they have ever completed anything in their life. They assured us that they would use their new knowledge to help better their finances and empower others around them. Some of these women have been involved in gangs, faced death multiple times and have truly had a tough life.
National Recognition for the Program
In 2015, ONB was awarded the American Bankers Association (ABA) Community Commitment Award for Financial Education for 12 Steps to Financial Success. In addition, the ABA Foundation presented me with the George Bailey Distinguished Service Award, given to a non-CEO bank employee who demonstrates outstanding initiative, commitment to their customers and community and inspires others.
For more information on ONB's financial education programs, visit www.oldnational.com/​about/​community/​educating.
Bridges is a regular review of regional community and economic development issues. Views expressed are not necessarily those of the St. Louis Fed or Federal Reserve System.
---
Email Us
All other community development questions