Grassroots Neighborhood Revitalization in Hyde Park
In the spring of 2012, Todd Wiley had been looking for work for nearly four years, ever since he was laid off due to downsizing at Metro, St. Louis' public transit organization. Despite continually searching and completing numerous job applications, he had nothing to show for it. For those living in Hyde Park in North St. Louis, this is not entirely surprising; the unemployment rate for this neighborhood is 29 percent,1 roughly 1 out of every 3 people over the age of 16. Something that surely contributed to Wiley's inability to find employment was the fact that he is an ex-offender. Needless to say, his job prospects were not promising when he walked out to pick up the newspaper one morning, only to find a publication by an organization he had never heard of before—Sun Ministries. But that's when things began to change for him.
Not long after calling Terry Goodwin—who founded and leads Sun Ministries—Wiley had a job doing maintenance work on apartment buildings in the neighborhood. He was incredibly grateful for the employment opportunity. Fast forward 3-plus years. Wiley still has his job doing maintenance work, but he has also learned woodworking skills and has spent time working in Sun Cafe, a neighborhood restaurant owned and operated by Sun Ministries. His future plans include starting his own business painting commercial and residential properties.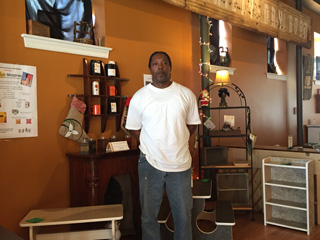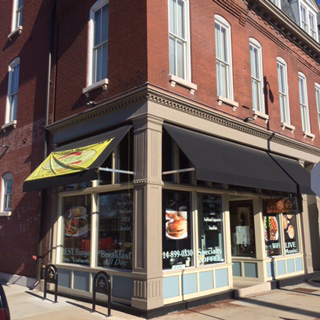 Just six years after Goodwin moved his family to Hyde Park and started the ministry, it boasts five social enterprises—all with the goal of building foundational work experience, job skills, spiritual growth and education for individuals who have barriers to employment. While there isn't a specific list, common barriers for neighborhood residents include long-term unemployment, low educational attainment, drug addiction recovery, former incarceration, and cognitive and/or physical disabilities. The five components of the ministry's program, called Narrow Gate, include: 1) financial capability; 2) remedial education; 3) spiritual growth; 4) job training; and 5) social skills. The ministry is providing employment opportunities to 23 neighborhood residents, each of whom has at least one employment barrier. And the organization is just scratching the surface in terms of need, as the ministry receives about 30 job applications from neighborhood residents every week.
When Goodwin and his wife moved into the predominantly African-American, lower-income neighborhood of Hyde Park in 2009 from the predominantly white, affluent community of O'Fallon, Mo., they were not sure what their specific role would be. They only knew that they were being called to serve in an action-oriented way. Shortly thereafter, the ministry began its first social enterprise—making and selling messenger and tote bags. From that initial enterprise sprouted:
a woodshop, where they taught themselves to make tables and chairs from the wood of old shipping pallets—the products are sold to restaurants and individuals;
Sun Cafe, which serves as a neighborhood meeting place to build community in addition to serving as a restaurant and coffee shop;
a maintenance business, providing services for the neighborhood's apartment buildings that are owned by Duffe-Nuernberger Realty (affiliated with ND Consulting Group); and
a landscaping business, providing lawn care for ND Consulting Group's apartment buildings.
While Sun Ministries' accomplishments in such a short amount of time, without any public funding, are impressive, the obvious question is whether this great work will continue. By all accounts, the most likely answer is yes. That is due to 1) strong passion and leadership from Goodwin and his family, who are leading the ministry; 2) strong partnerships with ND Consulting Group and social service providers in the neighborhood; and 3) a healthy balance sheet. While not all of the ministry's social enterprises are profitable, the majority of them are. Annual revenue and profit for 2015 are projected to be $600,000 and $100,000, respectively. In the first quarter of 2016, the ministry will open its sixth social enterprise in the neighborhood—a bazaar where used and repurposed items will be sold. Additionally, future plans include converting an old police station into a community and business hub with a visual and performing arts center; a social enterprise that would acquire, repair and sell cars to residents; and a newly expanded home for the ministry's woodshop.
For more information about Sun Ministries, grab some coffee at Sun Cafe. Otherwise, visit them online at www.sunministries.org.
Michael C. Eggleston is a senior community development specialist at the Federal Reserve Bank of St. Louis.
Endnote
Census Bureau, American Community Survey 5-year Estimate (2010-2014). [back to text]
Bridges is a regular review of regional community and economic development issues. Views expressed are not necessarily those of the St. Louis Fed or Federal Reserve System.
---
Email Us
All other community development questions