Digital Inclusion: It's Not Just about Access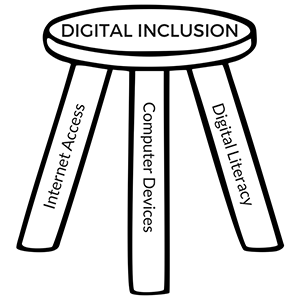 Thirty-six million U.S. households lack wireline broadband connections, according to the 2019 American Community Survey. The need for digital skills, along with accessible and reliable internet, is increasingly affecting all areas of our daily lives.
Broadband accessibility, along with internet-enabled computers, are needed for everyday activities like remote learning, filling out a job application or businesses' online services. National and regional experts met at a recent Community Partnerships and Investment team webinar. Below are some best practices discussed during the presentation on narrowing the digital divide for low- and moderate-income (LMI) communities.
Digital Inclusion
The National Digital Inclusion Alliance (NDIA) serves as a unified voice for over 600 affiliates in 44 states engaged with technology and broadband development issues. NDIA combines grassroots community engagement with technical knowledge, research and coalition building to advocate on behalf of people working in their communities for digital equity.
During the webinar, Angela Siefer, executive director and founder of NDIA, provided an overview of what digital inclusion is, and said that while digital inclusion is important, digital equity is the goal. Siefer said digital inclusion is a three-legged stool consisting of internet access, computer devices and digital literacy. Without one of these, the stool would fall.
One state where the concept of digital inclusion is taking hold is Arkansas. Across the state, leaders in government and community development have identified gaps in access and are finding solutions to create greater accessibility. Below are examples of organizations that have expanded digital inclusion through transformative practices and strategic partnerships.
Key Terms
High-speed internet: Internet access provided by a network of servers that transfers data via high-speed cable, satellite and wireless connections.
Broadband: An internet connection with minimum download speeds of 25 Mbps and minimum upload speeds of 3 Mbps.
Upload speed: Upload speeds are used when you want to send information from your device to another location on the internet.
Fiber: Broadband connection that can send data as fast as about 70% the speed of light.
Buffer: One type of component used to encapsulate one or more optical fibers for the purpose of providing such functions as mechanical isolation, protection form physical damage and fiber identification.
Internet Access as a Public Utility
Clarksville Connected Utilities (CCU) is a municipal-owned utility company with a mission of community development in Clarksville, Ark. In 2016, CCU began examining its existing infrastructure and identifying ways to better connect and exchange data over the internet with other company devices and systems. With the creed, "begin with the end in mind," CCU examined various options to transmit information such as telephone or cable lines or wireless solutions. In the end, building their own 17-mile 288-fiber network ring throughout the city provided a secure and long-term solution.
CCU also saw an opportunity to leverage the network to support other community needs by dedicating buffer fiber tubes for public use and carving out specialized internet delivery tubes for the local government, health care, public safety and education facilities.
For example, the school district's dedicated network was designed to transport data between the 17- mile loop to their various buildings at 10 gigabytes a second. This summer the district will upgrade to 40 gigs per second. Additionally, the housing authority partnered with CCU to install a network within the government tube to provide internet accessibility to its residents.
In 2019, CCU became the first municipality to issue municipal bonds in Arkansas for a broadband project.  During the webinar, John Lester, general manager at CCU, explained broadband was not a luxury. Lester commented that "a private entity would likely not invest millions of dollars in a community of 10,000 people without subsidies or a payback in three to five years."  CCU determined broadband was not a luxury, but a community necessity to serve its 4,500 connected residential, commercial and large industrial customers on a retail level.
Listen below to John Lester, general manager at CCU.
Transcript
John Lester: "All the services we provide are at not-for-profit rates, and our primary focus is Main Street, Clarksville, not necessarily Wall Street. So a little bit of perspective and why, in addition to the ball going off, why we felt like this was a critical infrastructure and necessary going forward."
"You can see parallels from the electric industry 100 years ago. And if you really think back, it was a magic that nobody would have ever expected to be such a critical function of our communities and our lives today. Who would have imagined that we would have microwaves, and all of the TVs that we have in the house, and all our electric devices? I mean, the primary excitement about that was just lighting light bulbs at the time."
"And as the technology was rolling out across the country, most of the large utilities would develop first in major metropolitan areas. And what that meant was oftentimes, rural America was left out, small communities were left out, and definitely farm-related areas were left out. So, many communities. And the reason why a lot of municipal electrics exist today is because communities decided 100 years ago with the electric utility, we wanted to control our own destiny and become self-reliant."
"So, we see all those same parallels today when it comes to broadband and internet. It's a critical infrastructure; it's not different really than streets and bridges, water, electricity, and there are more and more ... as technology and applications develop, there are more and more internal applications that are going to be used related to smart utilities and smart city applications. And again, just like it was with electricity, if we could be self-reliant, we would have the opportunity to continue on our own efforts to develop both the local economy and the community as a whole. And the reality of it is, over the last X number of years, rural America has been left out again. When in reality, we thought it could be, and it should be, the great equalizer."
---
Digital Literacy as a Critical Skill
During the pandemic, the Arkansas Regional Innovation Hub (The Hub) partnered with the Little Rock School District (LRSD) to develop a digital literacy program. The district's on-site technology team was not prepared to provide technical assistance and training during the pandemic, so the district reached out to The Hub. They helped navigate the virtual school experience of basic digital skills, curriculum and homework assignments to students, parents and teachers.
Errin Stanger, acting executive director, shared that The Hub began this project through an analysis of the five components of digital literacy: content, connectivity, device, affordability and digital literacy. The analysis found that 50% of Arkansas students participated in online learning in 2020, although 25% of Arkansas households do not have broadband internet access. Families and teachers needed additional skills in navigating the internet to use the resources comfortably, effectively and fully.
Based on needs, The Hub designed and built an online platform on their website to provide instructions and project evaluation in a Arkansas Digital Literacy pilot program. The program launched in the fall of 2020 in partnership with LRSD, with training and technical support for digital literacy instruction.
Panelists shared in the webinar discussion that the program has been well-received by the district and local families. To date it has served over 140 individuals through video session tutorials, and the website was viewed 433 times during the fall semester. The pilot has been so successful, The Hub is seeking to extend a program called "The Hub on Wheels" statewide, to deliver STEAM (Science, Technology, Engineering, Arts and Math) education across the state, specifically in underrepresented communities. The mobile hub will be used to further digital literacy efforts statewide. This partnership created a foundation for future involvement and collaboration that increased student and family success during the 2020-21 pandemic school year.
These initiatives demonstrate that digital inclusion is an emerging priority for communities. When discussing the importance of a digitally inclusive environment, Siefer questioned whether individuals and communities can prosper without it and said, "I wonder if anyone has a choice anymore? It used to be a choice whether someone participated or not. Choosing not to participate makes it hard."
Bridges is a regular review of regional community and economic development issues. Views expressed are not necessarily those of the St. Louis Fed or Federal Reserve System.
---
Email Us
All other community development questions