Building an Equitable Workforce in the St. Louis Region
Editor's note: Excerpts are taken from the 2021 State of the St. Louis Workforce Report by St. Louis Community College, in partnership with the Federal Reserve Bank of St. Louis' Institute for Economic Equity.
---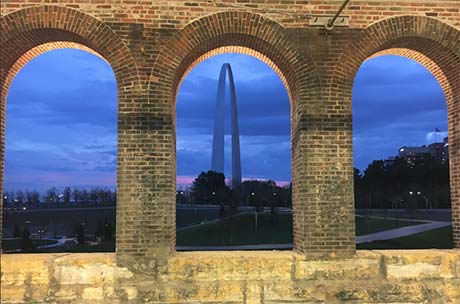 James A. Viguerie
When you think of the St. Louis region's workforce, many images may come to mind. You may think of the more than 145,000 people employed in the technology-intensive services sector, the construction workers heading to a work site during your morning commute or the frontline health care workers.
But the workforce is also a web of actors including employers, workers, workforce development boards, training providers and community partners working together to align resources not only to build the skills and qualifications of workers but also ensure good jobs that benefit workers and employers.
With the rollout of COVID-19 vaccines and businesses reopening, many employers are looking to increase staffing levels. As the region pivots toward recovery, creating an economy that is equitable—whereby all can participate and derive benefit from the economy—is key.
However, inequities persist for people of color, low-wage workers and women. For example, in Missouri alone the unemployment rate for Black workers in the third quarter of 2020 was twice the rate for whites.
While wage growth remains in line with pre-COVID-19 trends, employment rates among low-wage workers remain significantly lower compared to high-wage workers. And the drop in the average labor force participation rate for mothers during the first quarter of 2021 compared to the first quarter of 2020 is about double that of fathers. During 2020 alone, racial gaps in wages and employment for working-age people cost the region more than $17 billion in lost gross domestic product. Disparities in the system are felt by the whole region, but workers of color bear the greatest burden.Senior Researcher Ana Kent based her calculations on the Integrated Public Use Microdata Series Current Population Survey (IPUMS CPS), comparing mothers and fathers aged 25-54 residing with their children. Data are not seasonally adjusted. Metro areas in Missouri include Columbia, Joplin, Kansas City, St. Louis and Springfield.
These inequities, coupled with additional workforce challenges such as transportation, health care and child care, impact employers and workers. Many employers are working diligently with workforce development providers to alleviate these types of challenges and provide additional support, but barriers remain.
Each year St. Louis Community College publishes the State of the Workforce Report exploring the economic and workforce environment across the St. Louis region. In the spring of 2021, the community college partnered with our Institute for Economic Equity on its recent State of the St. Louis Workforce Report. The 2021 report includes findings from the 13th annual State of the St. Louis Workforce telephone survey of local employers, and conversations with Valarie Patton and Bruce Katz, two of the STL 2030 Jobs Plan (PDF) designers.
Key findings from 2021 Report
St. Louis Community College surveyed approximately 500 employers across metro St. Louis in a variety of industries, including construction, health care and social assistance, finance and insurance, manufacturing, and retail trade, to name a few. The survey asked about employer needs, perceptions and behavior in the past year and what might occur in the year ahead.
There is no mistaking that the pandemic has made a mark on the state of the St. Louis workforce. Similarly to 2020 survey findings, employers are reporting lower rates of increased employment and higher rates of decreased employment at their companies this year.
But St. Louis employers are optimistic about the year ahead. Most employers surveyed anticipate their employment levels to increase in the coming months, and 80% intend to hire new full-time employees this year, the highest rate since the survey was first conducted in 2009. In addition to new full-time opportunities, employers also anticipate openings for part-time positions, temporary positions, recalled positions for furloughed or layoff-list workers and opportunities for contract workers. There has also been a sharp decrease over the past year in the number of companies operating remotely, and employers anticipate more and more employees transitioning back to in-person settings.
After reading the report, we believe the region is on the precipice of economic growth. Still, barriers exist to realizing this growth. Shortages of workers with knowledge or skills, economic conditions, government policies and regulations, and general COVID-19-related issues were most frequently named by employers as barriers to expanding employment. With regard to applicant readiness, employers perceive poor work habits as the most salient and common job applicant shortcoming.
Workforce skill shortages are of particular concern to regional employers and economic development leaders. At double the frequency of the 2019 and 2017 reports, two-thirds of employers surveyed in 2021 reported a shortage of skilled applicants. Shortages were particularly common in the skilled trades, patient care, manufacturing and finance arenas. Employers reported most commonly seeking candidates in the low- to-middle skill range.
To address this shortage, the vast majority of employers are hiring and training less experienced applicants and increasingly investing in employee skills acquisition, such as on-the-job training, flexible schedules for continuing education and in-house classroom training. Other approaches named by employers to address the skill shortage were increasing wages and/or hiring outside the local area or city.
In 2020, the largest concerns for employers were employee and consumer worries about COVID-19. Now that is in the eighth position, and the leading concern is about attracting and retaining talent.
The 2030 Jobs Plan: Local Leaders Focus on Creating Quality Jobs
While employers in the region were focused on worker shortages and how best to remove barriers to employment, workforce development practitioners and leaders in the area remained concerned with the question of talent in the region and hopes to address the concern with equity.
"Quality jobs," as described in the plan, are those that provide a livable wage with benefits and offer the most direct path to economic mobility and broadly shared prosperity. The STL 2030 Jobs Plan specifically defines quality jobs as paying 80% or more of the national median salary—approximately $40,000 today.
Given that timely data on employer-sponsored health insurance are not readily available, the definition sets this amount as a floor (both because higher-wage work is more likely to have employer-sponsored health insurance and other benefits, and because those earning at least 80% of the median are in a better position to purchase health insurance if not provided by their employers). It identifies several strategies for promoting quality job growth with the cooperation of advanced industries, anchor institutions, small businesses and community members. Specifically, the plan calls for investing in small-business growth, restoring cultural and commercial centers, and devoting development resources to existing and emerging advanced tech industries in the St. Louis metro area.
To truly produce inclusive growth and address systemic historical and present-day economic exclusion, the STL 2030 Jobs Plan states its commitment to increase the number of Black workers with quality jobs. Growing the number of quality jobs and the number of Black workers with quality jobs is foundational to the plan's efforts to generate "more prosperity alongside greater equity."
Bruce Katz, co-founder of New Localism Advisors, suggests employers start local to become talent engines and magnets. As public, private and regional leaders work together to implement innovative solutions to equitable growth, Katz says, "There is no substitute for capacity and capital." Most of the other U.S. cities and regions about which Katz has written have institutions that serve as intermediaries and have "capacity, capital and community standing." For example, he cites the philanthropic agility of Pittsburgh and the corporate leadership created through the Central Indiana Corporate Partnership as just two examples from which the St. Louis region can draw as it looks to change its narrative.
As Katz puts it, "You're leaving a lot off the table." Katz goes on to say, "[Black residents] have the talent. For example, only 6% of African Americans who are in two-year colleges are graduating in three years. I don't think that's not because they have the talent. They just have all these other burdens, financial burdens, they have to carry, and it's pushing them out of the system." Because St. Louis' underlying demographics indicate a large minority presence, it makes sense to increase investments to improve economic mobility of the region's Black residents. Katz notes, "It's not a level playing field at the starting point. You've really got to provide a level of business coaching or quality capital for the business side, and then financial mentoring and other support on the worker side."
As employers in the region continue to compete in a much larger, globally connected world, strong strategic partnerships between industry and the education sector will be needed to align equitable opportunities with employers' and job seekers' needs. Says Katz, "Greater St. Louis Inc. could be built up. And then, think about [these organizations as] supportive intermediaries—whether it's around clusters like BioSTL or LaunchCode, other workforce providers, Black-led organizations [focused on] entrepreneurial growth. You need that constellation."
Equitable recovery, equitable opportunity and equitable growth are the path to the region achieving the success that has eluded it in the past. By focusing on quality jobs and equitable employment opportunities and ensuring investments in Black-led organizations and anchor institutions, the region will be poised to create a talent pipeline well-prepared for in-demand jobs and ready to contribute to the region's overall economic success.
Bridges is a regular review of regional community and economic development issues. Views expressed are not necessarily those of the St. Louis Fed or Federal Reserve System.
---
Email Us
All other community development questions