CDAC SpotlightUSDA Rural Development: Rural Prosperity in Tennessee
USDA Rural Development is the lead federal agency for rural development needs. Our focus is to help rural communities grow and prosper. Rural America comprises 72 percent of the nation's land and 46 million people. Our locations in Tennessee, consisting of the state office and eight area offices, mirror the state's rural regions. Through the U.S. Department of Agriculture's development programs, rural Tennesseans are helped in many ways.
USDA Rural Development offers loans, grants and loan guarantees to support essential services, including housing; economic development; health care; first responder services and equipment; and water, electric and communications infrastructure. In addition, we provide loans and grants to help expand economic opportunities and create jobs in rural areas. This assistance supports infrastructure improvements; business development; homeownership; essential community services such as schools, public safety and health care; and high-speed internet access in rural areas. The figure provides a snapshot of the region that each area office serves and contact information for the area directors.
USDA Rural Development in Tennessee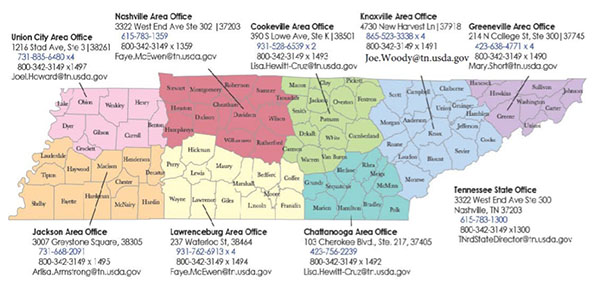 Our programs were designed to improve economic growth and make positive differences in the communities that we serve. As in all areas in Tennessee, there are numerous demanding needs in the southwest area of the state. And there are many ways that the USDA addresses the issues and concerns of rural communities.
Every citizen deserves a decent and affordable place to live. Our Single-Family Housing programs are the No. 1 mortgage product in the nation. Through the Direct Home Loans program, USDA requires no loan down payment and no mortgage insurance fees, and we provide up to 100 percent of the financing. The program is designed for very low- to low-income people. We also have certified lenders who administer home loans, and we provide loan guarantees at 100 percent. Both of these loan programs help low- and moderate-income rural residents by providing affordable terms and conditions. USDA Tennessee has invested nearly $1 billion annually for the last 10 years in the Home Loan Guarantees program. USDA Rural Development can help ensure that decent, safe and affordable housing remains available through home repair loans and grants to remove health and safety hazards, or to make a home accessible for household members.
Workforce development is currently a hot topic in the Southwest Tennessee region. Manufacturers and other industries are not able to find the skilled workforce they need to continue to expand and increase their growth. With funding for infrastructure, business development and technical assistance, the USDA's rural business program is well suited to address this need for a more skilled workforce by working with rural communities to attract and retain skilled workers.
USDA Rural Development also supports economic development in rural areas by helping businesses invest in energy improvements. Rural businesses and agricultural producers are eligible to apply for either energy-efficiency or renewable-energy project funding through the Renewable Energy for America Program (REAP). For projects that generate renewable energy (e.g., a solar array), applicants may apply for a grant of up to $500,000. For projects that increase a business's energy efficiency (e.g., a dairy installing an energy-efficient milk chiller), applicants may apply for a grant of up to $250,000. For both project types, grant money can cover up to 25 percent of the eligible costs. Large-scale projects can apply for USDA financing through a REAP guaranteed loan throughout the year.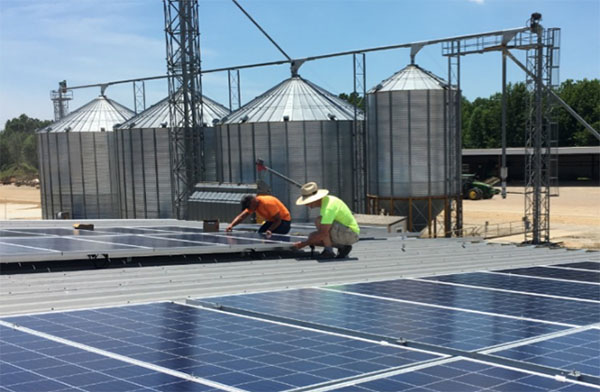 A major priority of our agency is improvement or replacement of town utilities and improving water, wastewater and solid-waste disposal systems in rural areas. Due to aging water systems, a large number of communities do not meet state standards for water treatments. This issue can prevent our communities' further development within their town or city. These declining water systems are placing fiscal strains on communities, causing them to make more frequent and often costly repairs and upgrades to their water and wastewater systems. USDA's Water and Waste Disposal Loans and Grants program was developed to assist communities with these types of issues and many others. USDA Tennessee received a total of $138 million in 2018 to invest in communities through the Water and Environmental loan/grant program.
In addition to infrastructure projects, the USDA provides community facilities programs that offer direct loans, loan guarantees and grants. Funds can be used to construct, expand or improve facilities that provide health care, education, public safety and public services, including police departments, school districts, fire stations, child care facilities, local food systems, medical clinics, educational services and others. The USDA has reserved $5 million in the program and is giving priority to projects that address the opioid crisis in rural communities.
Some of the USDA's priority projects consist of affordable high-speed internet connectivity, public safety, behavioral and substance abuse centers, STEM education, advancement of innovative farm technologies and agritourism.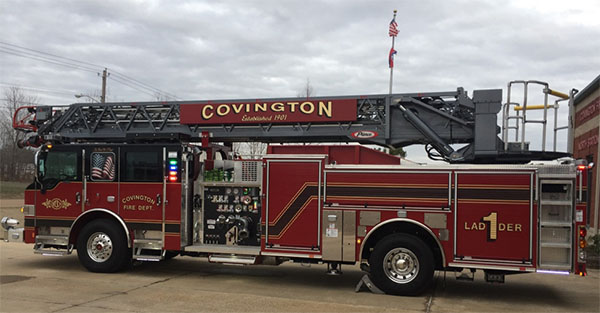 Partnerships are important to all the programs that we provide. In order to continue to help communities thrive and be successful, we must work closely with our partners, including the state and county, local officials, economic development associations, local chambers, financial associations, and education and health organizations. We appreciate each one of these partners and recognize their hand in this effort to create prosperity and improve the quality of life for all rural Americans.
For more information about the work that we do, please visit www.rd.usda.gov/tn.
Bridges is a regular review of regional community and economic development issues. Views expressed are not necessarily those of the St. Louis Fed or Federal Reserve System.
---
Email Us
All other community development questions