Innovative Credit Union Association Expands Access to Capital
Walking down West Florissant Ave. in Ferguson, Mo.—ground zero last fall for the social unrest that resulted in several small businesses being damaged and looted—one would not immediately know that a local credit union played a role in deploying much-needed capital that is helping to restore the business district. But that's exactly what happened when Alliance Credit Union disbursed loans, each one totaling $5,000, to 20 small-business owners in the area just hours after the unrest occurred. Frank Evans, human resources director for Alliance, remarked, "We made these loans with zero percent interest and asked very few questions, other than to ensure the person we were talking to owned the business. We were able to disburse the loans in as little as 30 minutes." It seems like a scene straight out of "It's a Wonderful Life!"
So, how could a relatively small credit union afford to make these types of loans with so much uncertainty as to whether they would be paid back? Four simple words—Community Development Finance Institution (CDFI). In 2012, Alliance acquired its CDFI certification from the U.S. Department of the Treasury; shortly thereafter, it received an $875,000 grant from Treasury to jumpstart its newly formed CDFI. Alliance made the decision to use the funds for a loan loss reserve, allowing it to expand the credit profile of its members looking for auto, personal and small-business loans. In the aftermath of the unrest in Ferguson, Alliance—based on the number of loans it had made up to that point using the loan loss reserve as a backstop—had the flexibility to use $100,000 of its grant to assist small-business owners in the city. Although Alliance fully expected that half of the money it lent would not be repaid, nine months later 18 of the 20 business owners are making on-time payments, one is delinquent and one went out of business.
As for the remainder of the CDFI grant Alliance received from Treasury, the credit union has leveraged those funds to make auto loans of more than $2 million, personal loans of more than $100,000 and small-business loans of more than $100,000—all by taking a chance on individuals and businesses that they would likely not have taken a chance on in the past, based on credit profiles. While this is extremely impressive, it would not have happened without the leadership of the Missouri Credit Union Association (MCUA) and the Missouri Credit Union Charitable Foundation (MCUCF).
Nearly four years ago, MCUA and MCUCF took steps to address insufficient access to capital for struggling individuals and communities across the state of Missouri. To address this problem, MCUA began an effort to educate its members on the benefits of becoming a CDFI. For those interested, MCUCF helped them receive CDFI certification from Treasury. Over the course of two separate cohorts in just three years, MCUA and MCUCF's CDFI initiative has helped 23 credit unions become certified, with eight receiving cash and technical assistance totaling more than $7 million. According to Maria Langston, vice president of community service for MCUA, "The CDFI certification is a pathway for credit unions to support their members with this vision as it helps to provide enhanced services, loans and much-needed education programs to benefit low- and moderate-income members."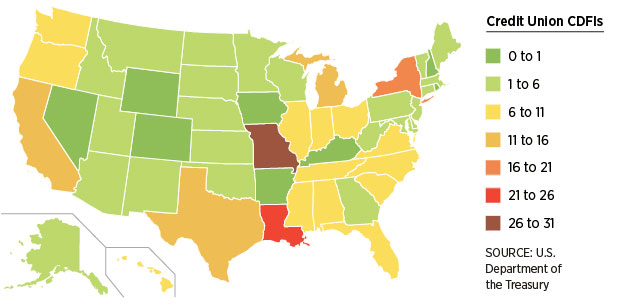 MCUA and MCUCF did not stop with CDFI certification. They continued to help some of their newly designated CDFI members, including Alliance, secure financial and technical assistance from Treasury. Missouri, though only the 18th most populous state, now leads the nation when it comes to the number of CDFIs that are a credit union—a total of 27 across the state.
Going forward, MCUA and MCUCF will continue to work with their existing CDFI-certified members to provide training and resources as well as supporting recertification efforts. Additionally, MCUA will strategically identify more credit unions that can be assisted with seeking CDFI certification.
For more information about MCUA's CDFI initiative, please contact Maria Langston at mlangston@mcua.org. For information on CDFIs, visit www.Fedcommunities.org. And be on the lookout for an Eighth District CDFI directory that will be released in fall 2015.
Bridges is a regular review of regional community and economic development issues. Views expressed are not necessarily those of the St. Louis Fed or Federal Reserve System.
---
Email Us
All other community development questions