Elizabeth Duke Resigns from Federal Reserve Board of Governors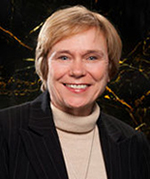 Federal Reserve Gov. Elizabeth Duke will resign from the Board of Governors on or around Aug. 31. She has not yet announced future plans.
"The five years since I joined the Board in August 2008 brought some of the most challenging conditions ever encountered by the Federal Reserve," Duke said. "I believe history will judge that the Federal Reserve, under the resolute leadership of Chairman [Ben] Bernanke, met every test in a thoughtful, innovative and effective way. Such a response would not have been possible without the unique mix of intellect, expertise, creativity and tireless dedication to service that the people who make up the Federal Reserve System bring to work every day. I am proud to have contributed to their efforts."
In a press release, Bernanke praised Duke for her service to the Board. "Betsy has made invaluable contributions to the Federal Reserve and to the country during her five years at the Board," Bernanke said. "She brought fresh ideas grounded in her deep knowledge of the banking industry and the real-world dynamic between borrowers and lenders. I wish her the best in her future endeavors."
During her time on the Board, Duke chaired both the Committee on Consumer and Community Affairs and the Subcommittee on Supervision and Regulation of Community and Small Regional Banking Organizations. Before joining the Board, she served as senior executive vice president and chief operating officer of TowneBank, a Virginia-based community bank.