Fannie Mae's Duty to Serve Efforts May Be Heading to a Neighborhood Near You
We can all agree that the housing needs of underserved markets and populations should be supported. At Fannie Mae, we're looking forward to addressing this challenge under the Federal Housing Finance Agency's (FHFA) Duty to Serve (DTS) Program.
From 2018 to 2020, we are taking specific steps to address:
manufactured housing, exploring innovative financing options for one of the largest affordable housing opportunities;
affordable housing preservation, helping to keep established properties available as low-cost housing alternatives; and
rural housing, supporting the financing of housing for targeted high-needs rural regions and populations.
Fannie Mae has served the housing needs of America for 80 years. We view these efforts as an extension of the mission-oriented work we do every day to ensure access to sustainable, affordable housing.
Manufactured Housing Is Affordable Housing
Today's manufactured housing is still built in factories, but the homes are placed on a foundation so they're not easy to move. They also offer amenities homebuyers crave—spacious living spaces, state-of-the-art kitchens, luxury bathrooms—and the safety and energy efficiency they need, all at prices they can afford.
The average price per square foot of a manufactured home is $49; for a site-built home, it's $107 for that same square foot.1 At that entry point, factory-built housing could help ease the affordable housing crisis, providing reasonably priced homes for low- and moderate-income buyers. And those buyers can start building equity. (See Figure 1.)
However, there are challenges for lenders in this space, including differing lending standards depending on whether the home is treated as real estate or personal property, a lack of accessible financial and performance data, a higher cost of borrowing for many consumers, and an overall negative brand perception.
Under DTS, Fannie Mae is making some policy updates so we can purchase more loans on manufactured homes built to certain specifications and titled as real property. We have taken the first step with FHFA, our regulator, to establish a pilot program for testing chattel (personal property) loans.
In multifamily manufactured housing, we are reviewing current products to consider financing strategies for government-, nonprofit- and resident-owned manufactured housing communities. We are also researching and evaluating FHFA's proposed minimum tenant pad lease protections for manufactured housing communities. Pad sites are freestanding retail buildings that are leased to one or more retail tenants.
The Need to Preserve Affordable Housing
Low rental vacancy rates have pushed home purchase prices higher. From the third quarter of 2012 to the third quarter of 2017, housing prices increased 23 percent. It's hardly surprising that homeownership rates have dropped from a peak of 69.2 percent in 2004 to 64.2 percent in 2017. This is particularly true for younger households, whose homeownership rate dropped from 43.6 percent in 2004 to 34.7 percent in 2017.
Rents are also on the rise. More than 11 million renter households pay at least half of their monthly income for housing.
Under DTS, Fannie Mae is working to increase the supply of affordable housing through shared equity models such as community land trusts and resale-restricted properties, as well as through distressed properties that can be purchased and rehabilitated. At the same time, many very low- to moderate-income people live in older homes with high utility bills. To help these families, we are working on financing options for energy- and water-efficiency improvements to lower costs, which will help them to afford housing and other payments.
On the multifamily side, we are exploring preservation strategies and plan to make additional loan purchases under a number of existing federal programs that are designed to preserve affordable housing. We are increasing our support for state and local housing initiatives, providing financing for energy- and water-efficiency improvements, and helping the industry develop standards for multifamily energy-efficient lending.
Serving Rural Markets
Under DTS, Fannie Mae is working to bring more conventional lending to underserved rural regions and populations, including agricultural workers and markets in middle Appalachia, the lower Mississippi Delta, the colonias located along the U.S.-Mexico border region, and housing on Native American lands. Fannie Mae is also working to finance more housing in certain rural areas in persistent poverty counties. For example, areas of interest in Missouri include Dunklin, Mississippi, New Madrid, Oregon, Pemiscot, Reynolds, Ripley, Shannon, Texas, Washington and Wright counties.
Our plan is to increase the number of loans purchased in high-need rural regions, including purchases from small financial institutions, and increase collaboration with lenders, nonprofits and government entities that support affordable housing in rural areas.
We've also re-entered the Low Income Housing Tax Credit (LIHTC) equity market2 and will increase purchases of loans secured by multifamily housing for specific high-need populations and regions.
Working Together to Effect Change
As a secondary market participant, Fannie Mae looks for opportunities to spur the primary market to provide more capital in areas of the country that are too often neglected. We work with the necessary stakeholders to make needed changes and develop innovative products to attract investors. Most of all, we want to be sure new financing for high-need housing populations is safe and sustainable.
We realize no single participant in the housing finance system can turn an underserved market into a well-served one. It will take strong partnerships and a high degree of collaboration among a wide range of stakeholders to make a difference in all three DTS markets.
For more information and updates, please visit our website.
Vanessa "Van" G. Randolph is a community lending specialist at Fannie Mae.
Figure 1
Who's Living in Manufactured Housing?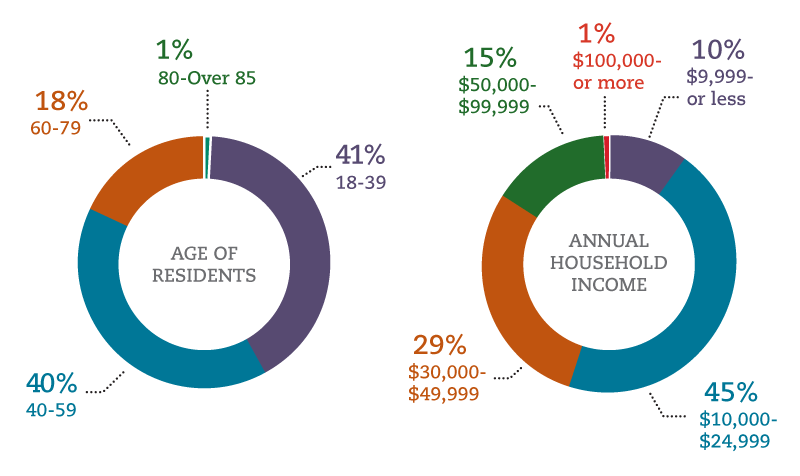 Bridges is a regular review of regional community and economic development issues. Views expressed are not necessarily those of the St. Louis Fed or Federal Reserve System.
---
Email Us
All other community development questions