Sí, Hablo Español: Illinois-Based Bank Opens Bilingual Branch... Inside a Public Library
It isn't every day that a bank branch in the Midwest would schedule a fiesta to celebrate a grand opening. But then again, it isn't every day that a financial institution opens a full-service, fully bilingual banking center in a community that the 2010 census describes as more than 70 percent Hispanic.
Just five minutes northeast of St. Louis' Gateway Arch, Fairmont City, Ill., officially welcomed its first financial institution, TheBANK of Edwardsville (TheBANK), in mid-November after several years of partnership in the community. The location of the new banking center? Where else but the very place the community goes for many of its services—the Fairmont City Library, also fully bilingual, offering services in both Spanish and English.
"A Library Is a Place You Trust"
Fairmont City librarian and longtime resident Katie Heaton recalls how the current relationship with TheBANK began, with a visit about three years ago from Sandy Smith, business and diversity development coordinator and CRA loan officer at TheBANK. Smith, herself Hispanic and bilingual, was seeking to deepen her bank's outreach into the Hispanic community, a market traditionally underserved in financial services. For Smith, the library was a great place to start because it's a place to learn, a place people trust and a community hub.
"Sandy asked me two key questions," recalls Heaton of their first few meetings. "What does your community need? And do you know anyone who has tried to buy a house but can't?"
Heaton didn't take long to answer either question. As a provider of community services well beyond books, the library was already addressing numerous needs for members of the area, almost 40 percent of whom live below the poverty level. Among its services: English as a Second Language (ESL) classes to assist with language barriers, financial literacy training, bike repair days to enable residents to commute to work, Skype training sessions to facilitate communication for the technology-deficient, and college-readiness programs, to name a few.
For the answer to Smith's second question, Heaton immediately turned to a fellow employee who was unable to purchase a house, despite the fact that she and her husband had jobs and about $3,000 in savings. Lack of a credit score was forcing this young family to continue living with her parents. After attending one of Smith's financial coaching seminars, the employee returned hopeful—ready to work one-on-one with Smith to build her credit score and motivated to take whatever steps were necessary to become homebuyer-eligible. Within three months, she was shopping for homes and sharing her success with friends. Word quickly spread, and Smith began drawing Hispanic clientele not only from other towns, but those willing to drive to her home base 45 minutes away, because she spoke their language and looked like them, Smith says.
"That's Where this Tidal Wave Started"
Thanks to Smith's growing community connections and keen cultural awareness, TheBANK began to see opportunities well beyond simply offering homebuyer education. "That's where this tidal wave started," recalls Smith. While her financial seminars at the library continued, Smith attended roundtables and shared meals with families in the community to get a deeper sense of the barriers encountered and the opportunities for TheBANK to offer more financial services to this community. At the same time, she educated bank leadership regarding what would be needed—and what could be possible.
What evolved next, over time, was the MyCommunity Home Loan product, an alternative loan that offers special terms and qualifications to assist those who would otherwise not qualify for traditional banking products. Features include lower down payments, lower minimum credit scores, the ability to use Individual Taxpayer Identification Numbers (ITINs) in lieu of Social Security numbers and flexible underwriting standards. It's open to anyone whose property is located in a low- to moderate-income census tract or who qualifies with household income guidelines.
"I knew what we were creating would need to be designed a bit differently," Smith says, adding that the journey to approval is often high-touch. She describes what would be a typical 10-minute prequalification elsewhere being a two-hour visit, and a sometimes complex layering of grants to help a loan come together. While some clients' journeys could take 45 days, others might take a year or more. "I don't do this by myself," she adds, crediting her network of bilingual real estate agents, insurance companies and nonprofit organizations like Justine Petersen and Prosperity Connection.
Worth the Risk
Are the flexible underwriting standards and extra time worth the risk and investment? Smith thinks so. "In the Hispanic culture, people are hard workers, with two or three jobs. They're also great savers—often saving for that rainy day—so they have money to put down. It's not going to be a huge risk when it comes to loan-to-values. There is also a great sense of community. In this culture, if something happens that prevents them from making a payment, families step in."
Loan performance is backing her up. TheBANK has closed 43 MyCommunity Home Loans for just over $2.4 million since launching in April 2014. So far, there are no reported delinquencies, according to CRA Officer Nikki Turner. A home improvement loan was also built out of this product.
On a different scale, TheBANK is also having an impact on generations to come. Smith recalls one 52-year-old customer who closed on a home after renting for her entire life; she had never before considered homeownership possible. Not only was the house payment half her rent for the 10-year fixed-interest loan, but she had significant equity already built up. Her reason for finally pursuing homeownership? Her children: She wanted them to see it was possible. The generational impact is echoed by Heaton. "Children who first came into the library 15 years ago when we arrived are the ones now going to college. It took a long time to convince them that they could do it; they are our first-generation college students. Sandy's doing the same thing with the housing market—teaching them that homeownership is possible."
In response to growing demand and a solid partnership, the Fairmont City Banking Center opened in November 2015. It is located within the Fairmont City Library, with a separate secured access, and offers retail services, such as checking and savings accounts, mortgage and commercial loan products, and investment services. A tour of the Center reveals an intentional nod to the Hispanic culture, Smith explains, from the brightly colored fabrics typically favored by Hispanics to the oversized circular furniture, which accommodates groups of family members. Teller stations—called pods—are open and inviting, breaking down typical barriers of standing in queues. Pods easily transition to desks if customers need more personal or lengthy assistance. A fully bilingual staff of four are cross-trained to be universal bankers, able to provide additional services, such as opening accounts. While the banking space within the library is brand new, one feature was preserved during the renovation of library space: A large mural painted by members of the St. Louis Rams featuring a map of Route 66. The historic library building—and Fairmont City itself—is located along that famous route.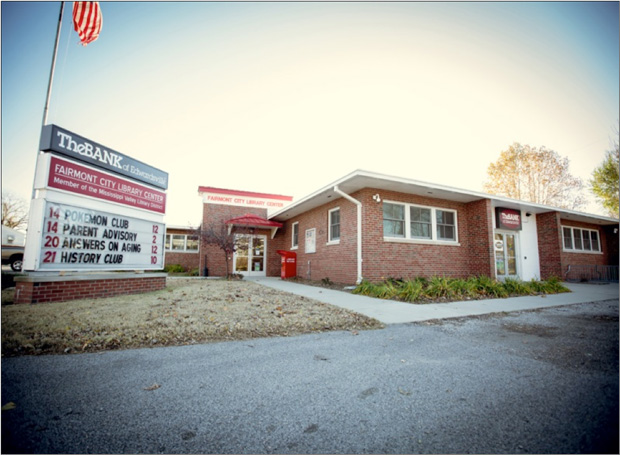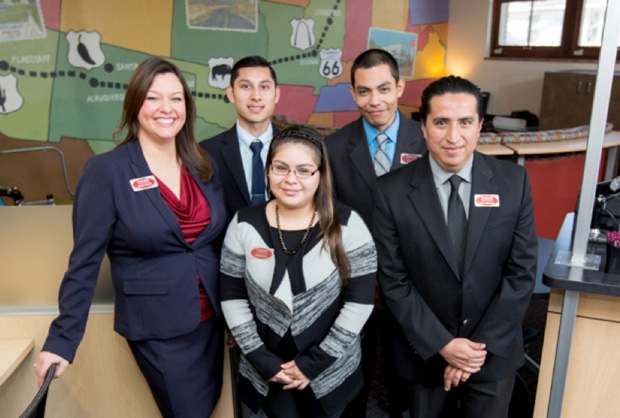 Replicating the Model
While TheBANK has found a model that appears to serve both the bank and Fairmont City, Turner insists success isn't isolated to this community alone. She's helped create a strategic plan to implement similar models to assist other disadvantaged communities in the metro St. Louis area, including immigrant populations. Turner cites a recent report by the Immigrant Housing Project, revealing that the population of immigrants in the larger St. Louis region, and the U.S. overall, has grown and shifted over the past decade, creating new opportunities for homeownership among members of these communities. A strategic initiative led by the St. Louis Mosaic Project seeks to make the St. Louis metro area the fastest-growing region in terms of immigration by the year 2020. Increased access to homeownership has the potential to increase both the personal wealth of immigrant households and the economic growth of the region.
"We have to stop looking at traditional models and realize there is money to be made and communities that need to be served," says Turner. "It's good for banking from an economic standpoint, and it's good for the community. What's more, moving people out of rental and into homeownership means pride in your home and pride in your community. It increases tax revenue and is good for the stability of a community."
Jeanne C. Marra is a senior community development specialist at the Federal Reserve Bank of St. Louis.
Bridges is a regular review of regional community and economic development issues. Views expressed are not necessarily those of the St. Louis Fed or Federal Reserve System.
---
Email Us
All other community development questions