GO! Network: Corporate, Nonprofit Worlds Join Forces To Help Unemployed Professionals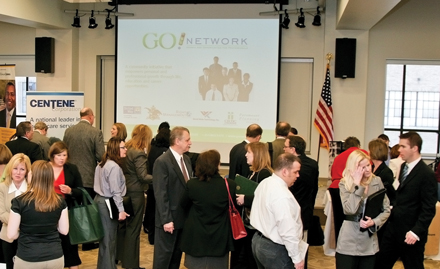 GO! Network participants exchange resumes and business cards with 28 local employers after a series of weekly seminars were held to prepare them for a career fair.
The impact of the economic crisis on communities and on the lives of those who have lost their jobs is one of the largest and fastest-growing issues facing Americans. The times warrant boldness, innovation and grassroots solutions, all of which describe GO! Network. This new program is helping hundreds of professionals in the St. Louis region deal with the difficult problems presented by unemployment.
"There is not one person, company or agency to blame for why we are in this situation. We have all contributed to where we are, and it is going to take all of us working together to move forward," said Chuck Aranda, director of Celtic Creative and GO! Network.
Celtic Creative, a social enterprise of the St. Patrick Center (the largest provider of homeless services in Missouri), in partnership with the United Way of Greater St. Louis, Anheuser-Busch, World Wide Technology, Right Management and Paramount Planning of St. Louis met in January of 2009 to create a resource that would provide growth and opportunities for out-of-work professionals. Aimed at helping those who are caught in career transition, this multifaceted program offers seminars, a speaker series, job fairs, an interactive web site and entrepreneurial opportunities, to name a few.
Almost 200 people attended GO! Network's first event, and about 170 people attend each weekly event. The network has a database of more than 1,700 active members, of whom 46 percent are women and 54 percent are men, representing 30 industries and 20 job roles. The network is comprised of unemployed members and representatives of corporations, academia, government agencies, the health care industry and nonprofits, all working together.
Like most innovative community programs, GO! Network has volunteer opportunities where individuals can share their experience and expertise while helping others in transition. More than 80 volunteer human resources professionals from 38 companies assist members with networking, personal branding, resume writing, interviewing skills and more.
Corporate and university executives and professors also donate their time to deliver keynote presentations on a variety of topics. Motivational speakers such as John Foppe have delivered messages of encouragement and hope. "It has to do with who we are," he said. "It has to do with where we want to go. Most importantly, it has to do with how we're going to get there."
"There's a genuine need to network and not just to network about the next job, but to network in terms of developing connections," said Benjamin Akande, dean of Webster University's School of Business & Technology.
The relationship and trust between GO! Network members and staff have grown. Every week, the group provides feedback via a survey to the peer advisory board on issues that are important to them. One particular survey asked the following five questions:
What keeps you up at night?
What are the top three issues affecting your family?
How are you managing your time off work?
What are three words that best describe your emotional health right now?
Would you be willing to attend a facilitated presentation on this topic?
Two issues that surfaced were increased stress and family issues. To address the need to maintain a healthy mind, body and spirit during this transition, the network collaborated with a community family health cooperative, several employee assistance program providers and other health care professionals. Wellness sessions are currently being developed.
Being unemployed is not always a bad thing. There are advantages that can emerge from unemployment, such as alternative career paths and entrepreneurship opportunities. The interest generated among nearly 100 participants in a session addressing these two topics resulted in the formation of a committee on entrepreneurship. The committee has created a program that will facilitate entrepreneurship, small business development and ultimately new job creation in the community. Future topics for the entrepreneurship program will include: "Do I Want to be My Own Boss," "Setting a Sound Foundation," "Legal Structure and Intellectual Property Protection," "Fast Trac/Business Plan Review" and "Connecting Idea to Experience."
The knowledge that network members gain about the difficulties of being unemployed may give them insight into what is happening around the United States.
"We believe St. Louis provides a window into the challenges being faced in every major city in the country," Aranda said.
For more information about GO! Network, visit www.gonetworkstl.com or send an e-mail to Aranda at caranda@stpatrickcenter.org.
Bridges is a regular review of regional community and economic development issues. Views expressed are not necessarily those of the St. Louis Fed or Federal Reserve System.
---
Email Us
All other community development questions