The Health Care/Community Development Connection: Hospitals Move Beyond Traditional Roles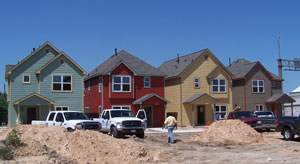 The importance of the health sector frequently surfaces in discussions surrounding community development. In many ways, hospitals and health-care organizations contribute to the stability and growth of the local economy.
Most obviously, there are jobs created by such organizations. The impact on quality of life is another benefit health-care organizations can bring to the local economy. The presence of a health-care organization might make a community more attractive to citizens and businesses alike. The U.S. Small Business Administration and the Ewing Marion Kauffman Foundation both point to a link between access to affordable health care and entrepreneurship and small business development.
Health-care organizations can also play a part in community development activities beyond their traditional role of providing health services. Supporting asset-building programs, small business finance opportunities and affordable housing initiatives are areas where health-care organizations are involved in direct community development activities. Two examples of this type of health-care system are Healthy Connections and CHRISTUS Health.
Asset Development: IDAs
When Healthy Connections formed in Mena, a rural community in western Arkansas, it was a small nonprofit with five employees offering health-education programs on a $200,000 annual budget. Since then, it has grown to become a comprehensive community health umbrella organization operating six distinct programs and employing 31 people with an annual budget of more than $2 million. Healthy Connections now offers programs and services to a seven-county region and is one of the top 25 employers in Polk County.
What started as a small local agency has grown into a full-service regional center, with its flagship Western Arkansas Total Community Health Center (WATCH) at the heart of it all. WATCH is a federally qualified community health center providing a full range of medical, dental, mental health and case-management services to the entire community on a sliding fee scale. WATCH is governed by an advisory board comprised of local citizens representative of the demographic mix in the community.
Like many organizations in rural communities that perform multiple services for residents, Healthy Connections offers more than direct medical care. It also operates a program for abused children, a smoking prevention and education program, a state technical assistance program in cooperation with the Arkansas Children's Trust Fund, and a support services program for pregnant adolescent parents.
It is through the services targeting teen parents that the individual development account (IDA) program was born. After conducting countless home visits to pregnant and parenting teens, a common theme emerged: There is a pervasive lack of personal financial literacy, making saving for any type of asset a distant dream.
With a broad mission to serve the needs of children and families in the communities in western Arkansas, it made sense for Healthy Connections to address what they saw as a fundamental necessity in their community. The hope is to provide their clients a continuum of care, from prenatal to end-of-life, that addresses the full range of needs in the community.
Healthy Connections Executive Director Bob Young recognized a seamless connection from the programs and services they were already offering to the IDA concept. "We were seeing young parents with no budgeting skills, no way of running a house or saving for anything. Now they think it is too good to be true," Young said.
Individual development accounts provide participants an opportunity to open a savings account in a local bank and, after completing a financial literacy course, to begin a savings plan. Matching funds are added to the accounts. Money can be used to buy a home, rehab an existing home, develop a small business or save for college. The state of Arkansas is the primary source of matching dollars for the Healthy Connections IDA program.
The first major hurdle for the program was a lack of internal knowledge. Young said they started an education campaign for their employees on the range of programs and services offered by Healthy Connections, including the IDA program. The goal was twofold: to increase awareness and the number of participants in the program.
Word of mouth tends to be the best marketing tool for the IDA program. As more and more participants complete their savings plans and obtain their asset, community interest continues to grow. Even Healthy Connections' employees are getting in on the act and starting their own accounts. It would be hard to deny there has been an increased level of financial literacy resulting from the program, as a former IDA participant is now teaching the very financial literacy classes she once attended.
External partners are critical to the success of Healthy Connection's community development activities. Partnerships with schools, the community college, banks, local government and professionals working in the area are key to securing funding and recruiting participants.
Of particular importance is the statewide Arkansas Assets Coalition, made up of all IDA providers in the state. Healthy Connections actively participates in the coalition with the goals of ensuring program sustainability, seeking increases in funding and expanding the program to the entire state. One unique idea the asset coalition is exploring is a franchise model for IDA programs. The model would make it easier for the programs to reach every county by consolidating expensive back-office functions while relying on local organizations to be the face of the program.
For more information about Healthy Connections and its IDA program, contact Young at bob_young@healthy-connections.org or visit www.healthy-connections.org.
Investing in Communities
With a mission to serve all people regardless of income or economic status, CHRISTUS Health System is keenly aware of the complex problems facing low-income communities.
The CHRISTUS Health system includes more than 40 hospitals and facilities in seven states—Texas, Arkansas, Missouri, Louisiana, Oklahoma, Utah, Georgia—and Mexico. With assets of more than $3.4 billion, CHRISTUS has been ranked among the top 10 Catholic health systems in the United States.
But do not let its size fool you. CHRISTUS Health prides itself on its community focus. In an effort to address local priorities, CHRISTUS formed the Community Direct Investment (CDI) program. CDI provides access to capital for nonprofit housing developers, microlenders and service providers to low-income communities. Through direct loans, participation loans and economically linked deposits, CDI ensures that local nonprofits have the resources to carry out their activities.
CDI puts into action CHRISTUS Health's commitment to promoting the total health of the community. "Our mission has always been to serve the most-needy in our communities, and the hospital provides us a system and programs to achieve that mission," says Joseph Gonzales, CDI program administrator with CHRISTUS Health. "CDI is one way we do that."
For example, CDI made a $2.5 million investment in Nueces County Community Action Agency. This investment reduces the interest costs for the agency on a loan used to purchase a building serving as its headquarters. Services offered include housing, weatherization, comprehensive energy assistance, rural rental assistance, emergency food and shelter, and the administration of a Head Start program.
Key to CDI's success are the partnerships that generate investment opportunities and deliver services to the end user. Some of its investments include ACCION Texas, Local Initiatives Support Corp., Greater Houston Redevelopment and Southern Financial Partners. These partners allow a large health-care system like CHRISTUS to maintain a community perspective, with local nonprofits serving as a touchstone for its community development efforts.
CDI does not limit its investments to opportunities where CHRISTUS Health facilities are located, but extends to areas with a demonstrated need. This includes investments with organizations serving the Arkansas/Mississippi Delta.
Recently, CHRISTUS Health joined Mercy Housing's Strategic Healthcare Partnership, a collaboration to increase access to health care and affordable housing in the United States. This partnership will provide special focus on housing for residents in areas affected by hurricanes Katrina and Rita. It will also allow Mercy Housing to hire a staff member dedicated to helping hospitals and other developers build affordable housing for senior citizens.
In addition to the CDI program, the CHRISTUS Fund provides grants to community-based, nonprofit organizations. Organizations that are funded work to improve access to (1) quality health-care services for the uninsured and (2) services such as affordable housing and IDAs. The CHRISTUS Fund responds to a variety of requests, with an emphasis on programs that offer a proactive approach to helping low-income communities.
To learn more about CDI and CHRISTUS Health's community development initiatives, contact Gonzales at joseph.gonzalez1@CHRISTUShealth.org or visit www.CHRISTUShealth.org.
Development by the Numbers
---
Healthy Connections IDA Program
Number of IDA accounts (current)
52
Total savings by participants
$64,312
Number of homes purchased
10
Number of homes renovated
64
Number of students in higher education
8
Total impact on the community in dollars (participants' savings and match)
$257,249
Community Direct Investment
1,265+ affordable housing units created or preserved


200+ full-time jobs created


$21 million+ in loans to support nonprofits


$158 million+ in leveraged funds from other sources


$158 million+ in leveraged funds from other sources


Bridges is a regular review of regional community and economic development issues. Views expressed are not necessarily those of the St. Louis Fed or Federal Reserve System.
---
Email Us
All other community development questions