By Kaitlyn Hoevelmann, Public Affairs Staff
Just before my senior year of high school, I decided on a whim that I wanted to take the AP Economics course that my high school offered. Going into it, I had next to no knowledge about any economic topic.
At the time, my older sister, who was in college, had taken an economics course and told me that she found it interesting. This was definitely a contributing factor to my decision, since my older sister and I have always shared a lot of common interests.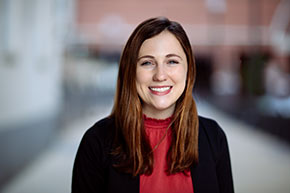 I felt drawn to the subject, and I was lucky that my school had the resources to offer the class.
Economics immediately became my favorite subject after that. I looked forward to class every day and joined Future Business Leaders of America (FBLA) to compete in the economics category. First, I had to take a test for the district level, and the people with the top scores would be sent to the state competition.
I had to take the test only a few months into the semester—we spent all of that time studying macroeconomics, and the test covered both macroeconomics and microeconomics, so I spent hours outside of school reading books and taking practice tests to try and learn as much as I could in a condensed amount of time.
I attribute the beginning of my persistent interest in economics to these moments spent learning on my own late at night or between homework assignments. I ended up placing in the district competition and qualifying for state, where I took another test and placed in the top 10.
I decided sometime during the school year that I wanted to major in economics in college. When I was admitted into the University of Missouri's (Mizzou) journalism school, I decided to double major in economics and journalism. Since then, I have had a great deal of fun taking different economics courses in school, and I have had many brilliant economics professors to look up to and learn from.
It feels like each question and topic I face is a puzzle that needs to be solved, and I enjoy putting the pieces together.
I also have enjoyed my position as a peer learning assistant for an introductory economics course at Mizzou designed for journalism students. In this position, I have held office hours for students to come to me for help, graded assignments and hosted review sessions.
I find the subject complex and challenging, and it is my personal mission to understand as much as I can and constantly learn more. It feels like each question and topic I face is a puzzle that needs to be solved, and I enjoy putting the pieces together.
Another experience that led me to study economics—and to the St. Louis Fed in particular—is when I went there on a field trip with my AP Economics class. We visited the Economy Museum and heard from an economist.
Based on the beautiful lobby, the friendly atmosphere and the great work that is done here, I knew the first step in my career would be getting accepted into the summer internship program at the Fed. I reached this goal in 2019, the summer after my sophomore year at Mizzou.
I'd like to someday dedicate my career to making economics more understandable and accessible to people, since it's incredibly important in everyday life to understand the economy and the way it works.
More to Explore
Editor's note: Kaitlyn has written about a range of economics topics. Check out her work:
Plus, listen to our Women in Economics podcast to hear real stories about prominent professionals making their marks in the field of economics.