The Economic Costs of the Opioid Epidemic
A Brief Background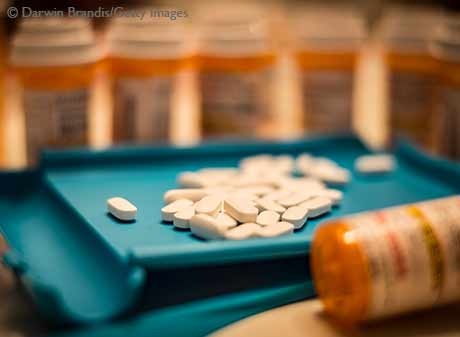 The opioid epidemic that has now spanned several decades is rooted in the rise of prescription painkillers.
There was an increase in prescribing opioids in the early 1990s, and the opioid epidemic reached its peak in prescriptions per capita in 2011, says research from the Federal Reserve Bank of Boston.
Though national measures have been taken to reduce the number of pills dispensed, the opioid crisis seems to be far from over. Americans and the economy are still facing its consequences.
Consider that a second wave of economic impacts arose from illicit opioid overdose deaths from heroin and fentanyl, "likely a result of efforts to limit the supply of prescription opioids," says a 2019 report (PDF) from the Council of Economic Advisers.
In 2017, there were more than 70,200 drug overdose deaths in the U.S.—that's more than four times the number of homicide deaths, according to the FBI. Out of these overdose deaths, a recent research paper from the Philadelphia Fed noted that nearly 70% of them (PDF) can be attributed to opioids. That includes overdoses from mixing opioids with non-opioid drugs, such as cocaine.
As with any crisis, the opioid epidemic has affected the economy in major ways.
For starters, there is a relationship between the health and resilience of a country's economy and the health and resilience of a country's people and communities.
The Opioid Epidemic's Impact on States
On a state level, the total cost per capita of the opioid epidemic ranges from over $4,300 in West Virginia to about $400 in Nebraska. The median total cost per capita was $1,672 in 2015, according to research by Alex Brill and Scott Ganz of the American Enterprise Institute.Brill, Alex and Scott Ganz. "The Geographic Variation in the Cost of the Opioid Crisis," AEI Economics Working Paper Series 2018-03 (2018).
They based this number off of the Council of Economic Advisers' estimate of the cost of the epidemic and local variations of health care costs, criminal justice services and worker productivity.
The opioid epidemic appears to have touched some places more than others.
The Philadelphia Fed's research found that in Pennsylvania, New Jersey and Delaware, the rate of overdose deaths for synthetic opioids is roughly double the national rate or more.
One possible reason for this trend, suggests the Philadelphia Fed research paper, involves problems with fentanyl in the heroin supply of East Coast cities. Fentanyl is a synthetic painkiller about 50 to 100 times more potent than morphine. Since East Coast heroin is sold in a different form than that of its West Coast counterpart, it may be easier to cut with fentanyl.
Other regions of the country have been greatly affected, too.
The rural South has been hit hard by the epidemic, said Anita Brown-Graham, professor at the University of North Carolina School of Government and leader of the initiative ncIMPACT. Her organization aims to work with policymakers and provide civic leaders with high-quality research and analysis. She spoke during a 2018 Federal Reserve System webinar moderated by the St. Louis Fed's Community Development team.
Brown-Graham underscored the importance of thinking about the crisis on a regional level:
"Different demographics are being affected differently by this crisis," she said. "We've got to think about age and income, behavioral health, geography and people who are responding to pain. All of that is going to be a part of the conversations we have with these communities."
The entire state of Arkansas is included in the St. Louis Fed's district, and opioid abuse is a major problem there. According to a St. Louis Fed analysis by Caleb Bobo and Sam Evans, a study from the nonpartisan think tank American Action Forum found that, between 1999 and 2015, the volume of "harmful, addictive prescription drugs" per capita increased in Arkansas by 21% annually.
The study estimated the opioid epidemic's cost to the state as $33.5 billion in real economic output, concluding that Arkansas' economy is one of the "most damaged by the opioid crisis" in the United States.
The effects can be measured on a nationwide level, as well. The opioid epidemic's total cost in 2015 was $504 billion for the nation, the Council of Economic Advisers said.
How to Measure the Costs of a Drug Crisis
Many factors must go into measuring the cost of the opioid epidemic, which is a difficult task due to the sweeping direct and indirect costs. For instance, the Boston Fed has broken down costs into three main categories:
Criminal justice
Treatment
Health complications
Criminal Justice Costs
Diving deeper, criminal justice costs are further broken down into police protection; judicial and legal; corrections; probation; and parole. In total, the Boston Fed's May 2018 report estimates the criminal justice costs at $5,649,074,311, using the most recent data available (2012).
Treatment Costs
Naloxone, commonly known as Narcan, has become an important treatment cost to consider. It is a medication that reverses the effects of an opioid overdose.
In its research, the Boston Fed says naloxone has become "critically important over the course of the opioid epidemic." According to the report, since 2016, Massachusetts has allocated an additional $1 million annually towards providing naloxone to first responders.
Health Complications Costs
In the health complications category, one implication that might not immediately come to mind is the rise of the number of babies born health with neonatal abstinence syndrome (NAS). NAS affects children whose mothers used opioids during pregnancy; the syndrome's appearance in babies must logically accompany the rise of opioid abuse.
According to the Boston Fed report, infants with NAS experience withdrawal symptoms and can face health and developmental challenges.
In fact, the report finds that "the average cost to care for an infant with NAS in the first year of life alone is nearly $70,000 more than the cost to care for an infant born without NAS."
The report points out that the costs it presents are only the ones "most directly linked to opioid abuse," and there are many other indirect costs.
In short, measuring the total costs and impact of the opioid epidemic on the economy is anything but simple.
Reckoning with Hidden Costs
Productivity and Labor Markets
One indirect cost of the opioid epidemic is loss of productivity: People incarcerated for drug crimes or in residential treatment programs aren't earning wages.
Another indirect cost is future productivity. An Altarum research brief cited by the Philadelphia Fed found that the average age for an overdose fatality is 41, which is prime working age.Rhyan, Corwin. "The Potential Societal Benefit of Eliminating Opioid Overdoses, Deaths, and Substance Use Disorders Exceeds $95 Billion Per Year" (PDF), Altarum Research Brief. Nov. 16, 2017. A person who dies at age 41 could have potentially spent another 25 years in the labor force.
But what is the relationship between workforce participation and opioid abuse?
Research still needs to be done, but there is evidence that opioid availability impacts labor market outcomes. A study by Cleveland Fed researchers found that opioid availability is correlated with lower employment rates.
The U.S. faces low participation in the labor force today. Federal Reserve Chairman Jerome Powell said in a "60 Minutes" interview on March 10, 2019, that an estimated half a million workers have given up looking for jobs.
"We have an unusually large number of people in their prime working years who are not in the labor force," the Fed chairman said. "The United States has a lower labor force participation rate than almost every other advanced country."
Powell attributed part of the low labor force participation to the opioid epidemic.
"The opioid crisis is millions of people," he said in the interview. "They tend to be young males. And it's a very significant problem. And it's part of a larger picture."
Effects on Individuals and Families
Turning to impacts on an individual level: The epidemic affects more than just those Americans struggling directly with opioid abuse. It affects their families as well.
Meredith Covington, community affairs manager at the St. Louis Fed, views the issue through a community development lens. The Community Development department at the St. Louis Fed promotes economic resilience and mobility for low- and moderate-income individuals and communities.
According to Covington, information from the Missouri Job Center-St. Louis County shows the center is increasingly seeing age groups of all kinds seeking employment.
"There is a disproportionate number of people now that should be retiring who are going back and looking for second or third jobs. They're having to take care of their grandchildren because their children are struggling with opioid addiction or are undergoing some other kind of financial or health crisis," she said.
"This issue not only affects those dealing with opioid addiction, but also their families. There are ramifications for the productivity of their parents, children and siblings," Covington said.
What Now?
In their research about the opioid epidemic in Arkansas, Bobo and Evans point out incentives for banks to become involved in the workforce and drug addiction conversation. They indicate that a healthy workforce with stable employment would boost the number of candidates for loans.
Also, a "dynamic labor force" could attract new employers, leading to new investment opportunities for banks.
The Boston Fed has found that different states have approached solutions to the crisis differently. Policy responses have included:
Increasing education about alternative approaches to pain management
Monitoring prescriptions
Increasing access to recovery treatment
Enhancing criminal justice efforts to crack down on illicit opioid use
The Boston Fed study found that states focusing more on the treatment aspect, like Vermont, have seen greater success than those that have focused more on criminal justice, such as New Hampshire.
While there is still a ways to go to find a solution to the opioid problem, people are paying attention—including researchers at Federal Reserve banks around the nation.
"I think Federal Reserve staff are paying attention because there is a heightened awareness of the implications," Covington said.
---
Notes and References
1 Brill, Alex and Scott Ganz. "The Geographic Variation in the Cost of the Opioid Crisis," AEI Economics Working Paper Series 2018-03 (2018).
2 Rhyan, Corwin. "The Potential Societal Benefit of Eliminating Opioid Overdoses, Deaths, and Substance Use Disorders Exceeds $95 Billion Per Year" (PDF) , Altarum Research Brief. Nov. 16, 2017.
This blog explains everyday economics, consumer topics and the Fed. It also spotlights the people and programs that make the St. Louis Fed central to America's economy. Views expressed are not necessarily those of the St. Louis Fed or Federal Reserve System.
---
Email Us