Investment Connection is a program launched by the St. Louis Fed in 2017 to share information about the needs in low- to moderate-income communities. The program is loosely based on the "Shark Tank" concept. It brings together community and economic development organizations with financial institutions and others who are interested in funding sustainable initiatives. For example, past proposals have included:
Funding for an initiative to fight rural poverty in southern Missouri.
A grant request for additional beds and other resources for adult males recovering from substance abuse in Little Rock, Ark.
Support for a dropout-prevention and college readiness program targeted at Memphis, Tenn., high-schoolers.
What is Investment Connection's goal?
Investment Connection's primary goal is to enhance community development impact in the low- to moderate-income (LMI), distressed, and underserved communities in the Eighth Federal Reserve District, which covers all of Arkansas and portions of Illinois, Indiana, Kentucky, Mississippi, Missouri and Tennessee.
The program, based on a concept first initiated by the Kansas City Fed in 2011, provides community and economic development organizations with the opportunity to pitch their programs to multiple financial institutions and other public and private funders at one time. Through these live events, the program has built effective collaboration and increased investment opportunities in the form of loans, grants and other investments.
"Building and funding a community development proposal is no easy task for a nonprofit organization. Dollars are limited, and those investing want a reasonable degree of confidence that the proposals will produce their intended outcomes," said Executive Vice President Julie Stackhouse, who leads the St. Louis Fed's Supervision, Credit and Community Development functions.
"The opportunity for discussion at Investment Connection events increases the likelihood that the proposals discussed at the events will come to fruition," she added.
What is the connection to the Community Reinvestment Act (CRA)?
The St. Louis Fed's Community Reinvestment Initiatives team designs, manages and hosts the Investment Connection program. This cross-functional team of community development advisors and consumer affairs examiners is tasked with finding out more about how banks respond, or can respond, to the credit and financial services needs of LMI communities under the CRA mandate.
The Community Reinvestment Initiatives team does this through structured dialogues throughout the District. The group convenes organizations, banks, funders and government agencies to learn about community development needs and opportunities and to better understand the role of CRA, its mandates and qualification parameters.
Investment Connection is the result of those discussions. It serves as platform for groups to come together, connect, align and collaborate to advance community development work in their communities.
How does the Investment Connection program work?
First, the Community Reinvestment Initiatives team researches and collects information through outreach, dialogues and discussions to select a location for an Investment Connection live event. The team engages with on-the-ground partners to promote the event and invites organizations to apply through an online application process.
The St. Louis Fed ensures that all projects selected to be pitched are CRA eligible. Organizations are required to participate in an information session to learn about the submission requirements and guidelines. Successful applications must meet CRA eligibility criteria and have a proven track record of credible staffing and financial capability to operate high-impact programs and services. And importantly, consumer compliance examiners weigh in on the CRA eligibility of the proposals before they are pitched.
"Those in attendance at these events hear about pre-screened and high-impact community development proposals that are eligible for Community Reinvestment Act credit," Stackhouse said. "Proposals range from funding to support a drug/alcohol rehabilitation program for low-income individuals to redevelopment/housing initiatives and many others."
Approximately eight to 10 selected projects are pitched at each live event. The audience at these live events includes:
bankers
community development financial institutions (CDFIs)
foundations
government funding agencies
corporate funders
Determining CRA eligibility in advance is important to attracting funders to the live events. "We made contact with eight organizations after the conference and have financially supported six to date," said Stacy Clay of First Bank in St. Louis. "Ensuring the projects were CRA eligible was a tremendous help. Additionally, these were largely just very good projects from reputable organizations."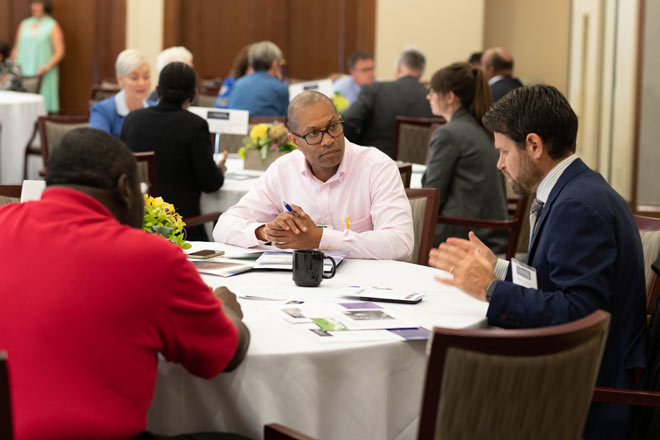 Image: Federal Reserve Bank of St. Louis
Has the Investment Connection program been successful?
Since the program's inception in late 2017:
The St. Louis Fed has hosted six Investment Connection proposal rounds and events. These events were held throughout the Eighth District in Memphis; Springfield, Mo.; Little Rock; St. Louis; and Louisville, Ky.
Seventy-five organizations have applied to Investment Connection events between November 2017 and October 2018. Of those, 41 proposals were presented to more than 230 bankers and other funders.
Projects have addressed an array of community development needs, with the majority of the projects focused on neighborhood revitalization and stabilization. Others addressed small business, economic and workforce development, community facilities and affordable housing.
Organizations have made more than 165 documented connections, and as of Feb. 28, 2019, $1,142,500 in grants, loans and investments has been committed to community and economic development projects throughout the Eighth District.
One of the connections was made by the Dennis Jackson of the Mt. Sinai Development Corp. in East St. Louis, Ill., who presented at the St. Louis live event in September 2018. "We were able to present our story to banks and funders," he said. "We were able to raise $35,000 in funding that we would not have gotten without being a part of the event."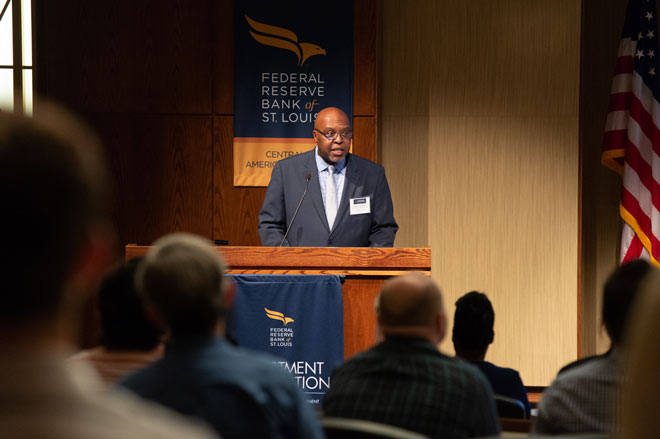 Image: Federal Reserve Bank of St. Louis
Funds raised through Investment Connection helped Mt. Sinai develop the Winstanley Neighborhood Plan. This plan will qualify them for Illinois Tax Credits to complete Phase III of Sinai Village, which includes development of 40 units of new affordable housing for LMI families and the renovation of a recently donated warehouse to create a neighborhood community center that will serve the entire city of East St. Louis.
What's next for the Investment Connection program?
The Community Reinvestment Initiatives team recently conducted an evaluation of the Investment Connection program to identify needs going forward. Participants, organizations and funders shared their feedback and recommendations.
Based on survey results and feedback, Investment Connection will focus this year on more outreach, training and networking opportunities to better prepare and engage organizations, bankers and other funders to collaborate effectively.
There are several Investment Connection live events already planned for 2019:
St. Louis - Oct. 17
Louisville - Nov. 14

And more connections and success stories will be featured in upcoming blog posts. Please reach out to Neelu Panth at Neelu.Panth@stls.frb.org if you want to share your Investment Connection story.
This blog explains everyday economics, explores consumer topics and answers Fed FAQs. It also spotlights the people and programs that make the St. Louis Fed central to America's economy. Views expressed are not necessarily those of the St. Louis Fed or Federal Reserve System.
---
Email Us
All other blog-related questions