We Are Central Profile: Meet Clinton Barney
At the St. Louis Fed, new chapters are being written in our story every day. Our We Are Central profile series introduces you to some of the people who help make the Bank central to America's economy. Today we feature Clinton Barney, a specialist in Human Resources talent development.
---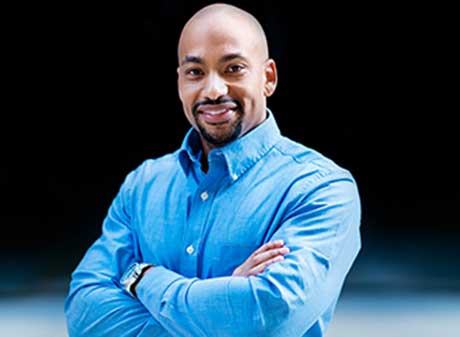 With a military and law enforcement background, Clinton joined the Federal Reserve Bank of St. Louis in 2010 and started working in the Law Enforcement Unit. His plan was to work for the Fed for five years and then apply to the FBI.
Nearly a decade later, Clinton stayed on — having transitioned his professional path from law enforcement to talent development.
A big part of his job now involves making new employees feel comfortable and equipped to succeed, so they'll stay on for years to come, too.
What are some of your key responsibilities at the Fed?
Most people think that I really only have new employee orientation because that's what they're used to seeing me do. But there are multiple components to managing the new employee onboarding program. My team is focused on growth and success in the Eighth Federal Reserve District.
There are a number of programs I manage that I have to constantly look back on. Based on the feedback and based off what we're seeing, we constantly have to tweak things and make sure they're still enjoyable for people who attend — and that they're effective in regards to what we're really trying to do with them.
A lot of components within my job are more "behind the scenes": I help coordinate the performance management process. I also help coordinate our Eighth District learning management system. We also focus on in-house training.
What do you enjoy most about your role?
My job allows me to focus on the success of others. All the programming we offer is geared toward the success of the organization.
Naturally, I think I've always moved toward that coaching role in my life. I think my job naturally allows me to work in that space where I get to revel in the success of other people.
The summer intern program is my favorite part of my job. That has been, for me, the highlight of my experience in Human Resources. The intern program is a huge program with a lot of moving parts, so being able to manage that and see the result in the end is very rewarding.
Some of our interns go on to work here, and some of them go on to work at other organizations. The bottom line is they all go on to do something great.
One of the quotes that I like is by James Keller: "A candle loses nothing lighting another." I think if we have knowledge — or if we have certain attributes or skills that we can help pass on to others — why not help them be great, and why not enjoy their success as much as we enjoy our own success?
Tell us a little about your life outside of work.
My family, first, is my "why." They are why I get up in the morning; they are why I work as hard as I do.
I try to set the best example for my children: being a good husband, being a good father, being a good son, being a good brother. Family's always going to be first to me.
But I also enjoy being physically active: I love weight training, I love anything that's strenuous, challenging and difficult. I love cars. I have too many hobbies!
---
Additional Resources
To learn about job opportunities at the St. Louis Fed, visit our Careers site and connect with us on LinkedIn.
Related reading:
This blog explains everyday economics, consumer topics and the Fed. It also spotlights the people and programs that make the St. Louis Fed central to America's economy. Views expressed are not necessarily those of the St. Louis Fed or Federal Reserve System.
---
Email Us