Hearing from Diverse Voices on Policy Issues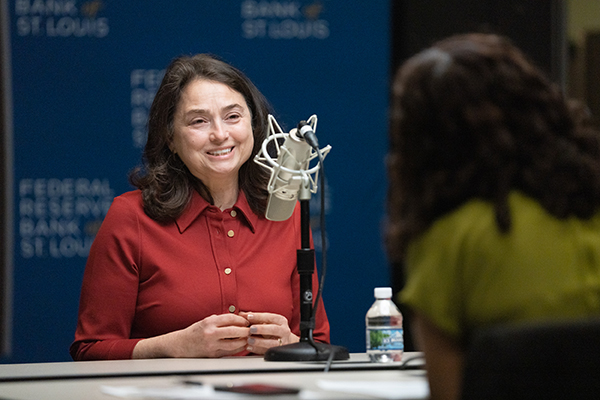 The study of macroeconomics is a passion of Stephanie Aaronson, senior associate director of the Federal Reserve Board's research and statistics division. This division is responsible for the forecast of the U.S. economy that's produced for the Federal Open Market Committee, the monetary policymaking body of the Fed System.
"I'm responsible for overseeing the forecast, making sure that the story we're telling about the U.S. economy makes sense, that all the pieces fit together," Aaronson said during a May 17 Women in Economics Podcast Series interview with the St. Louis Fed.
Aaronson first joined the Federal Reserve Board more than two decades ago. In 2018, she left to serve as vice president and director of the economic studies program at the Brookings Institution. There, she directed a group of economists and operations staff whose research was intended to improve fiscal and monetary policymaking at the federal, state and local levels. She returned to the Federal Reserve Board this year.
What first attracted Aaronson to the economics field?
"I was interested in economic policy because I wanted to make economic policy better for people," she said. "I wanted to help people achieve their financial security and their goals, and I was interested in the question of inequality, which was rising a lot when I was in undergrad."
After college, Aaronson went to work at the Institute for Women's Policy Research, a think tank in Washington, D.C., where she focused on economic issues facing women, including the wage gap and paid leave programs. "I could really see how the tools of economics would be good for studying these economic issues that I really cared a lot about," she said.
Aaronson noted the significant effect that macroeconomic outcomes can have. Yet, women remain particularly underrepresented in the macroeconomics field.
"I'm not really sure why that it is, but I think that having diverse voices on policy issues is very important," she said.
Hearing different perspectives is especially important for an institution like the Federal Reserve because of the broad impact that policy questions have, Aaronson noted. "It can really change our perspectives on what we're seeing in the economy. And so, I really hope that more women will enter the field so we can hear their voices," she said.
Aaronson shared some ways the Fed is working to improve the pipeline of future economists who represent diverse groups—by sponsoring events for the American Economic Association's summer program, for instance, and by engaging with the Sadie Collection, an organization working to grow the number of Black women in the economics field.
Aaronson added that the Federal Reserve Board's hiring process has been overhauled to ensure a diverse slate of candidates. "We take a special look at the pool of applicants to make sure that we haven't inadvertently weeded out candidates who come from nontraditional backgrounds or who might be more diverse," she said.
During the podcast episode, Aaronson also talked about her mentors, the challenges she's faced in her education and career, and the rewards that come with studying economics. A transcript is available at Women in Economics: Stephanie Aaronson.
This blog offers commentary, analysis and data from our economists and experts. Views expressed are not necessarily those of the St. Louis Fed or Federal Reserve System.
---
Email Us
All other blog-related questions