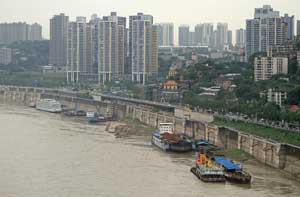 Thinkstock/fightbegin
This is the second post in a three-part series on the rise of China as an industrial powerhouse.
China's rise as an industrial power over the past 35 years comes on the heels of several past attempts, which each ended in failure. In an article in The Regional Economist, Assistant Vice President and Economist Yi Wen noted that China's current attempt at industrialization is the nation's fourth in the past 120 years. What happened with previous attempts?
The Qing Monarchy
China's first attempt at industrialization started in 1861 under the Qing monarchy. Wen wrote that China "embarked on a series of ambitious programs to modernize its backward agrarian economy, including establishing a modern navy and industrial system."
However, the effort failed to accomplish its mission over the next 50 years. Wen noted that the government was deep in debt and the industrial base was nowhere in sight.
The Xinhai Revolution
Social turmoil and demand for political reforms led to the Xinhai Revolution in 1911, which established the Republic of China. Wen wrote: "The new republic tried to industrialize China by a wholesale mimicking of U.S. political institutions, including democracy and the separation of powers (legislative, executive and judicial branches of government)."
However, Wen noted that copying the U.S.'s structure did little to improve China, and the nation remained one of the poorest on earth after 40 more years.
The Communist Peasant Army
In 1949, the Communist peasant army defeated the republic. The new government subsequently tried to industrialize the nation by copying the Soviet Union's central planning model. Wen wrote: "Thirty years passed, and the effort failed again: In 1978, China remained essentially in the same Malthusian poverty trap, with per capita income not significantly different from what it was around the Second Opium War."
Three Attempts at Industrialization, Three Different Failures
Wen noted that the reasons for China's industrialization failures were clearly not the lack of free market and private-property rights, nor were they due to the lack of democracy. He wrote: "The Qing dynasty had probably a better market system and better private-property rights than did England and the rest of Europe in the 17th and 18th centuries. … [and] the government of the Republic of China was so inclusive that even members of the Communist Party were allowed in the government."
So what was different this time around? The final blog post in this series explores how China has risen as an industrial power.
Follow the Series
Additional Resources