Federal Reserve Governor Lael Brainard visited the Eighth District on April 3, 2019, as part of an ongoing outreach effort to connect with Main Street.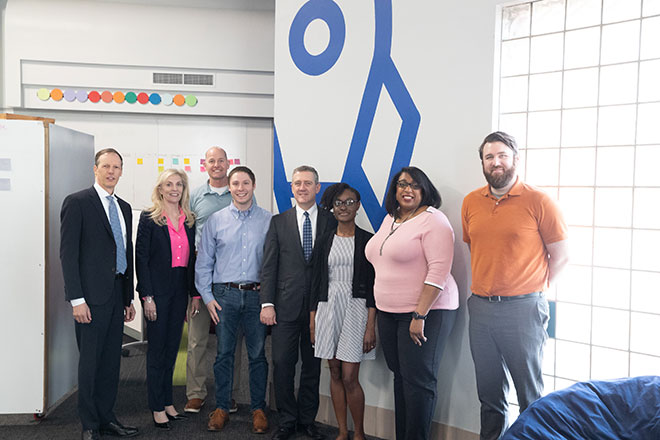 (Pictured from left: Jim McKelvey, Lael Brainard, Matt Ashley, Marc Bernstein, Jim Bullard, Chantel Korfmacher, Kimberly Vaughn and Chris Nava.)
As part of an April 3 visit to the St. Louis Fed, Federal Reserve Board Governor Lael Brainard toured nonprofit LaunchCode. St. Louis Fed President Jim Bullard and St. Louis Fed Board Director Jim McKelvey joined her on the tour of LaunchCode, which McKelvey co-founded and which is aimed at growing new talent and creating pathways to on-the-job training and employment in the tech sector. The visit was part of the Fed's ongoing outreach efforts.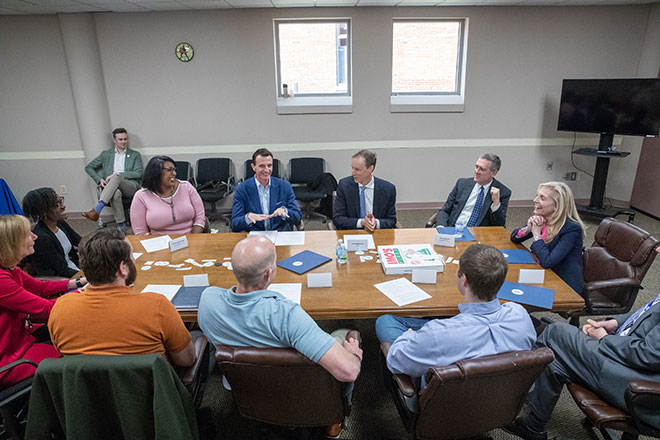 As part of her visit to the St. Louis Fed on April 3, Federal Reserve Governor Lael Brainard participated in a roundtable at nonprofit LaunchCode to hear about its tech workforce development and paid apprenticeship model.
Led by Jim McKelvey, the co-founder of LaunchCode, who also serves on the St. Louis Fed's board, the group discussed LaunchCode's approach to helping companies find and retain new skilled tech talent from all backgrounds. Joining Federal Reserve Governor Brainard were Jim Bullard, president of the St. Louis Fed; LaunchCode employer partners from Booz Allen Hamilton and Balto Software Inc.; three LaunchCode apprentices; and LaunchCode and St. Louis Fed staff.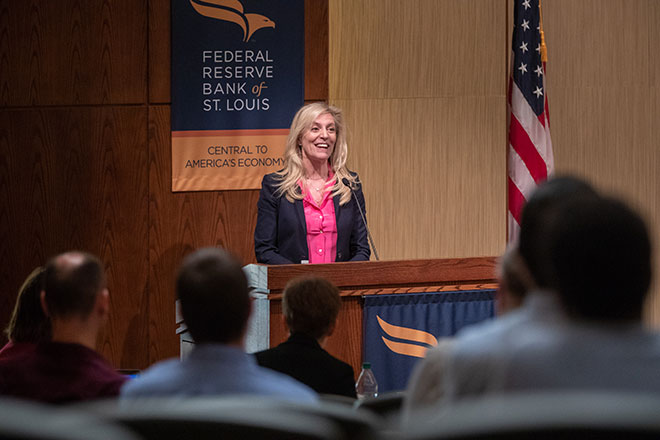 As part of a visit to the Federal Reserve Bank of St. Louis on April 3, Lael Brainard, a member of the Federal Reserve System's Board of Governors, participated in a town hall question-and-answer session with Bank employees.