Stories of Classroom Economics Inspiration
Fifth grade teacher Erin Boettcher has found that struggling students relate to real-world economics lessons.
Those students are watching and taking in everything, said Boettcher, who teaches at Newark Charter School in Newark, Del. And when Boettcher pulls real-world examples into an economics lesson, the students recognize making the kinds of choices and store purchases that she's talking about.
"It really kind of invigorates them and gives them a feeling like they've never had before in the classroom, which is, 'I'm a part of this, and I can add to what's happening right now,'" Boettcher said. "That's one of the things that drove me to continue seeking out opportunities to become a better economics teacher in the elementary classroom, because of what it did for all my students."
But how can economics and personal finance be included in lessons and brought to life for students? That's a question that the Sneak-a-nomics series of the St. Louis Fed's Teach Economics podcast helps answer. Boettcher was a guest on the first episode, "Sneak-a-nomics: Why Economics Lessons Engage Struggling Students," which was released in January.
About the Podcast and Sneak-a-nomics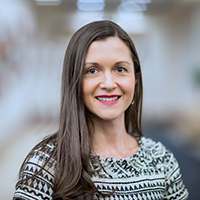 The Sneak-a-nomics series shares "all sorts of tips, tricks and stories that we hope will inspire you to sneak a little economics into your lesson plans," said host Andrea Caceres-Santamaria, a senior economic education specialist at the Federal Reserve Bank of St. Louis.
The Teach Economics podcast includes conversations with leading economics educators who discuss teaching strategies and insights on why it's important to teach economics at all levels. Parents, as well as teachers, can use the content as a resource.
The St. Louis Fed offers a wide variety of practical, free lessons and resources for teachers to incorporate economics, including personal finance, into their classroom instruction.
In the Sneak-a-nomics series, some educators talked about what sparked new ideas, from Legos, to a picture book story about a lemonade stand, to the overuse of overhead projectors.
It All Starts with a Good Story
Bonnie Meszaros, associate director of the Center for Economic Education and Entrepreneurship at the University of Delaware, joined Boettcher on the second Sneak-a-nomics episode and discussed using children's literature for economics and personal finance lessons. Because, as host Caceres-Santamaria said in describing a quality lesson plan, "It all starts with a good story."
Almost all the books Meszaros uses for lessons aren't written with economics in mind, she said on the episode, "Sneak-a-nomics: How to Unlock Economics Lessons with a Good Story."
Meszaros said she finds a book with "a nice story line." She noted that she relies a lot on classroom teachers' suggestions.
"I try to find a book that's just got an endearing story that kids and teachers will enjoy, and then I think about, 'Well, what is the key economic concept?'" Meszaros said.
I try to find a book that's just got an endearing story that kids and teachers will enjoy, and then I think about, 'Well, what is the key economic concept?'
—Bonnie Meszaros
A lot of different things could be done with many books, she said, "but you want to narrow the focus."
Meszaros highlighted as an example a book for children ages 3 to 7, "Lemonade in Winter: A Book about Two Kids Counting Money." The book tells the story of two kids who use their savings to buy supplies and use strategies like advertising and songs to sell lemonade, she said.
"In the end, they don't have a profit. They have a loss. … I'm thinking, 'This is great,'" Meszaros said. "Because most of our books talk about kids starting a business, but they never look at, 'Well, did they make a profit or a loss?'"
Meszaros could have used the book to teach students about productive resources as well as profit and loss, but it would have made the lesson really long, she said.
Children's Activities Lead to Ideas
Mary Suiter, who retired in early 2023 from a position as assistant vice president of economic education at the St. Louis Fed, said that talking with colleagues, observing unrelated teaching activities and watching her grandchildren helped with ideas for economics lessons.
As a guest on a Sneak-a-nomics episode released in July, "Sneak-a-nomics: How Creative Lesson Writing Starts with Teamwork," Suiter gave an example.
Suiter recalled watching her grandson creating Lego machines at a Lego camp. If a price were placed on the Lego bricks, the building activity could be used to teach cost of production, revenue, and profit and loss, Suiter said. Once a Lego creation was built, the children could figure out what it cost to make.
"We could give them a price at which they could sell that and then see if they're making a profit or a loss, and then have them rebuild and try to improve in terms of the manufacturing of the product," Suiter said. "So that would be a starting point."
Activities like that are "sparks for creativity," she said.
Learning What Not to Do
Mike Raymer, the executive director of the Georgia Council on Economic Education, gave lesson-writing advice on the episode that also featured Suiter.
Raymer recalled getting a lesson in the type of teaching to avoid when he was working toward his master's degree in the early 2000s. After spending the day in the classroom teaching, he drove to a class where the professor was "just sort of lecturing but showing notes on an overhead projector."
Raymer said he was bored and regretted that he was paying for the experience.
"But then I said to myself, 'I did this to my students yesterday.' And I was like, 'I'm never ever doing this again,'" Raymer said. "So, literally the next day, I got back at school, and I took my overhead projector and I put it away. And I never touched it again."
This blog explains everyday economics, consumer topics and the Fed. It also spotlights the people and programs that make the St. Louis Fed central to America's economy. Views expressed are not necessarily those of the St. Louis Fed or Federal Reserve System.
---
Email Us