Digital Skills in Demand: How the St. Louis Region is Growing Technology Talent
This is the second in a two-part series about developing digital skills in a changing labor market. Part I touched on the difficulties employers face in finding skilled workers, as well as issues workers confront when "upskilling" themselves for jobs. Part II features organizations and people who are greeting these challenges head-on.
---
Recent research from St. Louis Fed Economist Sungki Hong discussed the potential impacts of automation on the labor market. For example, in a 2018 essay, he described how automation is replacing jobs in the service and manufacturing sectors—and how 60% of jobs in the Eighth Federal Reserve District face the potential for automation in the next two decades.
But in light of the risk of automation, there is also opportunity. Automation and artificial intelligence-based technology could alter the workplace, creating a hybrid model with humans and AI working alongside each other. These changes can also result in the creation of jobs.
Employers, jobseekers and regional policymakers have the chance to respond in a way that propels them to meet both immediate and future needs for maximum workforce productivity.
Building an Inclusive Future of Work in St. Louis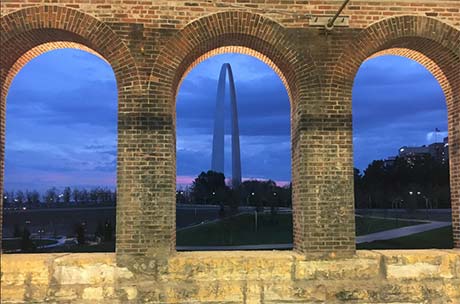 James A. Viguerie
The latest State of the St. Louis Workforce report (2019) notes that a third of regional employers reported they're experiencing a shortage of skilled applicants, with a number of technology-focused roles amid the "top 30 hard to fill" jobs. These include software developers; user support specialists; systems analysts and engineers; and IT project managers. Many more of the top 30 require digital skills.
In the race for technology talent, St. Louis-area organizations have been making strides: not just increasing digital skills for individual workers, but also creating a more "digitally inclusive" ecosystem that represents women and minorities. The Brookings Institution identified St. Louis as one of the eight most digitally inclusive tech cities in the U.S. in 2018.
Here's a look at how some organizations are partnering to fill the St. Louis region's technology talent shortage.
A nationally recognized coding camp (and much more)
Founded in 2013, LaunchCode creates accessible career pathways to connect underemployed and underserved workers to technology-sector opportunities.
At no cost to the individual, LaunchCode provides job-focused curriculum to train driven learners, while also connecting them to paid apprenticeship and job opportunities with employer partners.
"In this way, we provide expertise in finding, training and placing students because we know they add value to an organization's team, despite that their résumé looks different than what a company may be used to seeing," says Leah Freeman, public relations director at LaunchCode.
"We have seen a lot of success in our apprenticeship program. The apprenticeship process has been able to de-risk the hiring process and build relationships with various companies, which has opened new doors to job seekers and fulfilled acute employer needs that are impossible or incredibly costly to address through traditional means," Freeman says.
Since its inception in 2013, LaunchCode has placed 1,061 apprentices and direct hires from a large pool of graduates.
A pathway for at-risk and underemployed workers
In June 2019, Accenture and the St. Louis Promise Zone launched a training program to help Promise Zone residents develop their digital skills and pursue careers in the information technology field.
Promise Zones describe high-poverty areas designated by the U.S. Department of Housing and Urban Development to receive preferred access to federal agencies and programs, with an eye toward boosting economic activity, job growth and educational outcomes, along with other objectives. The St. Louis Promise Zone was named in 2015. It covers a large portion of North St. Louis City and North County and includes about 200,000 people.
The new Accenture/Promise Zone program, "My Path, My Future," partners with several organizations to support participants as they develop digital skills. It seeks to change how workers, employers and workforce development organizations approach learning, training and hiring.
The program is currently working with 100 workers from the St. Louis Promise Zone to support their transition to sustainable careers in IT and cybersecurity. The coalition began outreach for the first cohort in March 2019, and training is currently underway.
Accenture also brought its national apprenticeship program to St. Louis, creating new training and career pathways for individuals who may not have a traditional four-year degree.
"In our work, we're using core design principles as a guide for creating and refining work-based learning programs," says Mary Kate Morley Ryan, principal director at Accenture. "These are rooted in extensive global research, practitioner feedback, on-the-ground implementation experience and, most importantly, worker interviews."
According to Morley Ryan, these principles include:
Focusing on employment demand and program outcomes.
Being transparent about program expectations.
Teaching power skills and growth mindset to develop confidence.
Recruiting through trusted partners.
A Data-Driven and Inclusive Institution
At the St. Louis Fed, we have partnered with organizations such as LaunchCode and NPower Missouri to identify technology talent. This has resulted in an increase in hires through the Bank's apprenticeship program.
"LaunchCode has been a game changer for IT recruiting at the Bank," says Jack Kennedy of Human Resources. "Historically, there's been a challenge identifying talent in the coding arena. Through LaunchCode, we've been able to offer apprenticeships, and in some cases, employment."
He adds: "It's especially rewarding when you see the way people benefit by gaining access to an opportunity to learn IT skills and pursue a career in IT, which may not have been otherwise available."
Besides playing an active role in providing opportunities for those who have completed LaunchCode and similar programs, the St. Louis Fed encourages mentorship and continual learning for current employees seeking to enhance their digital skills. The Bank is also leveraging AI tools to optimize job postings to attract diverse candidates.
Words of Wisdom for Workers and Employees
I recently had the opportunity to speak with St. Louis Fed colleagues who graduated from LaunchCode. I asked them:
What advice would you give to workers interested in increasing in their digital skills or considering a career change?
Melissa, a QA engineer, says a great place to start is checking out tech meetups in your area.
"Go to local tech meetings. You'll find it's not a roomful of computer scientists, it's people who've learned on their own, gone to boot camps or taken online code camps," she says. "And if you think you might be interested in tech, there are free code camps and code academies. Learn how applications are developed, how they are built. You have to know how the applications are built to have a sense of the coding required."
TaNeisha, also a QA engineer, says it's vital to keep learning new skills—whether you're seeking a new career path or you've already landed a tech job.
"Anyone who goes into technology or a related field … you have to be willing to do some self-teaching. Lifelong learning is crucial due to the various technologies out there. You have to be willing to move forward with the new technology; otherwise, you can get left behind," she says.
What would you say to employers looking to find digitally skilled talent?
My colleagues encouraged organizations to look beyond traditional talent pipelines and to be digitally inclusive.
"Employers who are having a hard time attracting folks with these skills need to be willing to change the structure of work and consider opportunities like apprenticeship programs," TaNeisha says.
"Having companies that are willing to take a chance on people who may not have a degree within the technology field is helpful," she continues. "As long as someone can show they are willing to put in the time and effort to learn what is needed to fill technical roles, employers can still find great talent."
Melissa adds: "Send hiring managers to apprenticeship programs. Hire people who can do the job, not just who have done the job. Hire from programs that have already taught the basics. Hire women, immigrants, people of color, people with disabilities and veterans. Create a diverse environment that is rewarding to work in."
Conclusion
As regional economies continue to face a future governed by rapidly changing technology, ensuring all workers have the means and opportunities to increase their digital skills—while also safeguarding that these jobs provide fair wages and benefits for all—will be key.
To this end, regions that invest in worker training to help individuals who work in at-risk, automated jobs will have a competitive advantage and an overall stronger economy.
---
More to Explore
This blog explains everyday economics, consumer topics and the Fed. It also spotlights the people and programs that make the St. Louis Fed central to America's economy. Views expressed are not necessarily those of the St. Louis Fed or Federal Reserve System.
---
Email Us