At the St. Louis Fed, new chapters are being written in our story every day by employees in every division, department and unit. Our We Are Centralprofile series introduces you to some of the people who help make our Bank central. Today, we feature Chris Martinek, a senior coordinator in the Treasury Division.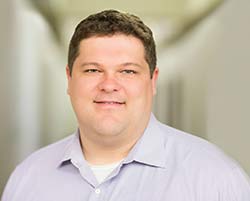 The Federal Reserve is a separate entity from the U.S. Department of the Treasury. But the St. Louis Fed provides services for several Treasury business functions while also coordinating Treasury support activities throughout the Federal Reserve System.
Chris Martinek is one of many talented employees working in our Treasury division. He joined the Fed in 2006 and began his career as a research analyst in our Research division before switching to a new role as a programmer. Chris has a dual degree in economics and mathematics.
Why did you decide to work for the Federal Reserve?
I was fresh out of my undergraduate studies, and I had a number of applications out to Ph.D. programs in economics. The research analyst program at the Federal Reserve Bank was always advertised as a good way to build your credentials in academic research.
I interviewed at the St. Louis Fed and really liked the department here. You go through an extensive round of interviews with economists, and I thought gaining a little experience working alongside Ph.D. economists would really help my credentials getting into better Ph.D. programs at some point. So that's what brought me to the Bank.
What are your key responsibilities?
I really like programming work and problem-solving. I moved to the Treasury Division in 2012, initially to be a MATLAB [short for matrix laboratory] statistical programmer, and that evolved into what my current role is.
We have a small team that provides analytic support to the U.S. Department of Treasury. My main responsibilities are developing, maintaining and enhancing a suite of forecast models that helps Treasury manage the government's daily cash position. There's a fair amount of statistical programming. There are a number of reports that we create. One of the main reports is quarterly—we put together a long-term fiscal forecast report that provides five-year projections of government receipts, outlays and borrowing needs.
What do you enjoy most about being central in your role?
I've been very fortunate in that my first job, in Research, provided a lot of exposure to the monetary policy process and the understanding of what goes into setting monetary policy for the country.
And in my current role, I've gained a lot of exposure to this vast array of government payments, collection systems and accounting systems that all serve as critical infrastructure to the financial operations of the government.
What do you enjoy outside of work?
I'm a sports fanatic, so at times I've held Cardinals season tickets and I do go to a lot of baseball games in the summer.
In the winter, I have this affinity for the Iowa State Cyclones basketball team. I grew up in Iowa. I've actually traveled a bit to watch them play, so recently I've attended games in Ames, Iowa, obviously, as well as a game in Nashville and a game in Lawrence, Kansas.
Additional Resources
This blog explains everyday economics, explores consumer topics and answers Fed FAQs. It also spotlights the people and programs that make the St. Louis Fed central to America's economy. Views expressed are not necessarily those of the St. Louis Fed or Federal Reserve System.
---
Email Us
All other blog-related questions