We Are Central Profile: Meet Peggy Lawrence
At the St. Louis Fed, new chapters are being written in our story every day by employees in every division, department and unit. Our We Are Central profile series introduces you to some of the people who help make our Bank central. Today, we feature Peggy Lawrence, business continuity coordinator in Risk Management Consulting.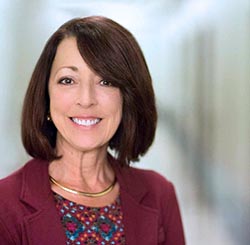 Peggy joined the St. Louis Fed in spring 2016 after 18 years in a similar position at an area bank. She helps ensure that the St. Louis Fed is prepared to effectively respond to a broad range of events and that employees can continue to perform their critical Federal Reserve functions.
Why did you decide to work for the Federal Reserve?
A former manager at my previous job held my (current) position here. He reached out to me one day and said, "Hey, I'm getting ready to retire." And I said, "Congratulations," and he said, "Well, that means there will be an open spot."
I was still at the job where I had previously worked with him. I had been there 18 years, and I said, "You know, I'm comfortable, everything's going well," and he said, "Just give the Fed a try. It's a good place with awesome benefits and great people."
So I came in, completed my interviews, received an offer and weighed all the pros and cons, and there were no negatives whatsoever—not one reason to hesitate and absolutely no regrets since!
What are your key responsibilities?
I maintain and coordinate efforts to ensure the Bank is prepared to successfully respond to any event that crosses our path. This includes:
Maintaining a District-wide recovery plan
Reviewing business area recovery plans
Conducting response/recovery testing
A goal of mine is that I want to make business continuity a normal part of people's lives, part of doing business and part of our daily operating procedures.
At home, you and your family members have multiple ways out of the house in an emergency and hopefully a place to stay, if needed.
It's similar here. If something were to happen, I want you to know your responsibilities and expectations when it comes to things like evacuation, assembly areas, alternate work environments, etc. Everyone should be able to regroup and continue completing critical processes while knowing their co-workers are safe.
What do you enjoy most about being central in your role?
It's not, "I did this great job, kudos, move on." I feel that what I do can contribute not just to the success of the Bank, but to the safety of employees.
In your home, you might have a monitor for carbon monoxide. (At my previous job) I published an article on the intranet about wintertime safety—fire drills with your family, carbon monoxide detectors, smoke detectors, all the different things to check off. A couple months later an employee called, saying:
"Hey, we've never met, but I read that article and, coincidentally, we had an event at my house (detected by the carbon monoxide monitor) and we called the fire department. I have three children. We had the windows open by the time they got there. The Fire Marshal said, 'If you hadn't done that and called us, it would have been a whole different story.' "
I realized, "Oh my gosh, this is real!" It's not just a story or an article to be sent out. Employees do read and benefit from the information provided!
It's the same with the Bank's various readiness events. I get reports on how well we did, but I also ask myself, "What were things that didn't go well, and how can I help to get that fixed?" Or, "What needs to be done differently? We're great, but how can we be better?"
What do you enjoy outside the Bank?
I have a son who's at his first job after graduating from Missouri S&T almost two years ago. I have a 130-pound Bernese mountain dog, my second child!
In my free time, I like to do home projects. Not just changing light bulbs, but tiling, installing wood floors, painting, repairs and landscaping. Again, it's about making things better.
Additional Resources
This blog explains everyday economics, consumer topics and the Fed. It also spotlights the people and programs that make the St. Louis Fed central to America's economy. Views expressed are not necessarily those of the St. Louis Fed or Federal Reserve System.
---
Email Us