We Are Central Profile: Meet Derek Hudson
At the St. Louis Fed, new chapters are being written in our story every day by employees in every division, department and unit. Our We Are Central profile series introduces you to some of the people who help make our Bank central. Today we feature Derek Hudson, an audit team leader.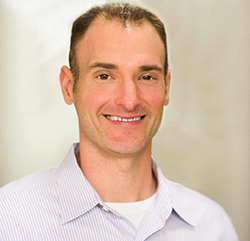 Derek joined the Bank in July 2013 and began his St. Louis Fed career as a senior auditor before being promoted into his current position as a team leader. In this role, he leads audits (also referred to as "audit engagements") of Bank departments, applications, projects and more.
Why did you decide to work for the Federal Reserve?
A friend of mine who works in Audit told me about an open position. I had worked with him in the past at a prior job, and he had told me about the Bank and that it's a great place to work with a lot of great benefits. So, I turned around and did some research on my own on the Bank and everything it involved.
The Bank is always in the news about financial-related topics, and things like that are very interesting to me, so I wanted a chance to be a part of that and to contribute to the economy, so to speak.
What are your key responsibilities?
My primary responsibility is to audit the Treasury Fiscal Service applications that the Federal Reserve Bank of St. Louis does business with on behalf of the U.S. Treasury Department. But I've audited all sorts of areas of the Bank since I've been here.
We try to keep audits as simple as possible. We look at an area's policy and say, "OK, show me evidence that you're doing this." We're holding them accountable and testing what controls they have in place, essentially, to make sure they're operating as they should be. We're making sure that they're addressing all of their risks and that they have the right controls to mitigate those risks. And we're trying to add value where we can by pointing out any gaps that might be in place.
What do you enjoy most about being central in your role?
In Audit, you have to know something about every area of the Bank and how it works. If you're auditing an area, say, every three years, based on the risk assessment, you have got to know something about that area.
So, to me, the cool thing about being in Audit—and this is a little clichéd to say among auditors—is that you get to see how all of the pieces of the puzzle fit together and see the inner workings of Bank business areas.
What do you enjoy outside the Bank?
One thing I love is traveling. I like getting out and trying to use my vacation and traveling in the United States. I like working out at the gym. That's definitely something I enjoy. I like to play golf.
And playing with my pets—a dog and a cat. They're a handful!
Additional Resources
This blog explains everyday economics, explores consumer topics and answers Fed FAQs. It also spotlights the people and programs that make the St. Louis Fed central to America's economy. Views expressed are not necessarily those of the St. Louis Fed or Federal Reserve System.
---
Email Us