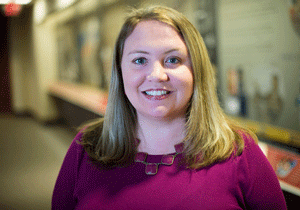 The annual Rising Star Award from the Council of Economic Education and the National Association of Economic Educators honors new NAEE members "who have hit the ground running."
That's an apt description for Senior Economic Education Specialist Erin Yetter of our Louisville Branch, who is this year's Rising Star winner. Yetter accepted the award at the 56th annual Financial Literacy & Economic Education Conference in Brooklyn, N.Y.
"Erin is an engaging and enthusiastic presenter who uses creative ideas to draw teachers into teaching economics and personal finance," a representative who nominated her wrote on the awards page of the organization's website, noting that Yetter "has trained over 3,000 teachers" in her Fed tenure so far. "In a short time, Erin has used her 'toolbox' of competencies and talents to make an impressive impact advancing economic and personal finance education."
Yetter joined the Fed in December 2012, and her short tenure has already resulted in a long list of honors—particularly for projects that help educate young children. She has received two Gold Curriculum Awards from the NAEE, including honors for the Kiddynomics program that introduces basic personal finance and economics concepts at early childhood centers.
Yetter also received the 2016 Best Paper Award from the Journal of Economics Teaching for her paper, "Using the Berenstain Bears to Teach Economics in the Elementary Classroom."
These and many other award-winning resources are available in the Econ Lowdown section of our website. These economic education and personal finances resources—including free videos, podcasts, lessons, online courses and more—are tailored for not only students and teachers but parents and consumers as well.
Additional Resources
This blog explains everyday economics, explores consumer topics and answers Fed FAQs. It also spotlights the people and programs that make the St. Louis Fed central to America's economy. Views expressed are not necessarily those of the St. Louis Fed or Federal Reserve System.
---
Email Us
All other blog-related questions