Underserved Communities Find Fresh Success in Food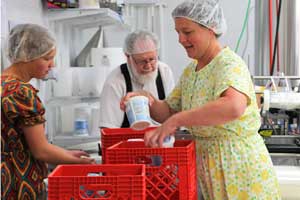 Locally produced food can provide several economic benefits to surrounding communities through the creation of new jobs and small businesses. Job training and small business support can assist low-income and other traditionally marginalized individuals to access these economic opportunities.
The book Harvesting Opportunity: The Power of Regional Food System Investments to Transform Communities—produced by the Federal Reserve Bank of St. Louis and the Federal Reserve Board—provides several examples of organizations that are focused on providing these types of supportive programs.
Job Training
Access to job training programs gives underserved individuals the chance to partake in regional food system employment.
Two such examples are Restaurant Opportunities Center of Michigan (ROC Michigan) and DC Central Kitchen, which operate successful training programs with ties to regional food systems:
ROC Michigan's CHOW Institute trains low- and moderate-income Detroit residents for food sector jobs. It places about 70 percent of graduates in local restaurants within 90 days of graduation.
DC Central Kitchen has long helped low-income, homeless and formerly incarcerated Washington, D.C., residents prepare for food industry jobs. Its graduates receive two years of support to find and stay in jobs, and the organization boasts a 90 percent graduate placement rate.
Beyond job placement, DC Central Kitchen's formerly incarcerated trainees have a far lower recidivism rate (6 percent) than the national average (76 percent).
Business Opportunities
Regional food systems provide opportunities for small businesses—including minority-owned businesses—to grow. Harvesting Opportunity spotlights organizations that strive to help such business owners access the capital and knowledge necessary to do so.
One such organization, Nuestras Raices, started as a simple community garden and now helps young farmers gain a foothold in farming. With roots in the Holyoke, Mass., Puerto Rican community, Nuestras Raices connects farmers with mentors to develop business and farming skills. For growers producing food catered to the tastes of the local community, the organization also works to create access to wholesale and farmers markets.
Another example is ROC Michigan's COLORS Co-Op Academy, which coaches workers to develop worker-owner cooperative businesses focused on the food sector. This includes providing support for business planning and startup funding.
Quality of Earnings
Many efforts to develop regional food systems focus not just on creating jobs, but on creating jobs that pay livable wages and empower workers.
Our Harvest, a worker-owner cooperative in greater Cincinnati, involves workers in budgetary and financial discussions to give them a larger stake in their own work. In approaching livable wages, Our Harvest:
Pays its apprentice farmers $10.50 per hour
Provides them with a health-care stipend of $450 per month
Works with Cincinnati State University to provide free tuition for three farming-related classes
Similarly, the starting wages of DC Central Kitchen graduates average $11.20 per hour. That's higher than the District of Columbia's minimum wage ($10.50) and the national minimum wage ($7.25 per hour).
These are just a few examples of the many organizations working to ensure that traditionally underserved populations have access to the enhanced earnings opportunities of regional food systems. They're doing so through job training and business development programs, as well as supportive employment practices.
Additional Resources
This blog explains everyday economics, consumer topics and the Fed. It also spotlights the people and programs that make the St. Louis Fed central to America's economy. Views expressed are not necessarily those of the St. Louis Fed or Federal Reserve System.
---
Email Us