The Pandemic's Impact on the Child Care Industry
Even before the COVID-19 pandemic, the child care industry faced challenges, such as child care prices rising at a faster rate than inflation. In a January Regional Economist article, Senior Economist Charles S. Gascon and Research Associate Devin Werner examined the pandemic's impact on this important industry.
Pandemic's Impact on Employment
The coronavirus disproportionately affected service sector jobs with a high degree of in-person contact, Gascon and Werner noted. Between January and April 2020, employment in the child care sector fell by 33%, which was nearly three times the decline in national employment. (See the figure below.)
"This decline is particularly troubling because the sector employs many of the most economically vulnerable members of society, and the statistic signifies a sharp decline in the sector's capacity to provide services to families," they wrote.
Child Care Employment since January 2017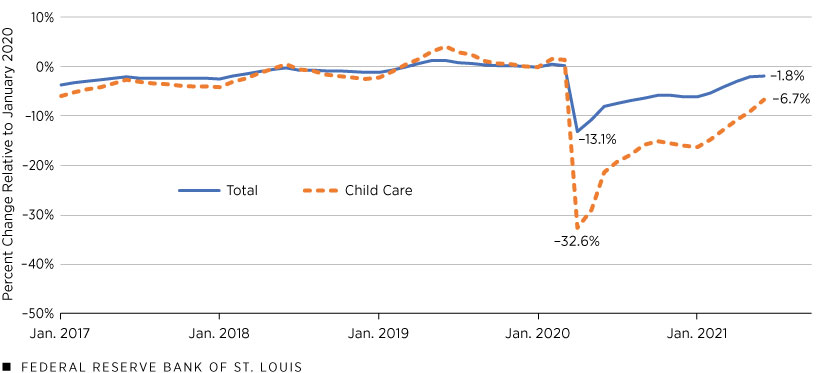 SOURCES: Bureau of Labor Statistics (BLS), Haver Analytics and authors' calculations.
Industry's Labor Costs
Gascon and Werner observed that child care workers earn notably less than the average worker: In 2019, the average child care center worker earned $13.72 per hour, while the average worker across all occupations earned $25.72 per hour. They stated that the disparity may be due in part to differences in worker training and job requirements, adding that the child care industry has a smaller percentage of workers with a college degree than the share among all workers.
Yet the authors pointed out that child care is relatively expensive despite the low wages. Using 2019 wage data, they estimated that the average cost of child care was about $9,000 per year, a number that was equal to about 14% of median household income.
Ongoing Cost Pressures
Citing the Bureau of Labor Statistics, Gascon and Werner noted that child care costs have been exceeding overall inflation: Since 2000, the consumer price index (CPI) has risen at an average annual rate of 2.3%, while the CPI for day care and preschool has grown at an average annual rate of 3.9%.
Because the hourly wages of child care workers have risen at roughly the same rate as wages for other nonsupervisory employees, the authors suggested that other demand-side factors were likely spurring faster price growth for child care services, such as more households with two spouses working full time.
"Compounding these historical pressures, the COVID-19 pandemic has led to sudden wage growth for child care workers and centers looking to rebuild lost capacity and retain workers," they wrote.
The authors pointed out that as of October 2021, the average child care worker earned $16.44 per hour, up 10.4% from a year earlier; this wage growth was much higher than the 5.8% increase among all nonsupervisory workers during that same period.
Lasting Impact from the Pandemic
When the article was published in January, Gascon and Werner concluded that the pandemic's impact on the child care sector might linger for some time.
"As the labor market recovers and parents seek ways to get back to work, a decline in child care capacity, combined with higher wages, could continue to push up the cost of care in the short run," they wrote. "Expanded federal aid to families may ease the burden of child care costs, but more income for families with children could just increase demand—and thus, to some extent, prices—until supply catches up."
This blog offers commentary, analysis and data from our economists and experts. Views expressed are not necessarily those of the St. Louis Fed or Federal Reserve System.
---
Email Us
All other blog-related questions