Regional Economic Performance before the Pandemic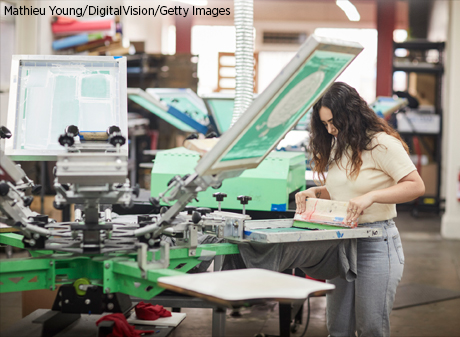 Recent data from the Bureau of Economic Analysis show that some regions of the U.S. were seeing strong and accelerating growth in 2019, while others were experiencing a prolonged contraction, according to a Regional Economist article by Regional Economist Charles S. Gascon of the Federal Reserve Bank of St. Louis.
The article, "A Look Back at Regional Economic Performance before COVID-19," compared growth numbers in different parts of the U.S. with those of the Federal Reserve's Eighth District.Headquartered in St. Louis, the Eighth Federal Reserve District includes all of Arkansas and parts of Illinois, Indiana, Kentucky, Mississippi, Missouri and Tennessee.
Overall, real gross domestic product (GDP) growth slowed to an annual rate of 2.2% in 2019, which was slightly below the average experienced during the economic expansion from 2010 to 2019. Even so, growth continued to be strong in many places.
"What these aggregate numbers hide is the fact that just over half the counties in the U.S. (53%) experienced an acceleration in growth between 2018 and 2019," Gascon wrote. "Moreover, differences in the rate of growth across the U.S. were vast: About one-fourth of counties experienced growth over 4% in 2019, while about one-fifth of counties experienced a contraction, or negative real GDP growth."
Summary of Real Gross Domestic Product Growth
Region
2010-19
2018
2019
U.S.
2.3%
3.0%
2.2%
U.S. (Metro Portion)
2.3%
3.1%
2.1%
Eighth District
1.0%
1.7%
1.0%
Eighth District (Metro Portion)
1.1%
1.9%
1.1%
Largest Eighth District MSAs
Little Rock, Ark.
0.7%
1.5%
0.9%
Louisville, Ky.
1.9%
1.7%
1.6%
Memphis, Tenn.
1.0%
2.0%
0.1%
St. Louis
0.7%
2.0%
1.0%
SOURCE: Bureau of Economic Analysis.
NOTE: 2010-19 represents annual average growth rate.
Counties in the Western states, southern Texas, and Florida saw the strongest growth in 2019, and parts of the Midwest and northern Plains states experienced slower growth or contracted.
Decelerated growth in metropolitan areas, which account for about 90% of U.S. economic output, was behind the slower U.S. growth in 2019. However, metro areas had large growth disparities, with 10% of them reporting growth rates of more than 4%.
In 2019, about 20% of U.S. counties and 28% of counties in the Eighth District experienced negative economic growth, while many others saw growth in the double digits (more than 7% of counties nationally and 3% in the District).
Eighth District and Nation
During 2019, economic growth in the Eighth District lagged the national average by just under half, at 1%. Underperformance in the District's metropolitan statistical areas (MSAs) mainly contributed to the slower growth rate.
The 20 MSAs in the District, which represent 70% of the region's economic output, had 1.1% real GDP growth in 2019, down from 1.9% in the previous year.
Among the four largest MSAs, growth slowed from 2018 to 2019, although to a lesser degree in Louisville, Ky. Memphis, Tenn., saw a sharp deceleration: from 2% in 2018 to 0.1% in 2019.
Looking toward the Future
Most regions of the country follow a business cycle of expansion and contraction, Gascon noted.
"For many regions, we can expect data for 2020 to show a significant contraction in economic activity," he wrote. "Differences in industry composition, for example, may amplify the degree of the economic downturn or the rate of recovery."
Other regional variables—such as the influence of legacy industries, along with demographics and migration—can create large differences in economic growth over time. Although the 2010-19 period was one of the longest economic expansions in U.S. history, it can seem very different at the county level, where only a little more than 2% of counties averaged double-digit growth.
The same kind of variation appears to be true of different states' and regions' responses to the COVID-19 pandemic and how they have affected the economy.
Forecasters are projecting GDP to grow more than 3% in 2021, and they expect the growth rate to remain at or near that mark for the following two years, Gascon noted.
"However, based on the dispersion in growth during the last economic expansion, it is reasonable to expect some regions to boom while others continue to contract," he wrote.
Notes and References
Headquartered in St. Louis, the Eighth Federal Reserve District includes all of Arkansas and parts of Illinois, Indiana, Kentucky, Mississippi, Missouri and Tennessee.
Additional Resources
This blog offers relevant commentary, analysis, research and data from our economists and other St. Louis Fed experts. Views expressed are not necessarily those of the St. Louis Fed or Federal Reserve System.
---
Email Us
All other blog-related questions