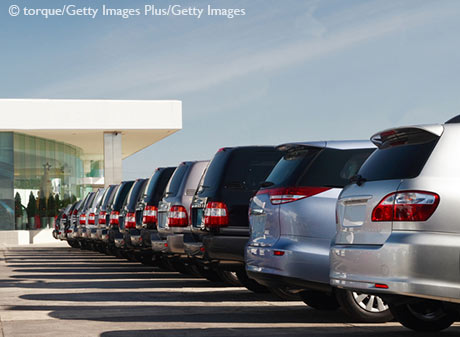 Concerns about the loss of competitiveness in the automotive sector is one reason the U.S. is seeking better terms with its trading partners. But changes in U.S. trade relations may end up hurting the U.S. auto sector's competitiveness in the long run, according a recent article in the Regional Economist.
Economist Yi Wen and Research Associate Brian Reinbold examined two aspects of America's changing trade relations: the renegotiation of the North American Free Trade Agreement (NAFTA) and ongoing trade disputes with China.
NAFTA and Auto Trade
Since NAFTA came into effect in 1994, the U.S. trade deficit in motor vehicles had nearly doubled in real terms by 2017, according to the authors.
However, this rising trade deficit occurred as the country's imports and exports in autos both doubled in terms of value, which suggests that the increase in imports hasn't crowded out exports, they observed.
"This rising auto trade deficit doesn't necessarily imply that the competitiveness of the U.S. auto sector has been affected," they wrote.
Wen and Reinbold also noted that the country's gross domestic product (GDP) has almost doubled since 1994, a growth similar to the increase in the auto trade deficit.
"Although the overall auto trade deficit as a percentage of GDP increased until 2000, it has since declined and is now near its 1994 level," they wrote. "Therefore, the auto trade deficit relative to the size of the economy remains unchanged since the signing of NAFTA."
USMCA and Autos
Still, worries about the country's auto competitiveness helped push the U.S. to renegotiate NAFTA. The result was the U.S.-Mexico-Canada Agreement (USMCA), the proposed trade deal that replaces NAFTA. (The U.S. Congress still has to ratify the agreement.)
In the USCMA, trading rules for the automotive sector were revised. Wen and Reinbold highlighted two changes:
Seventy-five percent of auto parts must be manufactured in North America to qualify for zero tariffs starting in 2020, up from the present level of 62.5%.
At least 30% of work on vehicles must be done by workers earning at least $16 per hour, a figure that would increase to 40% by 2023.
The higher North American content requirement will cause major shifts in supply chains in a short period of time to avoid tariffs, they noted.
Meanwhile, the higher wage requirement could benefit U.S. workers, but it could also increase the cost of cars built in North America.
"In the long run, this could lead to decreased global demand for cars manufactured in North America as they become less competitive in a global market, which could ultimately hurt U.S. autoworkers," the authors wrote.
Global Growth Opportunities
Because of NAFTA, Mexico and Canada are the largest U.S. trading partners in motor vehicles. In 2017, the U.S. exported about 1 million vehicles, in total, to Canada and Mexico and imported about 4 million vehicles from Canada and Mexico. U.S. auto sales totaled about 17 million units that year.
The figure below shows the size of six major auto markets in the world.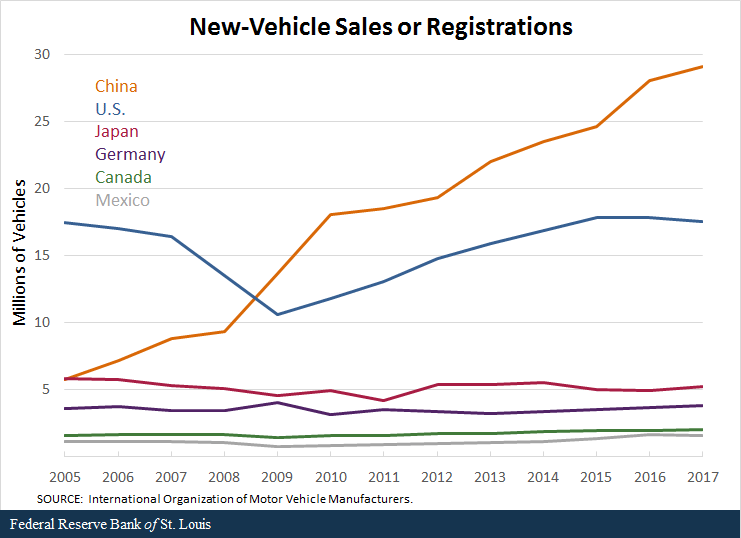 Since 2005, auto sales for Canada, Germany, Japan, Mexico and the U.S. have been fairly constant, which suggests that these auto markets are saturated, the authors observed.
"A saturated market suggests that auto manufacturers will have to look for other markets to find growth opportunities," they wrote.
In contrast, China's auto market has increased fivefold since 2005, reaching nearly 30 million in 2017. This is about as large as the combined markets of Canada, Germany, Japan, Mexico and the U.S., the authors noted.
"China provides a great opportunity for growth for U.S. auto producers," the authors wrote. "[H]owever, if USMCA makes North American auto manufacturers less competitive, they could miss out on a huge growth opportunity."
Ongoing trade disputes with China could also hurt U.S. automakers in that country, they added.
"If U.S. auto manufacturers are completely excluded from competing in China—the largest auto market in the world—then their potential growth could be seriously hindered," they wrote.
Conclusion
Though NAFTA doesn't seem to have impacted U.S. auto trade negatively, the USMCA could potentially hurt North American automakers' competitiveness in a global market, Wen and Reinbold noted.
And while the Chinese market is huge relative to the North American market, that country is essentially self-sufficient and satisfies its auto demand through domestic production, they observed.
Most of the cars sold in China are foreign brands, with U.S. car brands accounting for about 11% of the Chinese market, the authors said.
If American producers were to build cars in the U.S. and ship them to China, they wouldn't be competitive with other foreign automakers operating in that country because of high production and shipping costs, they noted.
"Hence, trying to incentivize U.S. manufacturers to move production back to the U.S. and then export to countries like China is not economically feasible," the authors concluded.
Additional Resources