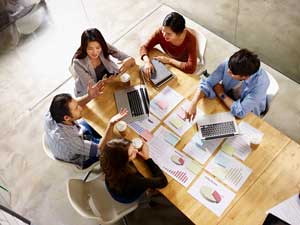 Thinkstock/imtmphoto
The profitability, revenue growth and employment growth of small businesses improved over the past year, according to the 2017 Small Business Credit Survey: Report on Employer Firms.
The survey, which was a collaboration of all 12 Federal Reserve banks, provides an in-depth look at small business performance and debt. This report focuses on employer firms, or those with one to 499 full- or part-time employees.
"In 2017, the majority of firms reported they were profitable and had growing revenues," the report stated. "The net share of firms reporting profitability, revenue growth and employment growth all increased from 2016 levels."
Profitability
According to the report, 57 percent of firms surveyed reported being profitable at the end of 2016, compared with 18 percent that reported breaking even and 24 percent that reported operating at a loss.
Revenue Change
A majority of survey respondents (53 percent) reported increased revenue over the prior 12 months, which covered the second half of the previous year through the second half of the survey year. This compared favorably with the 22 percent reporting no change in revenue and 25 percent reporting decreased revenue.
Employment Change
Nearly half of firms (49 percent) reported no change in employment over the prior 12 months, while 35 percent reported increased employment and 16 percent reported decreased employment.
Trends in Small Business Performance
The figure below shows changes in small business performance over the past few years:
Profitability measures the share profitable minus the share not profitable.
Revenue growth and employment growth measure the share reporting growth minus the share reporting a reduction.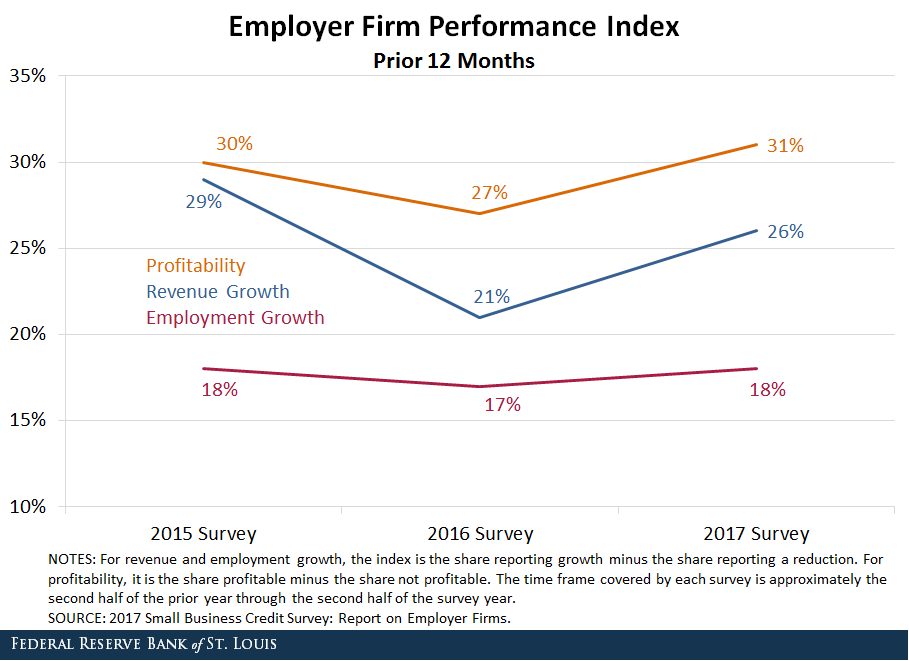 Performance Optimism
Firms were also asked about their expectations for revenue and employment change over the next 12 months, or roughly over the second half of 2017 through the second half of 2018.
"Expectations for revenue and employment reached their highest levels since 2015," the report noted.
Regarding revenue, 72 percent of respondents expected increased revenue over the next 12 months, compared to 19 percent that expected no change and 8 percent that expected revenue to drop.
Only 6 percent of firms expected employment to decrease over the next 12 months, while 48 percent expected employment to increase and the rest expected employment to stay about the same.
Notes and References
1 It should be noted that the figures in the index have been re-weighted so they can be compared across years. Thus, they may differ slightly from what is reported in each corresponding survey.
Additional Resources