A Glimpse into Banking's Future by Looking at the Past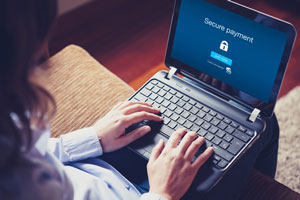 Thinkstock/Daviles
Emerging technologies are expected to significantly change the banking industry. But not every bank will adopt changes at the same rate. Some will adopt quickly, some much later, and some not at all.
To get an idea of how quickly banks may adopt such new technologies—commonly referred to as "fintech"—members of the St. Louis Fed's Supervision division examined how quickly banks adopted websites. As they wrote, "If the past is prologue, this may foretell how technological innovations in banking will be diffused in the future."
Economist Drew Dahl, Senior Economist Andrew Meyer and Senior Coordinator Neil Wiggins noted that 1999 was when banks were first required to disclose whether they had URLs. That year, about 35 percent of banks reported having a website.
The table below shows that banks with websites in 1999 tended to be larger and located in urban areas.
URLs at Banks in 1999
Banks That Reported Having URLs


Banks That Did Not Report Having URLs


Number
3,035
5,487
Average Assets (in Millions)
$1,510
$202
Percentage Urban
58%
42%
NOTES: "Available" indicates banks that reported a URL, and "Unavailable" indicates banks that did not.
SOURCE: Call Reports of Condition and Income (Call Reports) that are filed with regulators and published by the Federal Financial Institutions Examination Council.
Federal Reserve Bank of St. Louis
Bank Adoptions of Websites
The authors noted that banks adopted websites rather quickly, with the majority having done so by 2001, as seen in the figure below.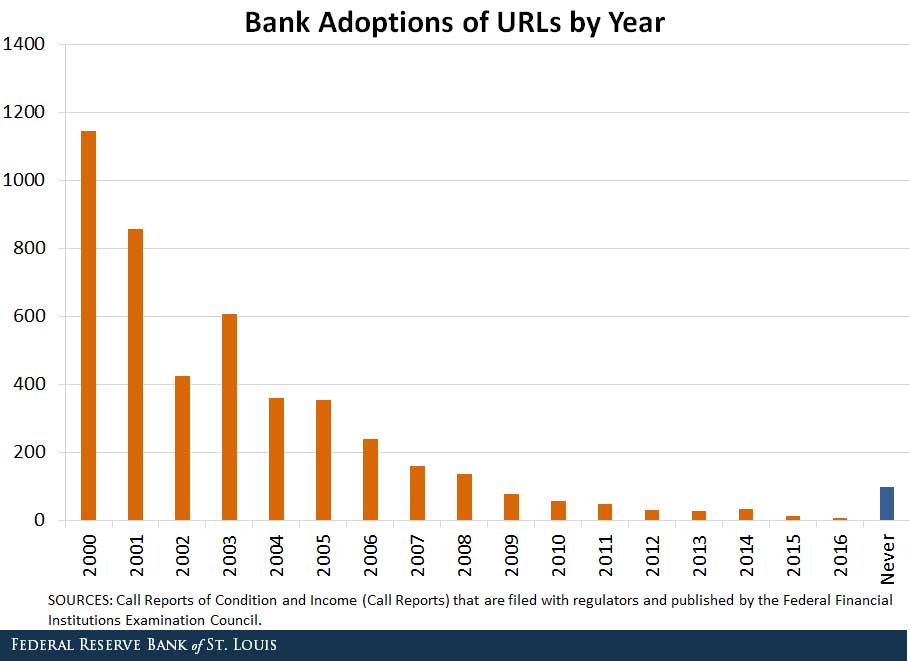 The authors also noted other characteristics of banks and when they adopted websites:
Banks in urban areas averaged 3.18 years for adopting websites, compared with 4.94 years for rural banks.
Larger banks (those with more than $100 million in assets) adopted websites after an average of 2.56 years, compared with 4.97 years for smaller banks.
Future Adoptions of Technology
Dahl, Meyer and Wiggins noted that the factors governing when banks adopted websites may not be the same as the ones influencing the adoption of fintech services. "Incentives of banks to offer fintech services, for instance, may differ today in response to differences in customer demand or differences in the supply of services by competitors outside the banking industry," they wrote.
Still, internet usage continues to vary by region,1 and small banks and rural banks remain disadvantaged in attracting technologically qualified employees and in obtaining technological expertise from third-party vendors at reasonable costs.2
Conclusion
The authors concluded that, to the extent URLs adoption patterns are representative of technology adoption patterns today, customers of smaller and rural banks will be unable to access new technologies as quickly or efficiently as customers of other banks.
"The customers at smaller and rural banks appear to be the ones who are more likely to be left behind, at least temporarily, as fintech options in banking expand."
Notes and References
1 As of 2015, 69 percent of the rural population and 75 percent of the population in urban areas used the internet. Carlson, Edward; and Goss, Justin. "The State of the Urban/Rural Digital Divide." National Telecommunications and Information Administration, U.S. Department of Commerce, Aug. 10, 2016.
2 Community Banking in the 21st Century research and policy conference, sponsored by the Federal Reserve and the Conference of State Bank Supervisors, Oct. 4-5, 2017.
Additional Resources
This blog offers commentary, analysis and data from our economists and experts. Views expressed are not necessarily those of the St. Louis Fed or Federal Reserve System.
---
Email Us
All other blog-related questions